I'm from up North. Some of you may know that, and for those of you who don't I'll let you in on a secret. I LOVE SNOW. I love to ski through it, skate on it (after all ice is a close cousin of snow).  I love to feel it on "my nose and eyelashes" and most of all I simply love to look at it.
So in a few weeks, I'll be back in New York for a little holiday cheer. It's the Fashionista's first encounter with an over abundance of white stuff, and with her cute little ski outfit she'll look the part of the perfect snow bunny. (Although, Mr. B. is less concerned with her looking cute, and more about finding her in the snow considering her snow parka and pants are all white). I even promised her a wintry picnic, complete with faux fur throws, a toasty fire, cups of hot chocolate brimming with my mother's home-made peppermint marshmallows, and Pendleton blankets that have been in the family for years. So we'll be trudging to the perfect apres dining spot, high on a hill, overlooking looking fields covered in snow, and a countryside dotted with Balsam pines heavy under their wintry coats. Yes, I plan on having a "holly, jolly time."
So I did a little research, although I doubt Mr. B. would allow me to set up camp with Louis Ghost Chairs and Hermes china, I did get a few ideas that would be a fun way to wrap up our holiday hike through the woods. I'm a firm believer in creating memories, and hopefully this will be a good one. I'll be honest,  Mr. B. is just a little skeptical "Why do all your memories have to be so expensive?" followed by "Can't you just do something inside? By the fire? Eating leftover turkey sandwiches?" Hmmm…needless to say with that attitude he's off the guest list.  So here is some inspiration, and I've also put together a list of "must haves" to enhance our "Winter Dining" experience.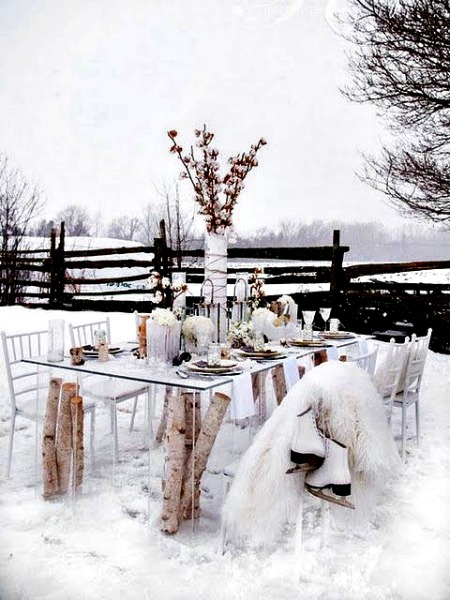 This has to be one of my favorite images, it's romantic and chic. The birch legs are a stylish touch.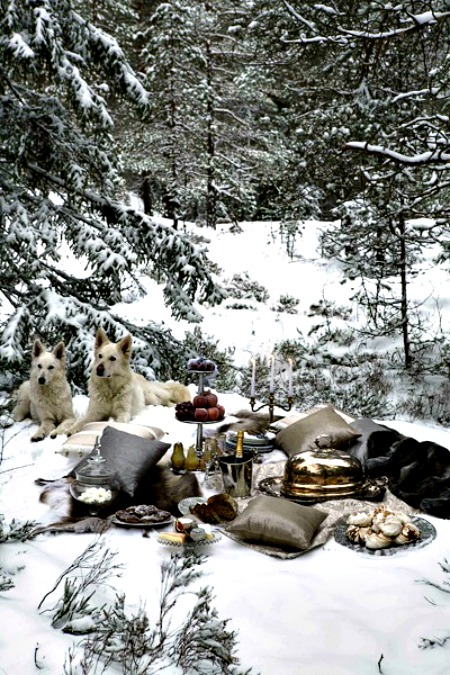 This dining experience seems to have it all. It even comes with two pretty guard dogs. via ullamijahanninen.net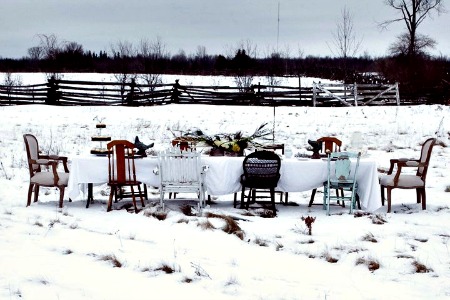 How fun would it be to throw a winter gathering and have everyone bring a chair? I love that this table is surrounded by an ecletic mix of seating. via tumblr.com
I'm not sure that I would move from this cozy spot…via prettyworldtumblr.com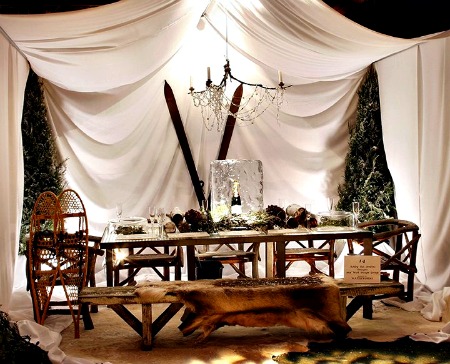 This would be the perfect ending to a perfect day. Under a tent with good food, good friends and hopefully warm hands…via decorati.com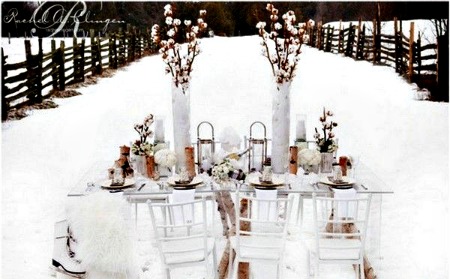 Simply stunning…via get-married-in-Italy.blogspot.it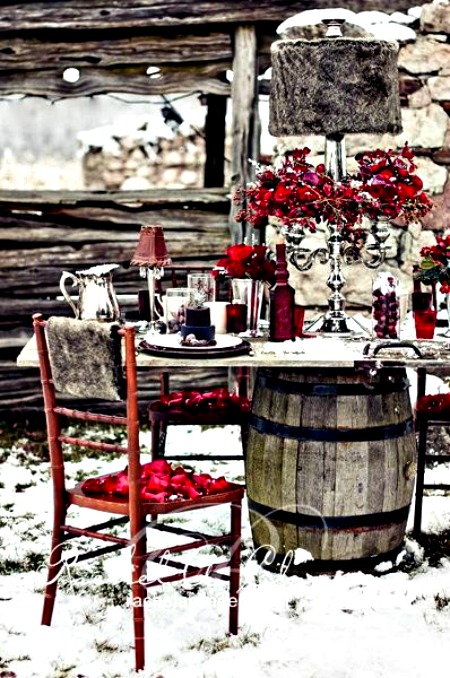 This would be the perfect setting for a holiday tete' a tete' in the great outdoors, all dressed up in red…via divinepartyconcepts.com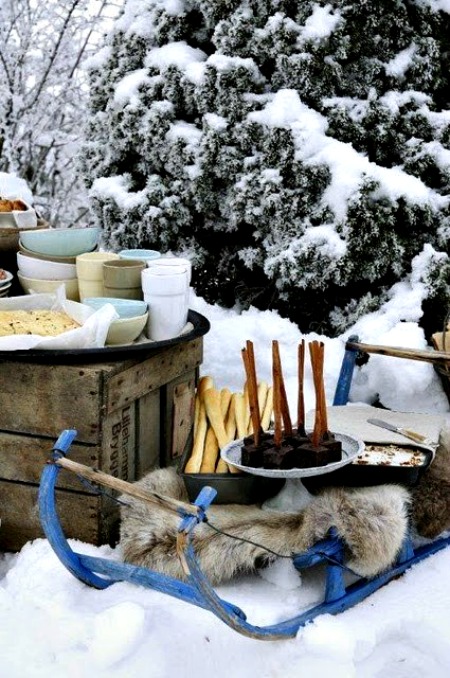 I can imagine a scene just like this, with lots of wintry treats to eat…via partyresources.blogspot.com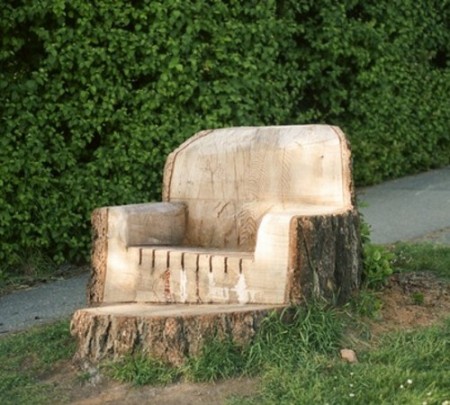 Let's face it I'm not a DIY'er, but if I had a chain saw I just might attempt this. (Mr. B. if you read this it's not an item on my Christmas list). But, I am so obsessed with having a grouping of these around a fire pit with some cushions made out of faux fur. This would be so perfect in a snowy setting….via goggle.com
My "Winter Dining Wish List." If I'm going to trudging in the snow pulling the Fashionista (we don't have sled dogs), we better be prepared…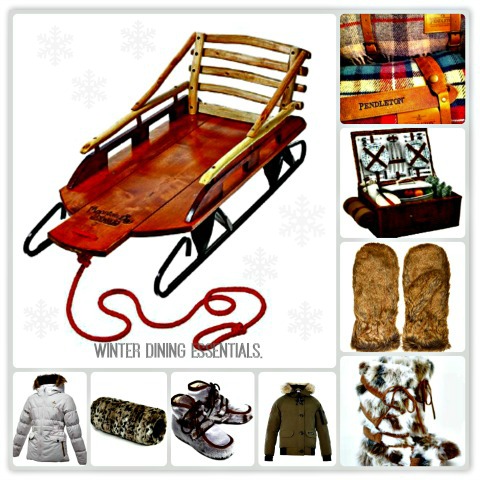 From Upper left-(Clockwise)
1) The "King of the Hill'-Mountain Boy Sled Works/http://www.bergfdorfgoodmans.com
2) An assortment of Pendleton Blankets to keep us warm/ http://www.pendleton-usa.com
3) The perfect place to keep our food. The Buckingham Picnic Baskets complete with 4 Melamine dishes in the London Pattern/ www.picnicatascot.com
4) The most realistic faux fur gloves ever!/  topshop.com
5) Fabulous faux fur boots./ via hautelook.com
6) A great jacket for artic weather/ via matchesfashion.com
7) For the Fashionista the ultimate accessory to keep her toes warm and stylish/ via fr.smallable.com
8) A faux fur muff (I had one as a child, and although I always felt like my hands were being held prisoner, it was certainly a fashion forward way to endure the winter). (source unknown).
9) A ski jacket for the Fashionista./ via itoli.com
P.S. I want to thank all of you who follow me, and inspire me to keep doing what I love. I reached over 2000 Likes on "The Ace of Space Blog" Facebook Page this week, and I'm creeping up on almost 5000 followers on Pinterest. I am so incredibly grateful to have such amazing followers, I never imagined that this little blog that I started over two years ago would be where it is today, and to do what I love is beyond rewarding. I promise to keep bringing more design inspiration and adventures your way. A heartfelt thanks to all.
So here's to creating a lifetime of holiday memories….
Cheerio!