First, let's address the big news, we have a brand new look!!!! Yes, we've totally changed "The Ace of Space Blog", added a few things (an Amazon store, which is still under construction). I hope you love what Heather of Viva la Violette has created as much as I do. It's been in the works for a few months and we went live yesterday. P.S. Heather is truly beyond amazing, but I'm sure most of you will realize that once you see it. The second part of my news, we are opening an online store in Spring of 2015. It will be all about entertaining, from plates to stemware, linens and so much more. Unique offerings from all across the globe…so stay tuned. We will always be "The Ace of Space," but we were at a point where we wanted to expand our brand to encompass "The Ace of Entertaining." We have been planning it since mid-year and were waiting until Spring to launch the site. It's been a lot of planning, meetings and decisions, but I am so excited for grandest of openings next year.
Now onto the topic of the day- baby spaces. I wish I could turn back the clock (what woman doesn't?) and have another opportunity to re-design my daughter's room. Don't get me wrong it's adorable, with painted stars on the ceiling, cotton candy walls, and a custom dresser in pastel tones of lilac and pink, just a whisper of color. A chandelier hangs from the ceiling wrapped in tiny crystal flowers. The bedding has changed multiple times, each change reflects my daughters emerging style, from vintage quilts to a bold zig-zag print in her favorite colours of purple and pink. There are bookshelves overflowing with treasured tomes each one having been read on multiple occasions during bedtime. While her room evolves, posters go up, and stickers of "One Direction" are placed on every conceivable surface, my dream of creating a circus tent in her room is slowly fading. A grand space is my obsession, not hers. Which brings me to a point several years ago when I had to make a decision whether to continue in design or grow my brand through this blog. I chose the latter, but the path I almost chose exclusively designing children spaces would have been an opportunity to test my imagination and explore my creativity. It is still a back-up plan if ever faced with permanent writers block.
I am fascinated with the baby spaces created by the featured designers, they border on the cusp of quiet sophistication, timeless design & if you removed the crib and replaced it with a queen bed it would take a tot into adulthood and beyond. It makes me even wish I were a child again again So while I may dream of re-designing my daughter's room the reality is that I have too much on my design plate for 2014. This year our house is being overtaken with projects, Kohler is redoing our master-bath, the guest room is undergoing a transformation for Taylor Burke Home, and we have several other rooms under consideration. Such is the life of a design blogger; our homes become labs of constant transformation. Do I mind? Not at all, it's part of my job. The master-bath was a huge undertaking, but in the end it's going to be gorgeous and as of last week AllModern is on board with lighting (that is fabulous by the way). The biggest challenge is picking out the wallpaper, I want bold and whimsical (Blowfish by Walnut Wallpaper) which you can see here (Project :: Master-bath) , and Mr. B. wants wallpaper that he saw in a recent episode of "Once Upon a Time" while he was on one of his channel-surfing adventures. If you follow this series, Regina's office is truly stunning. However, calling ABC and tracking down the wallpaper is not on my list of "impossible things to do this year." My fingers are crossed that I win the "Battle of the Wallpaper." Stay tuned.
So I may not be winning the battle with drywall dust or wallpaper, but I have found time to share my favorite nursery pictures. There is inspiration everywhere, and I guarantee that you'll find something in every room that can be translated into everyday…wait until you see what one designer did with contact paper on the ceiling. So why am I writing about nurseries? You'll see…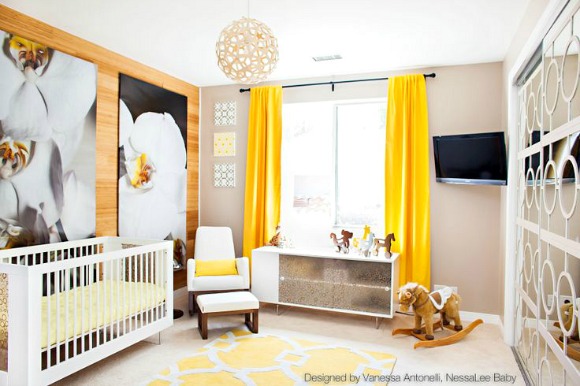 Designed by Vanessa Antonelli
This is actually the home of the Baskett's of Reality TV fame, their lives may be a train-wreak but luckily the room isn't.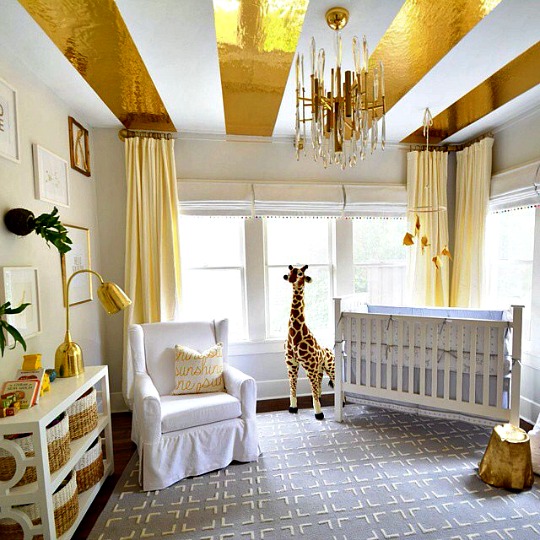 Caden Lane/ Katy Minard
The gold ceiling stripes are actually contact paper. This nursery is brilliant.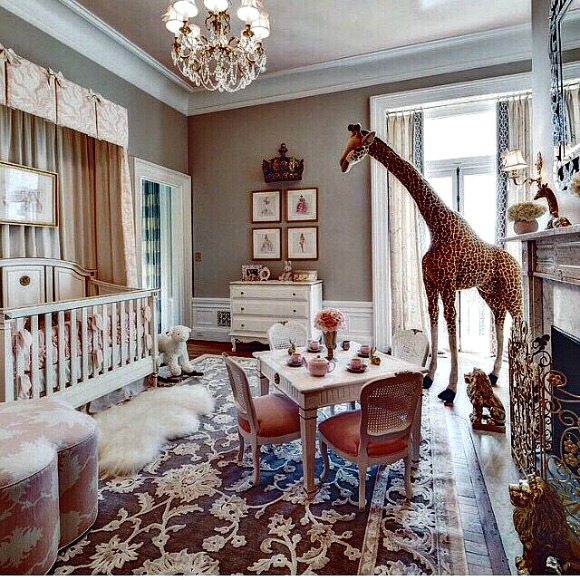 Kristina Ashley Interiors
This room is from the Blairsden Designer Show-house, and it's the perfect blend of nursery and timeless design.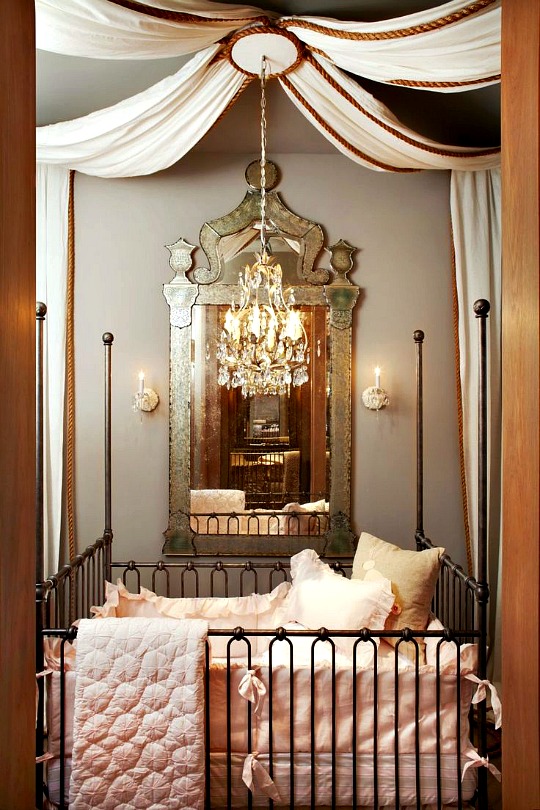 Restoration Hardware
This nursery takes the proverbial cake.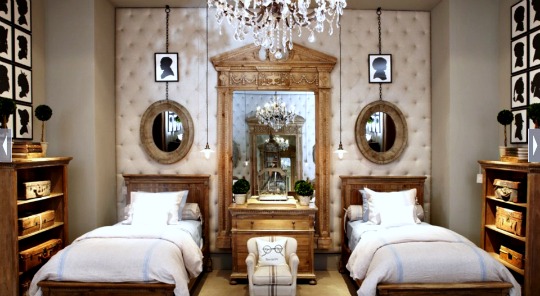 Restoration Hardware
I hope you love our new look, and the nurseries that aren't just for little babies, but big ones too. Don't forget to follow us on Social Media-Facebook, Pinterest, Instagram & Twitter for more inspiration and happenings.
As always,
BE INSPIRED. BE AMAZED.
As always,
Thanks for stopping by!