Velvet is the fabric of the year. This sumptuous, rich and chic fabric has made it off the fashion runways and into our homes.
And we are hopelessly in love with Velvet, one of the hottest, if not timeless, trends for 2018. This multidimensional fabric is luxurious with a rich texture that is sheer perfection on anything from drapery to sofas. In the past velvet has been perceived as stuffy, a fabric embellished with elaborate trimmings which hung from the windows of antebellum mansions, or covering a well-worn sofa in the library of an 18th century English manor.
Velvet is now offered in rich bold colors, grounded in an opulent earthiness. It has a liveability that creates warm and protective spaces. From cotton velvet to matte linen, velvet has made a stunning comeback its versatility allowing this rich fabric to make an easy transition from traditional to modern. So whether your home is royally elegant or eclectic and funky- velvet, this versatile fabric will give your home infinite soul.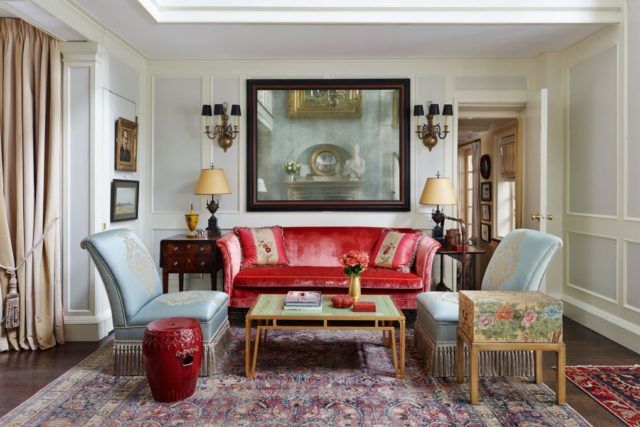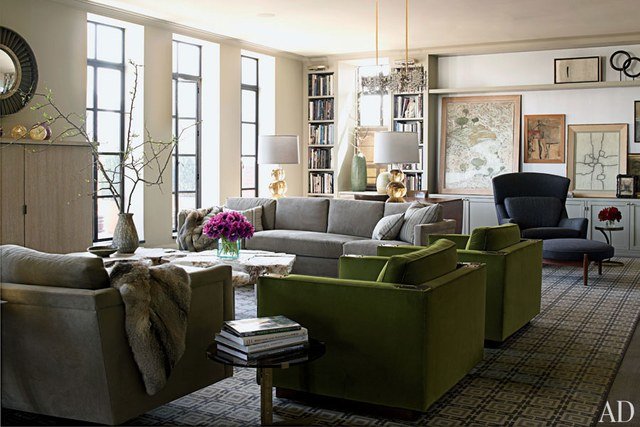 Photo/ Ngoc Minh Ngo/ Designed by Ed Filipowski & Mark Lee
Parrot green club chairs bring a colorful richness to this pre-war penthouse. Personal touches such as a wonderfully curated art collection give the space a sense of history.
Not sure how to use velvet? We are sharing some tips on how to use "the fabric of the year."
1//Mix Textures-This rich and tactile fabric will give your home a luxurious feel working well with many fabrics such as silks, wools, and linens. Velvet creates a warm and inviting room but it's important to balance it with other textures and fabrics to offset the visual richness. We love the contrast of opulent sheens paired with the luminous depth of velvet.
2// Give it Life-Velvet always looks best when it ages. After a few years (or less) it develops a rich and visible patina. The more it's used the better it will look. The more you live on it the more you will love it. So don't worry about a little wear it gives velvet timeless appeal. If you don't want to wait a few years for velvet to begin to show wear, there are many fabric options available. Here are some of our favorite worn velvet curtains, you can find them here or if you want just a touch of worn velvet, these pillows in the most classic colors provide just the right amount of warmth.
3// It's Versatile-Velvet is perfect in just about every room in the house from the living room to the bedroom (the only exception is the kitchen, the nap makes it hard to clean). Whether you cover an entire sofa or use it on an ottoman or pillows, velvet gives a room soul.
4// Pick a Color You Love-Velvets always look best in rich colors or jewel-toned pastels. The trend this year is traditional style furniture with contemporary color palettes. But, this timeless fabric will forever reign in rich hues, bringing a sense of balance to a room.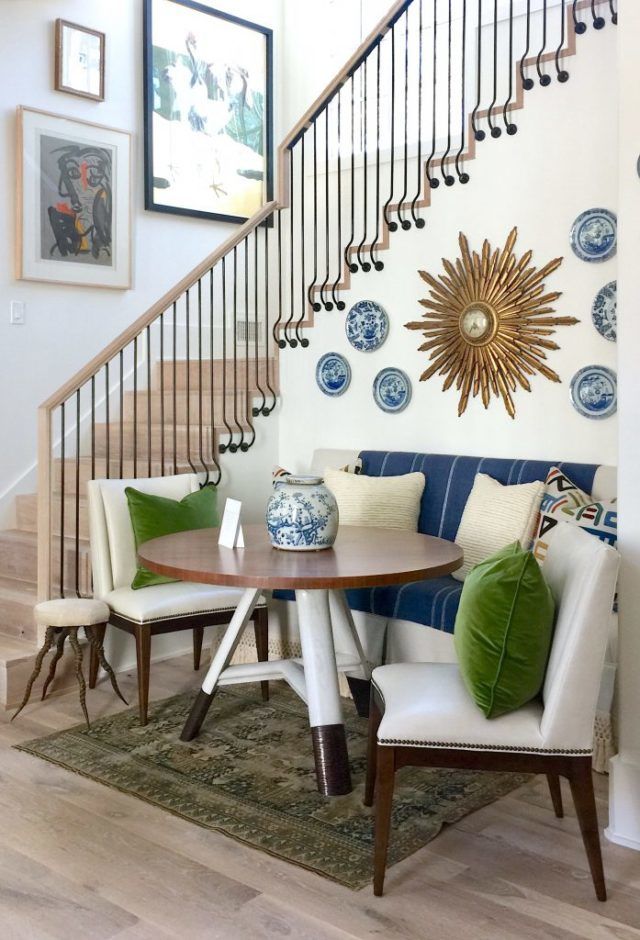 Designed by Nina Nash & Don Easterling
A mix of tailored furniture, jewel tones, and statement accessories give this space an elegant yet artful vibe. The velvet pillow mixed in with other fabrics such as leather gives the room balance.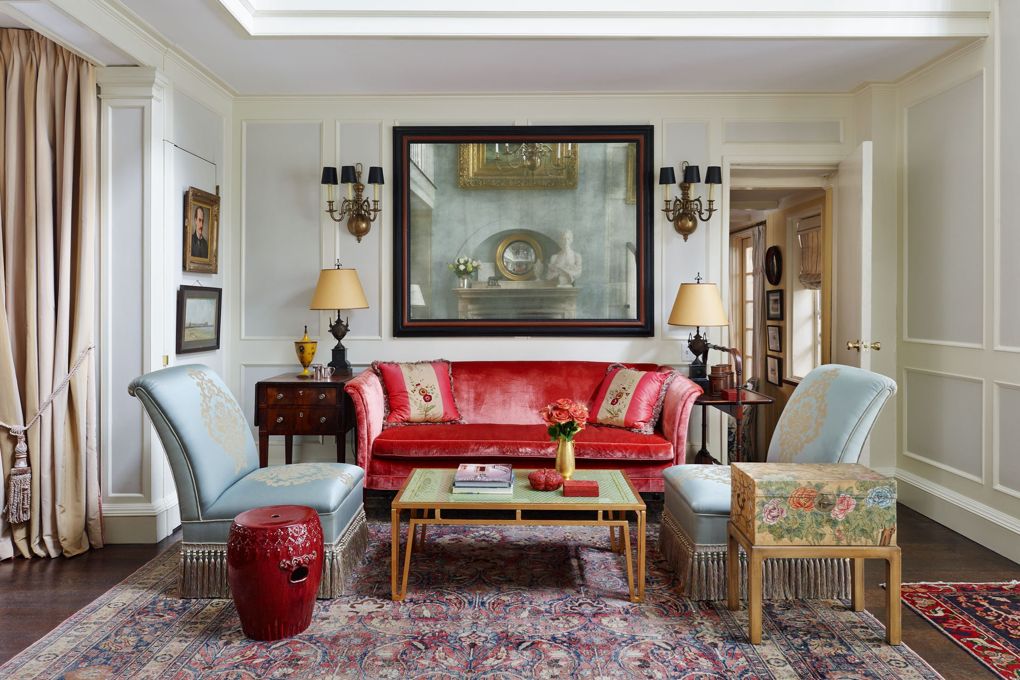 The red velvet sofa is the focal point of this living room, adding warm and timeless appeal.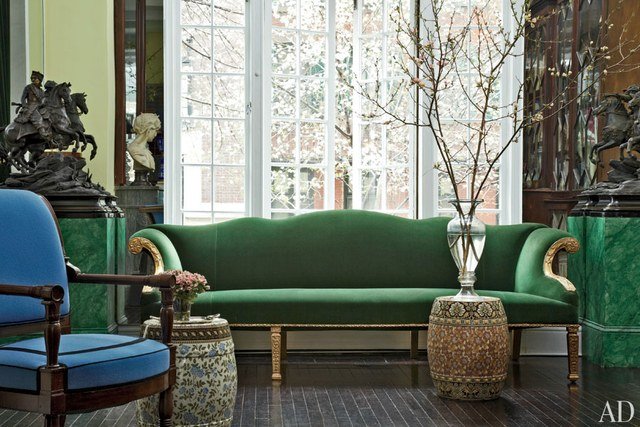 Photo/ Miguel Flores-Vianna-Designer/ Jean Paul Beaujard
A gilt-wood sofa covered in a velvet from Stark furnish interior designer Jean-Paul Beaujard's Manhattan duplex flanked by bronze equestrian statues. The apartment, decorated with early-19th-century France in mind, also features luxurious deep-green velvet curtains." Velvet curtains add depth, drama, and warmth to a room. In colder climates, velvet drapery can serve as a functional and stylish option.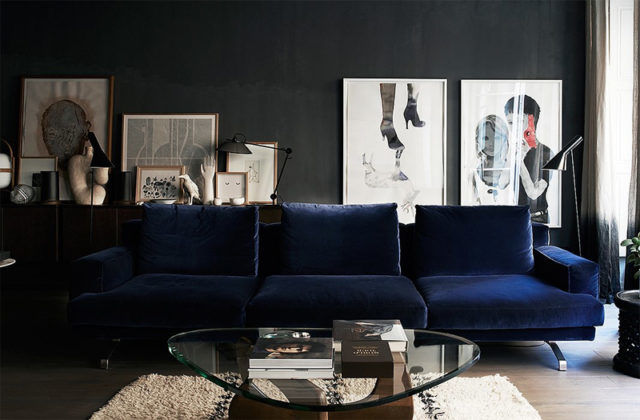 The modern lines of the sofa are softened through the royal blue velvet fabric, giving this stunning seating classic appeal.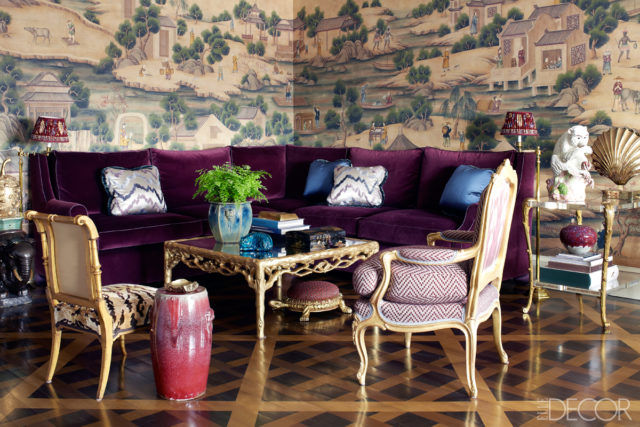 Designer/ Alex Papachristidis-Photographer/ Richard Powers
The layering of bold patterns and jewel tone color, such as the stunning velvet sofa give this room a sense of grandeur and drama.
Not sure how to use Velvet in your home? Here are some of our favorite picks in velvet from pillows to sofas to help you bring this timeless trend to life!
Shop Our Favorite Velvet Pieces

Thanks for stopping by!