Over the 4th we packed the car full of swim toys, new luggage (I retired my well-worn set after it survived the injustices of being relegated to cargo on too many occasions to count), and picnic baskets. Regarding the luggage- I just transfer the contents of one un-packed suitcase into my new leather Bric's set (a gift), add a few more clean pieces and Voila! If I were a lifestyle or fashion blogger you can bet I would go into great detail along with info-graphics showing you the "how-to's" of my unique packing system.  By summer's end, all I'll have to do is store away the suitcase, no unpacking required.
The Fashionista and I are in the midst of a whirlwind of non-stop travel, most is personal travel with a touch of business mixed in (when I can). Back from Charlotte off to NY on Friday. Even through the hectic pace of the summer, I have actually managed to get work done, if you're a Mom you know what I mean. Yes, I have used the little snippets of free time to hide myself in the closet (thank goodness the internet reaches the clothing catacombs of our house), the mosquito infested garden (dousing myself with every Citronella product known to mankind), and in the garage sitting on a large bucket of paint. The list goes on and on. So this weekend, with the help of my sister I was able to grab several hours of pure uninterrupted "me" time. I headed off to a mini-shopping mecca in the"tony" South Park area of Charlotte. While sitting inside the culinary paradise of Dean & DeLuca, sipping tea and sampling sugary delectable's non-stop (another form of working out "hand-mouth, hand-mouth"),  I decided to take a leisurely walk, of which I was under a strict moratorium of window shopping only (imposed by the hubby). Hmm…there is Restoration Hardware. I peeked in. Then I took one step, and another until both feet were firmly planted on the other-side of the door threshold. It's been years since I actually have done more than look through a window. Why? Because they changed quite a few years ago, and I was never sure how I felt about the new "RH Look." I'm not a fan of change, and it was such a dramatic departure from their signature look of 5 or 6 years ago (or more) that I moved on. As a design blogger, I feel responsible to bring inspirational interiors, product, and even stores you can't live without to the masses.
So from time to time, there were little nudges in the form of catalogs, well photographed and curated. Still, no. Then "the stack" came in the mail. If you are in the design field or a preferred customer, you'll know precisely what I mean. It was heavy, I mean it was "flair up the old hernia heavy." A stack of admittedly design heaven, that left  you wondering if you should bring it from the mail box into the house using a hand-truck. Don't get me wrong, I understood the thought process. One large mailing would save money, and trees and cut back on trips to the mailbox. I'm sure they gave it a lot of thought, and since I don't run a mail room the size of North America, who am I to judge? There were social media dissertations on the size of the mailing, and then there was the "calm" after the "storm." On Saturday, I forgave them, because after I walked into the store and actually looked around I was impressed. Very impressed. I would even go out on a limb, and apologize for literally judging this book by it's cover. They have won me back. The store in Charlotte was the equivalent of walking through a show-house, a very livable one. I mean that in the nicest way possible. It was "lord of the manor" perfect.  If I take out my camera on a day when I have a few hours of quiet, then you know I have been duly impressed. Which is my point, the few hours I had of peace and quiet were spent taking pictures and asking questions. The staff were very accommodating and nice, a huge shout there. Taken with my trusty i-Phone, I wanted to share the excitement, and hopefully give you some inspiration, because this company has certainly set the bar. So hopefully Restoration Hardware you forgive me for ever doubting you. You have won me over in a really big way.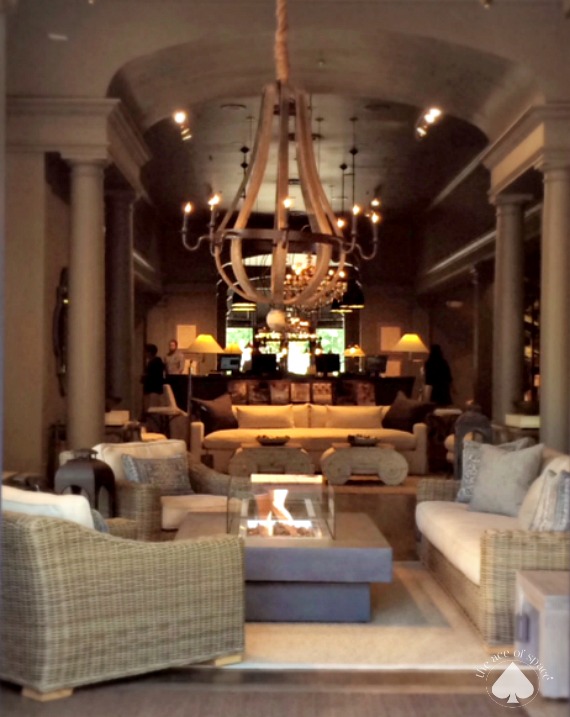 Photo/ Vicki Bolick-theaceofspaceblog.com
Endless possibilities as far as the eye can see…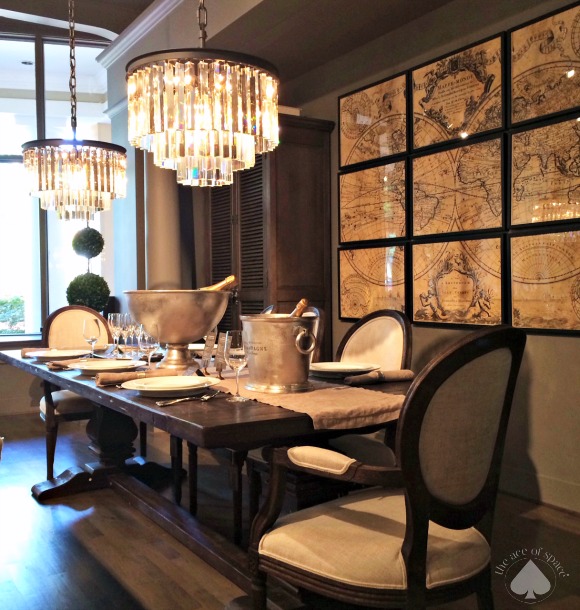 Photo/ Vicki Bolick-theaceofspaceblog.com
I love map gallery walls, and honestly no one does it better. The heavy pewter-ware creates the perfect table-setting atop the trestle table. Simple is better, and less is more.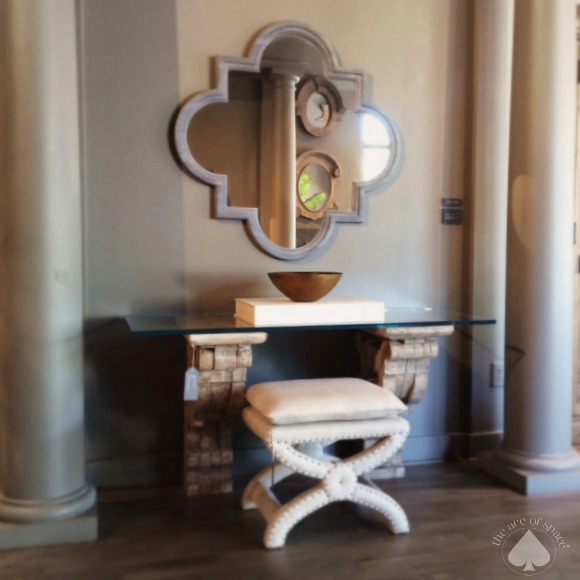 Photo/ Vicki Bolick-theaceofspaceblog.com
Large pillars, upholstered benches, floating shelving and a quadrefoil mirror and you have the perfect entryway.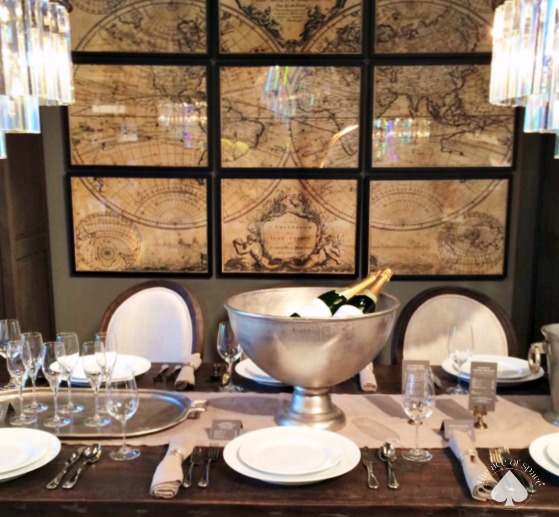 Photo/ Vicki Bolick-theaceofspaceblog.com
A closer look at the fabulous tables-cape. Cooked goose anyone?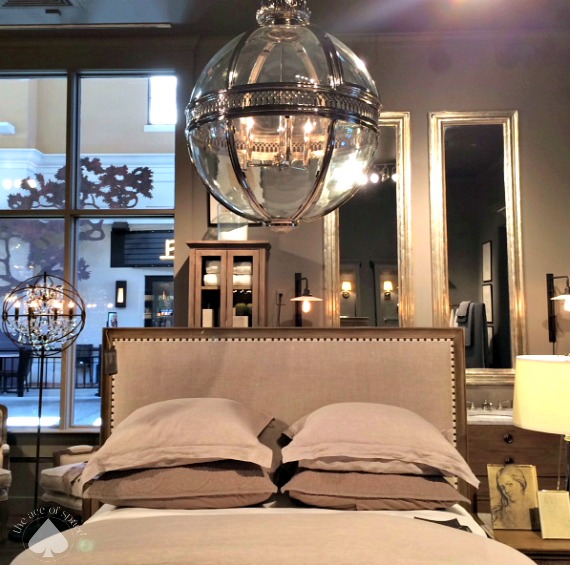 Photo/ Vicki Bolick-theaceofspaceblog.com
I took this photo to highlight the gorgeous chandelier. This piece is large and "in charge" whether over a table or hanging over a bed. What doesn't look better under glass?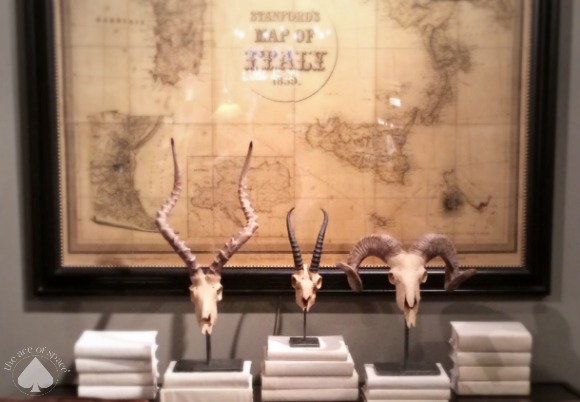 Photo/ Vicki Bolick-theaceofspaceblog.com
 I love groupings on tabletops, and of course stacking books gives a collection more importance wouldn't you agree?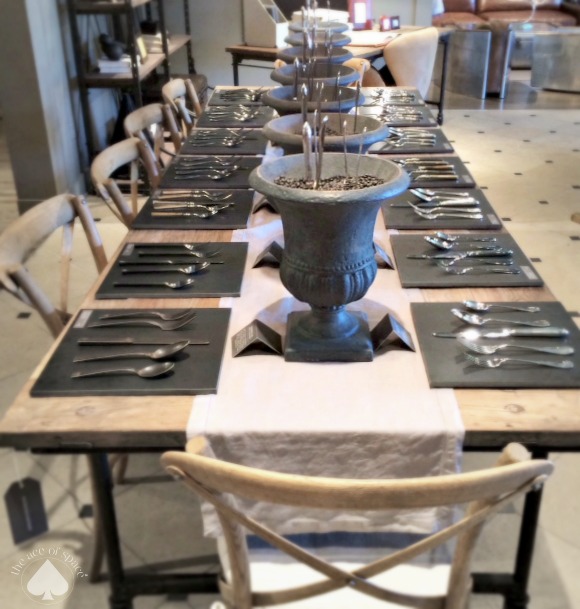 Photo/ Vicki Bolick-theaceofspaceblog.com
Which gives me an idea, even though this showcases various tablesettings, why not put silverware in urns on the table? This would allow your guests to help themselves from a unique display.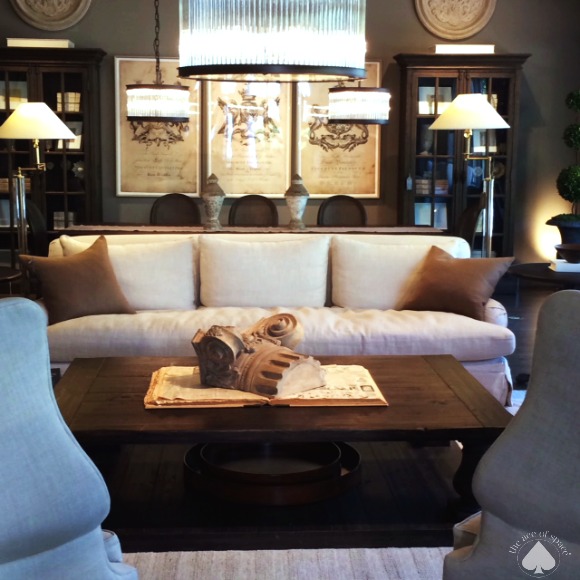 Photo/ Vicki Bolick-theaceofspaceblog.com
Artful living…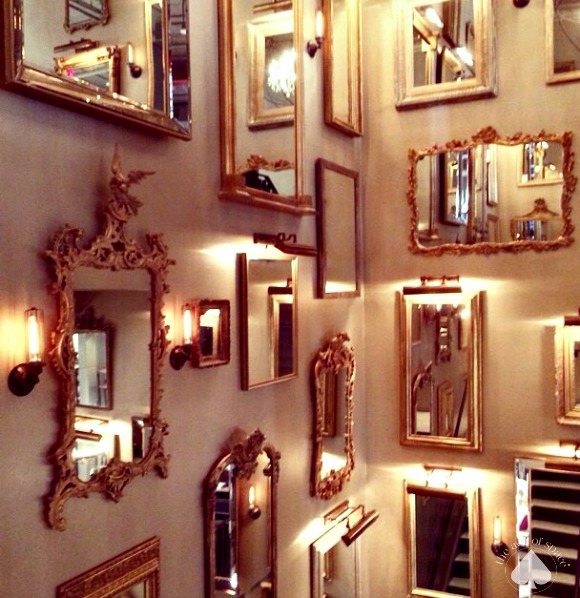 Photo/Vicki Bolick-theaceofspaceblog.com
This photo is actually from my archives, and I took it when I was in NYC in the Flatiron District, and happened by Restoration Hardware. I loved them all, and thankfully I didn't have to chose one (how hard would that be?).
Who isn't inspired by the vignettes in this lifestyle store? Frankly, I was glad that I took a moment to look around, and next year when I get the delivery catalogs full of visual luxe, I'll definitely be hoarding the stack..
P.S. We will hopefully be posting another "Tastemaker" this Friday, many of our designers are photographing new work and want it to be included. But, we have the line up in place. Good things will come to those who wait.
A Master-bath Update: My Kohler product is beginning to arrive, and soon I'll be taking you on a renovation journey of our Masterbath, complete with a vanity I designed with Kohler. I can't wait to show you all the fabulous product from their luxury line that they provided us for our renovation. Thanks also to the team over at Sharp Communications in NYC, specifically Josh Schoenfelder, and Kate Harrington! Over the next two months Casa B. will be under construction, all I have left is make a decision about the tile. So MANY choices…
As always.
Be Inspired. Be Amazed.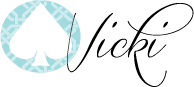 Thanks for stopping by!