Summer is here and it's time to make vacation plans, whether you are traveling to a far off tropical locale or staying at home. The staycation is not a new concept, but with roadways overcrowded with summer traffic, and rising costs of airfare, the "Staycation" has taken on a whole meaning. People who would normally pack their bags to go on a road trip are looking for creative ways to turn their backyards into the perfect vacation destination.
So what does it take to turn your home into the ultimate staycation sanctuary? Movie theaters, fire pits, and bocce ball courts are just some of the amenities you"ll want. Everything from outdoor spas to water parks can be found in today's homes.
And, if you don't want to cook in your state-of-the-art outdoor kitchen with your built-in pizza oven or sit in traffic to try the latest downtown restaurant, then join other homeowners in hiring a chef to come cook a gourmet meal for you and your friends.
 Noted West Hollywood-based luxury interior designer Mark Weaver of Mark Weaver & Associates, Inc. who is responsible for exquisite interiors in many of Santa Barbara's finest homes and estates around the world says, "Relaxation, as well as beauty, is top of mind when designing residential spaces. Must-haves these days include a movie theater, world class wine cellar, an outdoor entertainment space and full outdoor kitchen, including a hotel-like spa with every imaginable amenity from luxurious massage tables to a world-class make-up/beauty room."  Mark, and his Business Associate, Darrell Wilson, are really the go-to designers when it comes to advice on luxurious resort-like features from A to Z.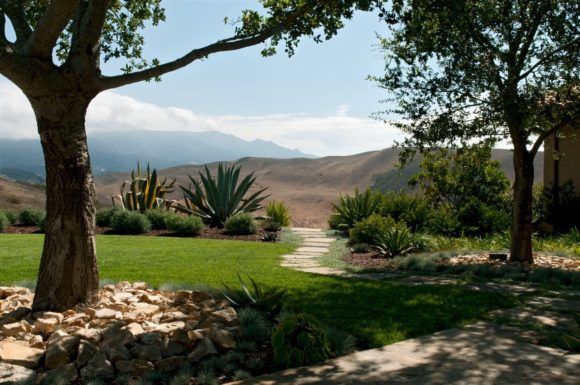 The view at Villa Della Costa, design by Mark Weaver & Associates, Inc., builder Kitchell Custom Homes, photo courtesy of Fred Licht
 Read below to see Mark Weaver and Darrell Wilson's top recommendations for the ultimate staycation at home.
1//The outdoor fire pit—A must for gatherings from cozy fireside chats with friends to roasting marshmallows channeling your childhood camping days. The options are endless for creating a focal point in your backyard from elaborate fire pit tables to smaller fire bowls. 
Shop Our Favorite Outdoor Accessories…
2//The Outdoor Kitchen. The outdoor kitchen – be your own gourmet chef, in the comfort of your backyard. There is something special when you can be in the company of friends and family as you cook a gourmet meal outside. The smell of food cooking on the grill, the sounds of conversation under the warm glow of the summer sun, and you have the perfect recipe for building memories. Snyder Diamond president Russ Diamond, who is the noted resource for the finest kitchen and bath appliances, says, "We have definitely seen an uptick in sales of outdoor kitchen amenities from Kalamazoo Grills to Woodstone Pizza ovens.  Clients are very interested in having the latest and greatest appliances for their outdoor spaces."  
3// The Poolside Bar. A must at every resort, and on your "Staycation." Do you want to turn your backyard into the perfect retreat with the same amenities as a five-star resort? Well, you don't have to live near a tropical island to sip fruity drinks from a coconut. From elaborate tiki bars to swim up drink stations the poolside bar creates a place for bonding and beverages, the next best thing to a breezy island getaway.
4// The Outdoor Movie Theater. Everything but the popcorn. Outdoor movie theaters are a unique summertime experience under the stars, bringing together people of all ages. The ultimate way to celebrate summer, cinema, family, and friends.
5//The Outdoor Reading Nook—built for quiet, literary moments. Now that summer is here its time for reading outside. Whether you are creating a space for quiet contemplation or an afternoon siesta, an outdoor nook for reading or napping is the perfect way to relax on a balmy summer day. Allowing you to channel your inner bookworm while enjoying the great outdoors.
6//Outdoor Games. Be a true original and soak up the fresh air. From oversize chess sets ala Harry Potter to lawn darts, enjoying the outdoors and soaking up the fresh air while playing a rousing game of croquet satisfies the young and young at heart. Whether you are looking for classic entertainment like horseshoes and bocce ball, or kid-friendly games such as water balloons, there are games galore available for hours of outdoor entertainment.
7//The Poolside Daybed—with flowing drapes straight from the Arabian nights. Escaping the heat and lounging on a pile of luxurious pillows is one of the recipes for the ultimate staycation. Sans a pool? Don't worry simply find a shaded spot in your backyard. When it comes to laying back and relaxing outdoors on a beautiful day, nothing compares to the comfort and coziness of a daybed. Imagine walking outside the next time you want a nap, and being able to breathe the fresh air, feel the warmth of the sun, and let the sounds of nature soothe you to sleep whether it's poolside or under the shade of a palm tree.
8//Alfresco Dining. Is there any other way? Al Fresco dining means simply "eating outdoors." It gets you out of the house into the fresh, open air allowing you to soak up the sun during the day, or enjoy an intimate candlelight dinner in the evening with family and friends. Dining outside is one of the ultimate hallmarks of summer and the perfect way to take advantage of warmer weather.  
9//The Perfectly Placed Pergola—for a moment of repose and magic. Imagine soft flowing drapery, and fragrant and flowering vines growing up and over the rafters. Pergolas have a unique beauty that adds architectural and sculptural interest with romantic appeal to any backyard.
10. The Lounge Area—a stunning canopy for a truly original enclosure. An outdoor living area is a true extension of the interior and with more people spending time outside all the luxuries of an indoor space can be used to recreate the ultimate lounge area in your backyard.
We hope you are inspired to create your own "Staycation" without leaving the comforts of home!
Until next time,
LIVE A LIFE WELL-CURATED.