One more day before I jet off to L.A. for the annual Design Bloggers Conference, it's going to be even more amazing this year with the addition of Design Icon-Barbara Barry. In fact, I have been feverishly doing a little extra cardio, in the event I have an opportunity for a photo-op, because she is petite and svelte, and I am not. In between practicing various camera poses, I have been working on another project for a client/family, who are avid sailors (like moi'), and have a love of all things nautical. They don't want a kitschy interior (thank goodness and I am kissing the ground over this), but something tasteful and refined with subtle nuances. So from my style files here are some seaworthy design elements we are proposing to pay homage to their passion.
On a side note: I do want to mention that my wardrobe choices apparently do not hold a candle to that of my little Fashionista. I volunteered this week to be "Classroom Helper" for a bunch of 5 & 6 year olds, and was asked by a 6 year old why I didn't have nice clothes like my daughter. What? At least 75% of what I had on was Tory Burch. That certainly gives me incentive to break out the AMEX card today and do some serious retail therapy. Although in all honesty, I am proud that she has the distinction of being a style icon at 6, and Mr. B.  it's going to cost you either way.
Photo/ Atelier 688
This organic light fixture has an "undone" appeal which I love, and although I'm not using it on this project, it will have it's place someday…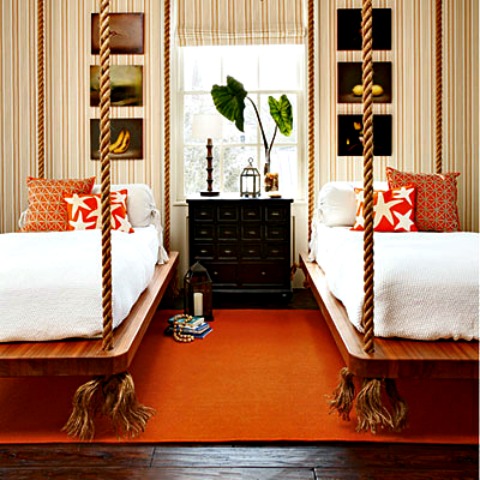 via coastalliving.com
Now this picture has followed me around forever, these wooden platform bed are just  amazingly creative. There is something about wood tones paired with orange or blue that just speaks of all things nautical. We are considering something similar for the boy's room in my clients home….drawings to follow soon.
via designsponge.com
This serpentine rope adds an artistic yet functional element to the staircase, and is a creative way to add a little panache. This takes the standard wood railing to a new level in form and function.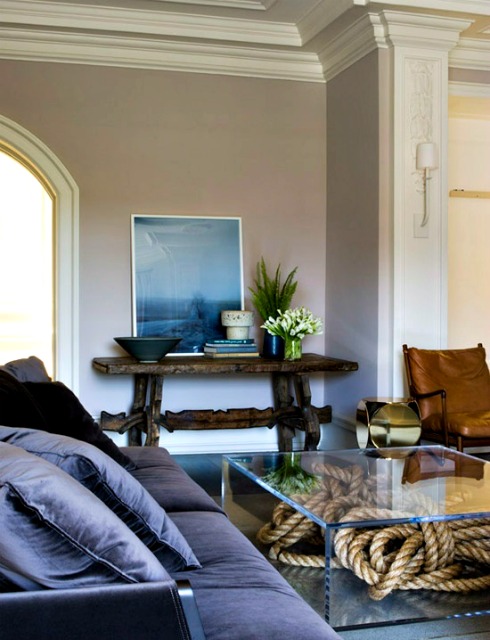 via prettystuff.tumblr.com
I've always been of fan of adding an interesting element under a glass or acrylic coffee table. It is often an underutilized space that paired with the proper design elements can add an unexpected twist, or serve as additional storage by the incorporation of a few textural baskets. The over-sized nautical ropes used in this interior add the right amount of "high seas" drama.
 via Elle Decor/ Designer-James Wall
I have used this picture before in another blog post, and I still love the pure genius of it all. The custom rope window treatment is an impressive use of organic material. We are considering something similar for our clients, on the downstairs powder room window. To find an extensive inventory of nautical rope visit miamicordage.com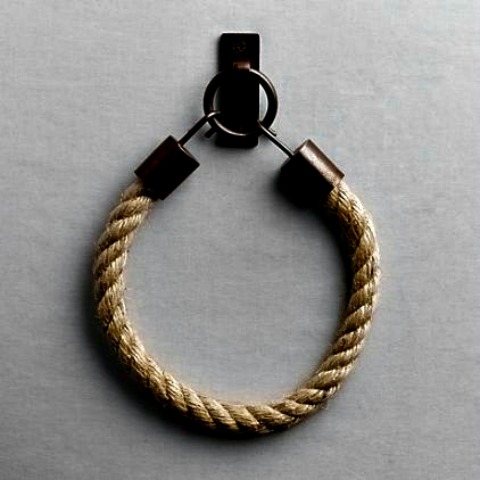 via Restoration Hardware
Maybe a few rope tiebacks in the dining room?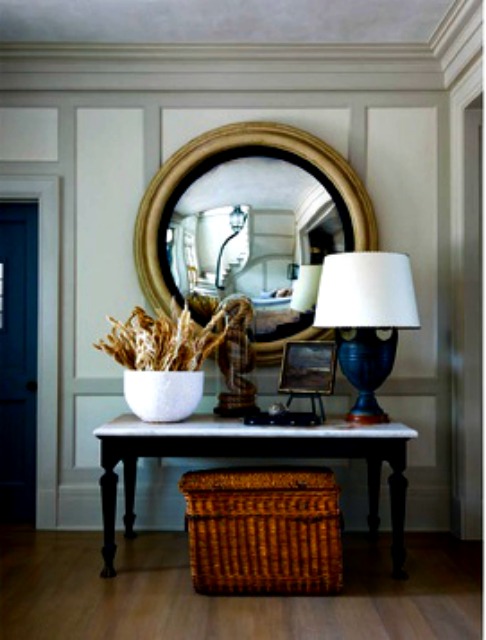 via sjgambrel.com
Or adding some twisted rope to a clear glass vase, even a little rope can add another layer of texture to a static tabletop vignette. A perfect nautical touch.
 It's time to get my client's home in ship shape for the summer, and as always we'll keep you posted on our journey. Don't forget to visit our Pinboards on Pinterest for more design inspiration, and visual delights. You'll find a direct link on the sidebar.
Cheerio!
Thanks for stopping by!