This weekend I realized that I've been living inside a design box, and not thinking outside of it. It all centered around a twelve-month quest for a rug. I know all designers say this-but designing our homes puts us into "freeze mode." In fact, a few weeks ago a good friend of mine, (who owns a luxury showroom) asked me to stop by to validate some fabric choices for her bedroom. Yes, after 3 years she finally narrowed down a few selections. So in my defense a year doesn't seem like a very long time to look for one rug.
Did I find "the one"? Well…I found a few. But, my favorite was in shades of blue and gray. What? That literally stopped me in my design tracks. Does blue and gray actually go together? I lost a few hours of sleep thinking about it, went on Pinterest to confirm that other designers actually used this color pairing. Then I had to decide if I would need to change out the pillows on our blue sofa (think open floor plan). Am I striking a cord with anyone? I can actually feel collective designer heads nodding around the world. Don't get me wrong, I wouldn't actually bat an eyelash if it were a client, but for myself? It immobilized me for hours. Truthfully, I've designed several interiors using blue's and gray's so technically I shouldn't have a problem. Or so I thought. (Side note: Our current color scheme is a safe choice of blues, creams and tans).
Instead, I pretended that I was my client, (the worst kind) and made the call. Literally. Yes, I ordered "the rug" requiring other heart-stopping decisions, like fabrics, and a new wall color. Which should be a breeze. Because I only have 25 favorite shades of gray, and I just have to pick one…
So here are my tried and true gray's, and I'm sharing the list with my readers…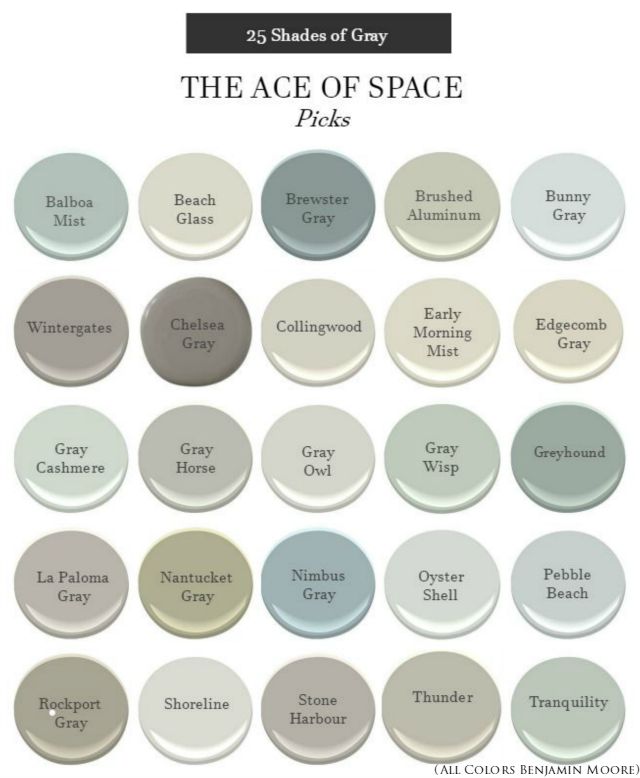 Please note: These color selections are all from Benjamin Moore.
As always, don't forget to follow us on social medial for more design inspiration and happenings…
https://facebook.com/theaceofspaceblog
http://pinterest.com/bolickinteriors/
http://instagram.com/theaceofspaceblog.com
https://twitter.com/theaceofspacebl
Also, follow us on Instagram this week as we travel around Southern California for a little R&R and inspiration.
Until next time,
BE INSPIRED. BE AMAZED.