Long considered the Jewel of the Hudson Valley, Kingston, New York is known for it's charming aesthetics and rich heritage. The former state capital is also a burgeoning hub for culture and tourism, a destination that attracts people from around the globe. Carefully preserved, visitors can still meander down cobblestone streets lined with 19th century townhomes.
The city is also widely recognized as a creative center of makers, artisans and design talent, which inspired Designer, Marlene Damour to form the Kingston Design Connection, a collective whose mission is building community through design. This year the Kingston Design Connection celebrated its second annual Showhouse, where interior designers have re-imagined The Wiltwyck, an historic 19th century guest house, redesigned from top to bottom, each bringing his or her own unique design perspective redefining "how we live and move through the spaces we inhabit." The result is a visual feast combining contemporary and traditional influences with a distinctive Hudson Valley aesthetic.
The 2019 Kingston Design Showhouse features 17 designers and dozens of Hudson Valley based vendors and manufacturers. Some of the exquisite features include cane detail cabinetry by Elizabeth Meerer and a stunning wallpapered ceiling by Ana Claudia Schultz. While the Showhouse closed at the end of October, you can still see The Wiltwyck because the owners have listed it on Airbnb. If you have ever wanted to stay in a Showhouse like I have, you can by booking a stay while enjoying all this jewel of a city has to offer.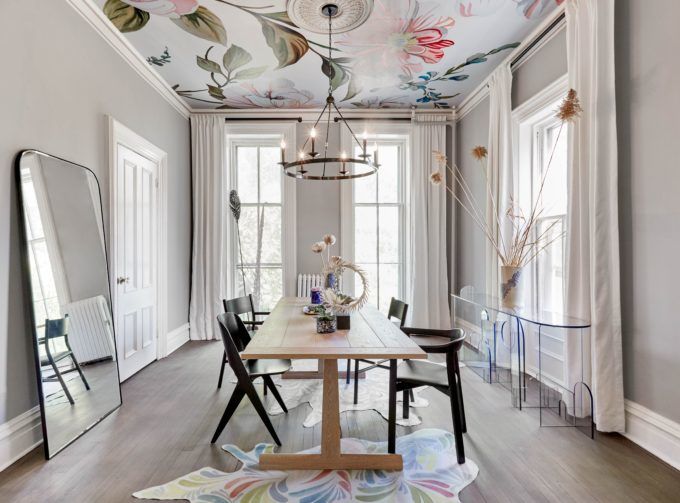 Designer-Ana Claudia Schultz Design/Photography-Rikki Snyder
This dining space while minimalist in design is paired with soft silhouettes. The art and accessories are considerate and raw. Mixed and matched dining chairs from Gestalt are masculine in color but their Japanese silhouettes are distinctly soft and feminine.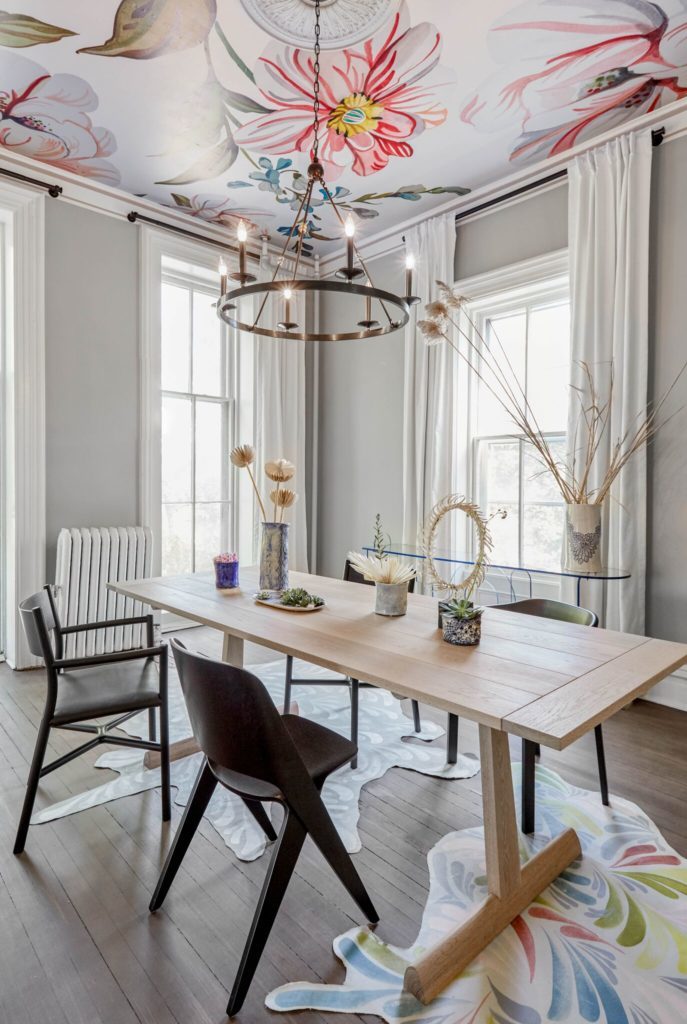 Designer-Ana Claudia Schultz Design/Photography-Rikki Snyder
Commissioned custom rugs from Rowan Willigan, a visual artist and muralist based in upstate New York are a nod to the floral wallpaper but in the shape of a hide that leans towards the Hudson Valley and masculinity.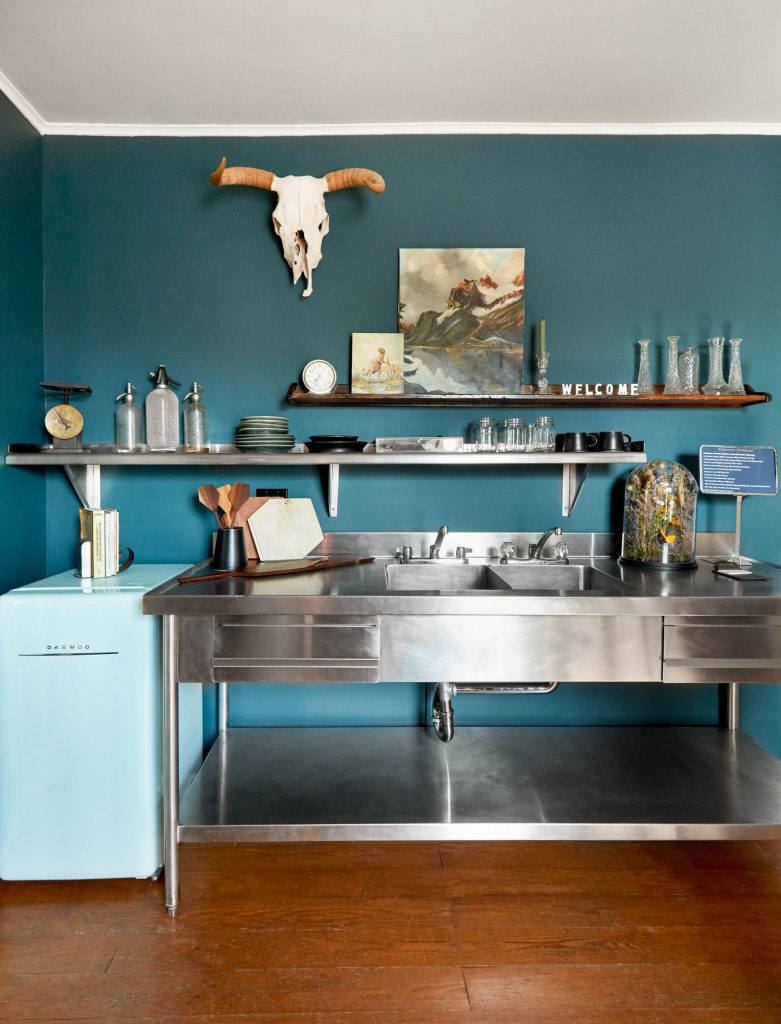 Designer-Brooke Nelson/Photography-Rikki Snyder
For this striking look, Nelson used the Historic Cornell building on the Kingston waterfront as inspiration. The kitchenette borrows the metallic color scheme of the Cornell building and contrasts it with the use of crystal, metal, wood, and velvet.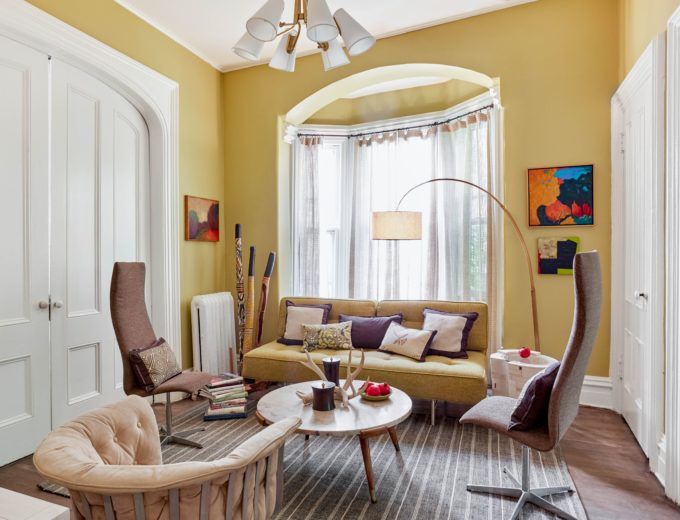 Catherine Gerry Interiors/Photography-Rikki Snyder
 Gerry's design is a mix of modern and traditional decor with a tasteful, signature Southwestern flair. A thoughtful selection of vintage and modern furniture pieces provides a room layered in distinctive details.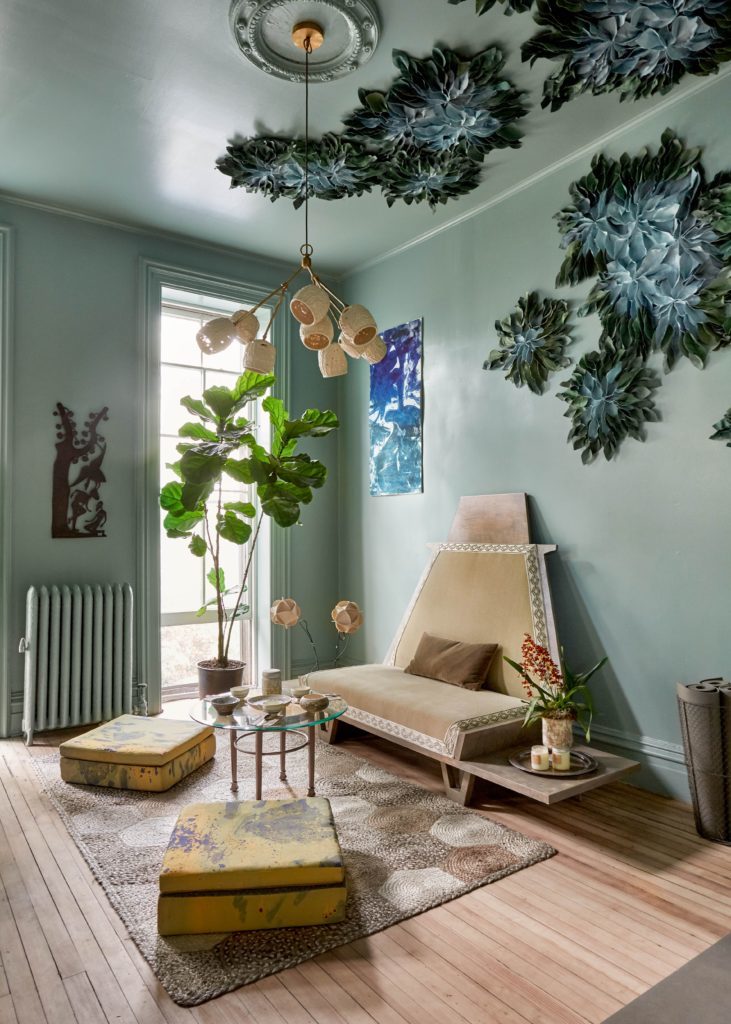 Designers/Maryline Damour & Mel Jones Jr., Damour Drake/ Photography-Rikki Snyder
 Damour turned this bedroom into a yoga and meditation studio, even using the closet as a sauna. The crowning jewel of this room is a large-scale sculpture of hand-dyed fabric made to look like leaves bursting from the ceiling and down the wall, made in collaboration with designer Sienna Martz.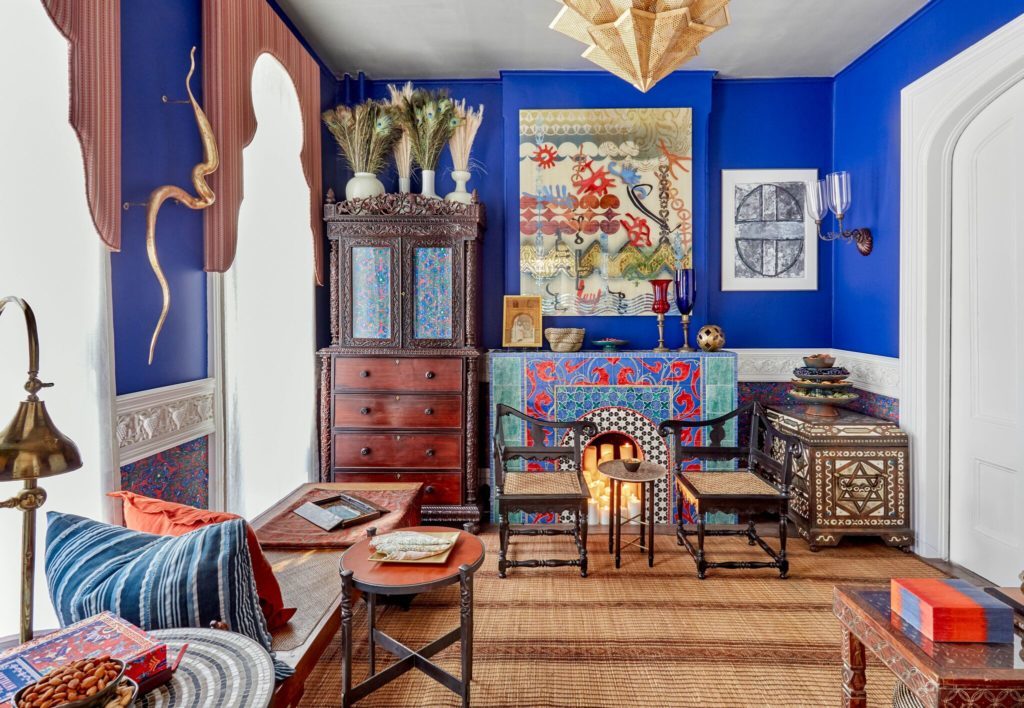 Designer-Foley & Cox/Photography-Rikki Snyder
The designers created a parlor that is brimming with layers of color, pattern and texture, inspired by the old world charm of Morocco punctuated with modern elements. Stunning details include a custom-created mirror from Miriam Ellner in the "verre eglomise" style and a hand-crafted fireplace surround by Christopher Brody.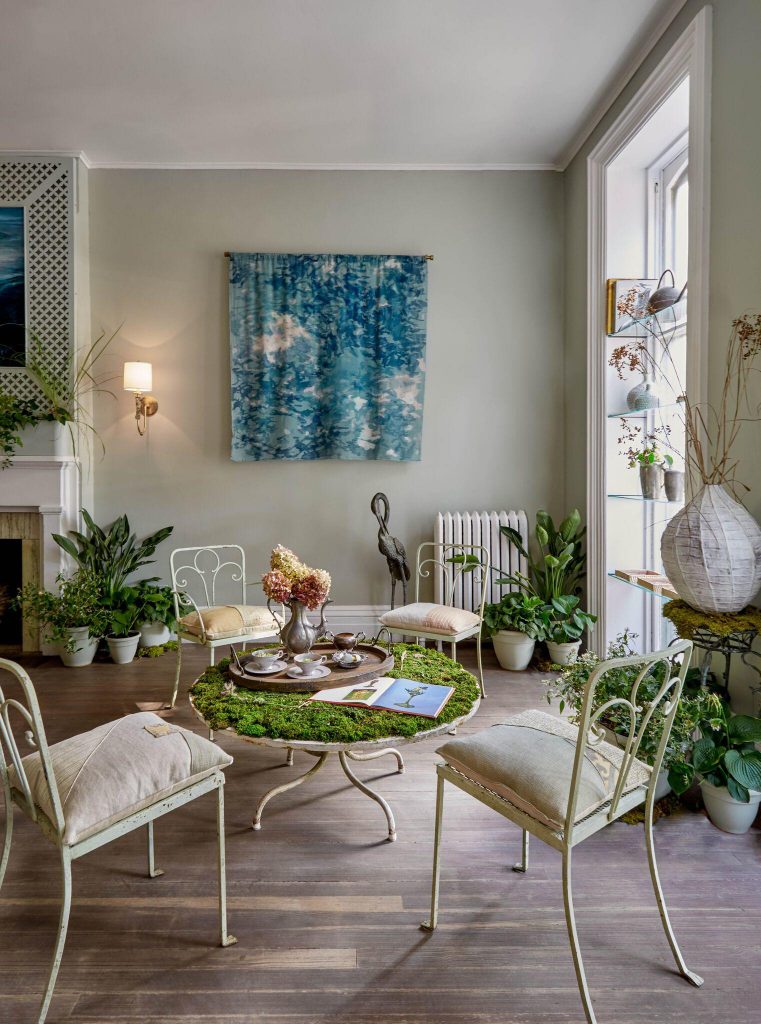 Designer-Jennifer Salremini/Photography-Rikki Snyder
Salremini created a space that gives the illusion of a Victorian atrium. With that in mind, she hung a series of paintings by artist Katie Westmoreland and repeated a delicate lattice pattern on the walls, the seats of chairs and in a custom-cut frame powder-coated to match the walls and hung over the fireplace. A minty-green, lichen color is repeated on the walls, the furniture, and foliage.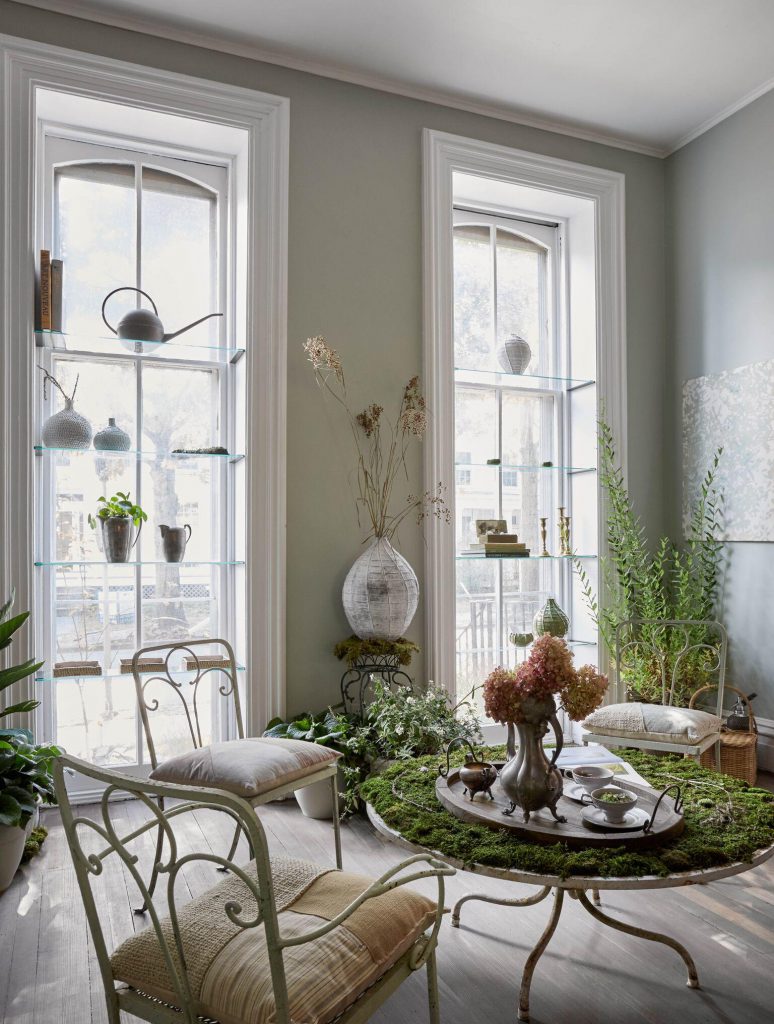 Designer-Jennifer Salremini/Photography-Rikki Snyder
The space designed by Salremini is a delightful immersion into nature.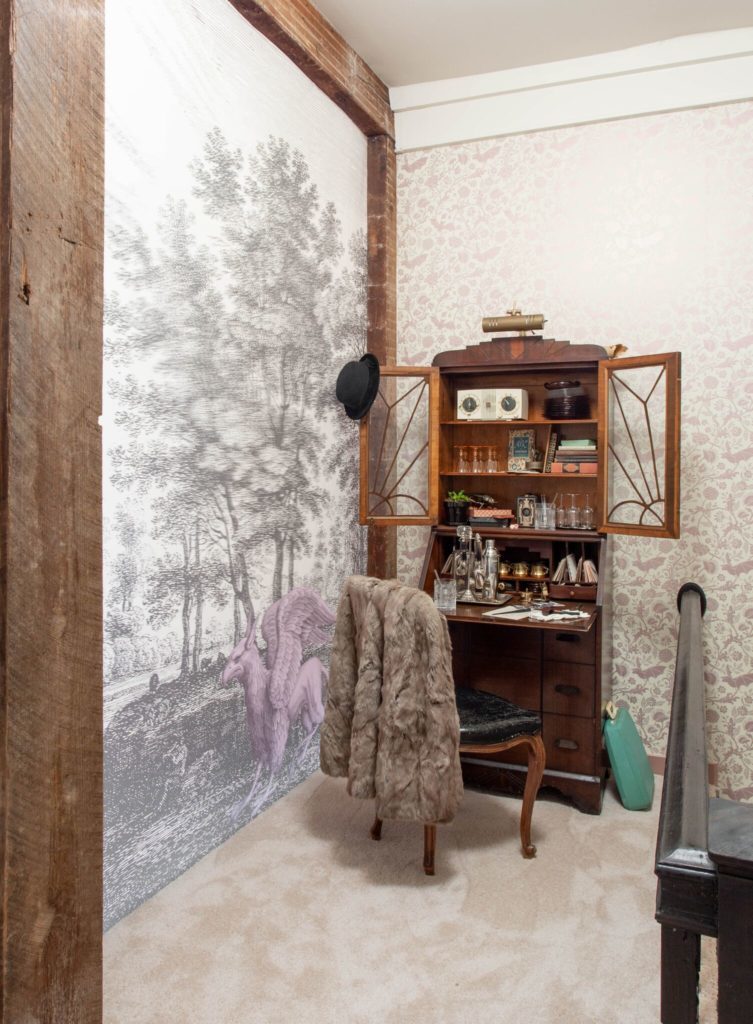 Designer-Jon Sherman-Flavor Paper/Photography-Rikki Snyder
Sherman, the creator of the Brooklyn based wallpaper company Flavor Paper, began by taking a 1614 pastoral etching scene and turning it into a massive mural, complete with an etching of a griffin and a family name and crest. For the ceiling, Sherman chose his Camellias line of wallpaper.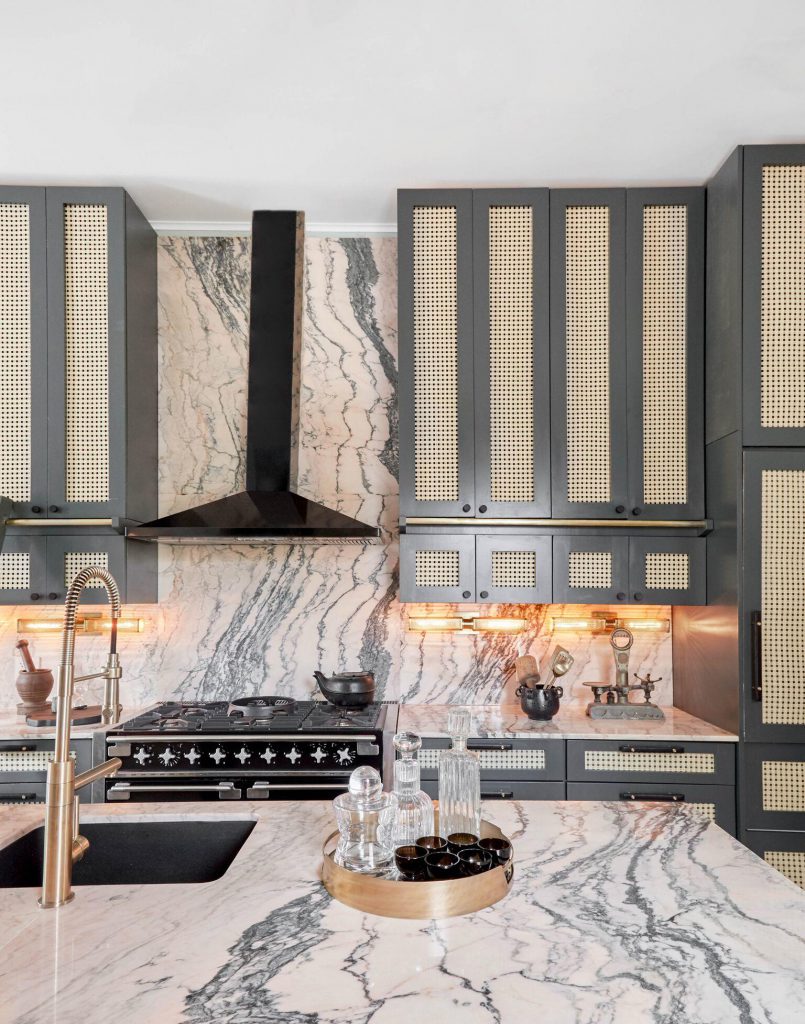 Mercer Interiors/Photography-Rikki Snyder
In this stunning kitchen Mercer relied on the guiding principle "form follows function" to meet the needs of a large family that cooks three meals a day.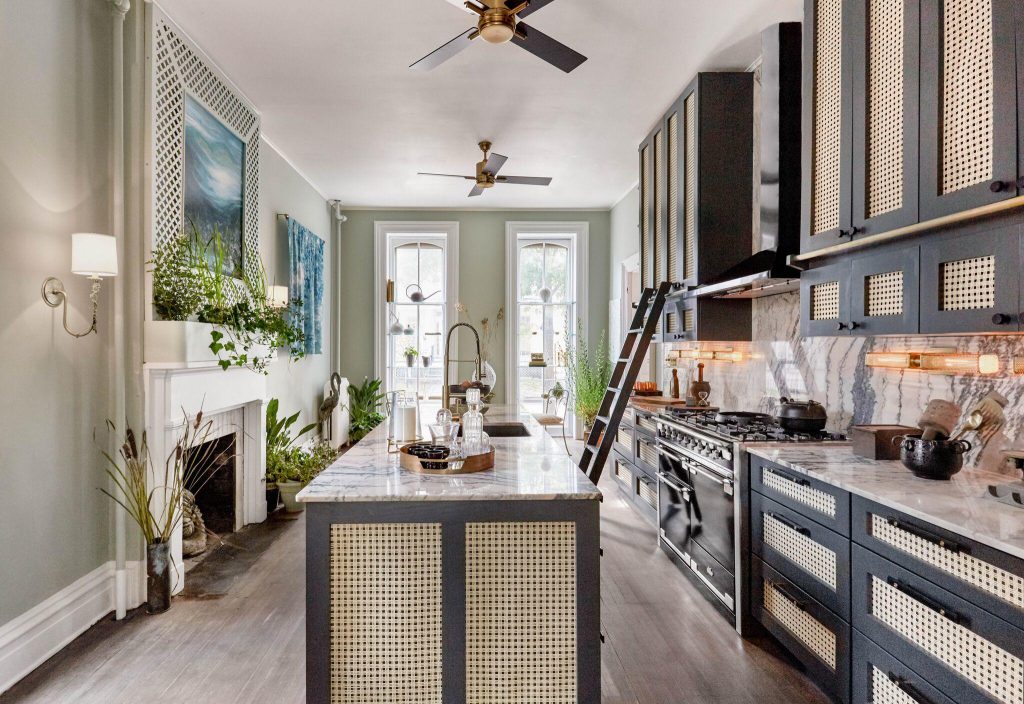 Mercer Interiors/ Photography-Rikki Snyder
Albany Marble was used on the countertops and backsplash, and paper cane graces the cabinet fronts providing texture and stylish detail.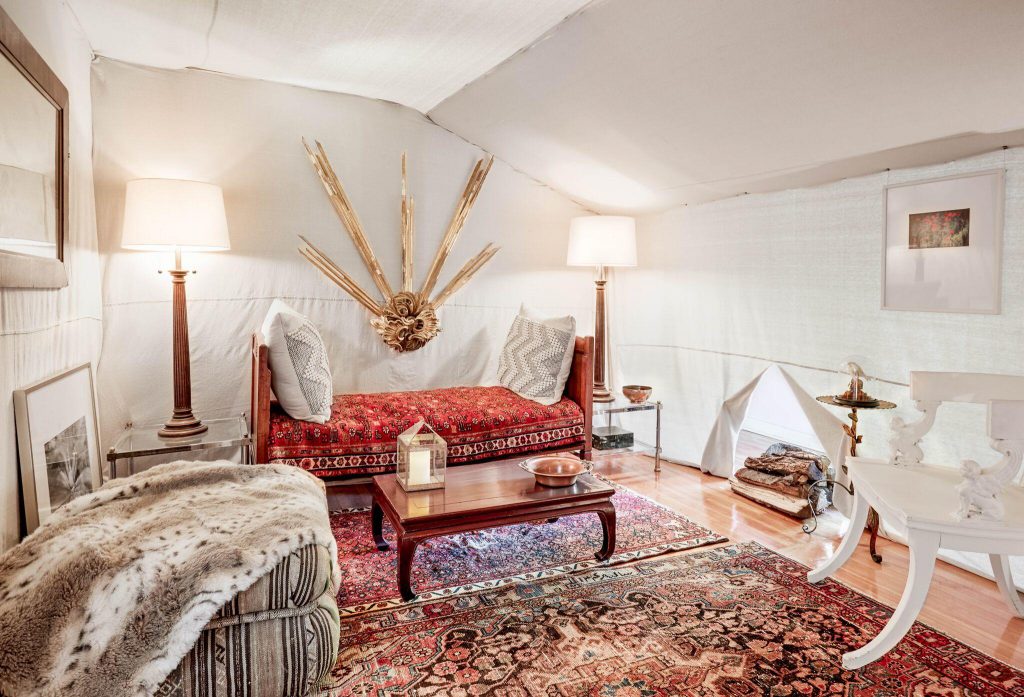 Portilla Design/Photography-Rikki Snyder
Inspired by modern luxury tents, de la Portilla created a tent-like enclosure by draping the walls in drop clothes and filling it with antiques and eclectic art.
For more on the Kingston Design Connections visit here