It's design season, with a level of excitement that rivals the Oscars. Sadly, I won't be walking any "red carpets" but I will be attending High Point for the first inaugural Blog Tour which equates to a lot of cocktail parties, events, book signings and oh…a lot of trend spotting (my favorite past time). Just follow me on social media in a few weeks for a whole lot of pretty and industry happenings. It's going to be a whirlwind of activity, and I can't wait to share it all.
Also, we have EPIC giveaway planned, I'm partnering with some of my favorite brands for "The Ace Picks 10." So move over Oprah, there's a new giveaway in town! Check back often because very soon we will be doing the "Big Reveal"! Just in time for Christmas (I'm feeling a little like Santa), when 10 of my favorite products for the home will be given away to one very, very lucky winner. Why not save the best (and biggest) for last? P.S. Don't forget to follow us on Social for the details.
As I mentioned one of my favorite past times is "Trend Spotting," the other is doing "Home Tours," both of which I love to share with my readers. Sadly, not all of us live in a showhouse, but there are certainly many to visit throughout the year. Full of design inspiration & takeaways that inspire all of us to think outside the box. Recently, I visited the Serenbe Showhouse and as promised I'm sharing more pictures and design details of this truly remarkable home. I was fortunate to meet (and monopolize the time of) the gracious architect JP Curran and discuss the inspiration behind the design, which was based on Creole architecture. During time spent in the New Orleans area, JP became interested in an architectural style synonymous with the "Big Easy," an influence evident from the broad spreading roofline (gallery style) supported by colonettes to principal rooms above grade. Combined with unique features born from the imagination of this emerging talent, from thick walls surrounding door casings to stacked crowning moldings (the latter of which I am obsessed with). At around 3,800 SF and listed for $1.4 million, I think you have an idea of the incredible detail that not only went into the exterior construction but the interior amenities as well. Yes, this house had me dreaming of all the possibilities of living in Serenbe from the comfort of a sweeping front porch.
But, first I want to share some inspiration from the kitchen and dining room, every fabulous inch. Designed by Huff Harrington and Amy Morris respectively…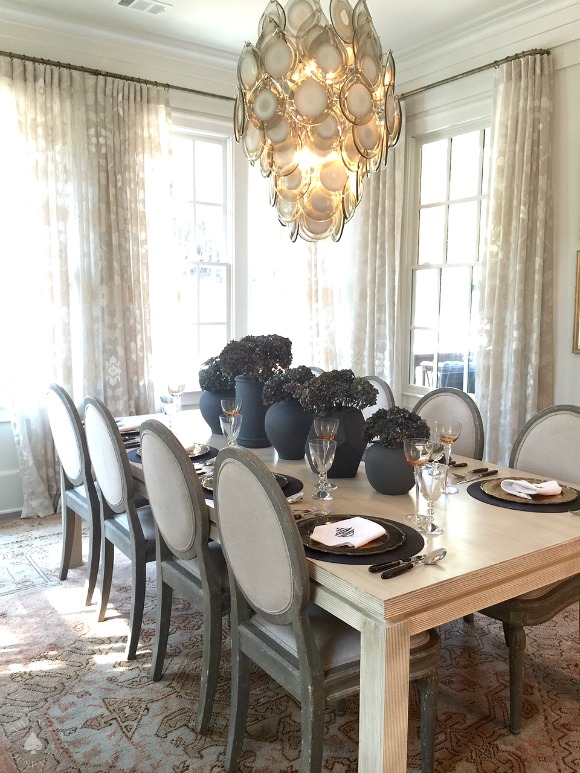 Designer/ Amy Morris-Photo/ Vicki Gladle Bolick
A sophisticated dining room in a soft neutral color palette. Amy mixed wood tones and styles for an unexpected twist. Matte black vases brought in understated drama.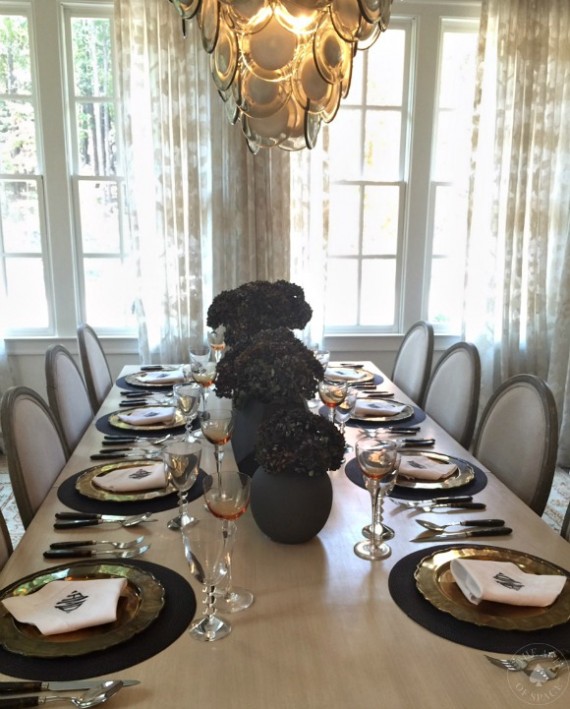 Designer/ Amy Morris-Photo/ Vicki Gladle Bolick
There is little that rivals a well-dressed table…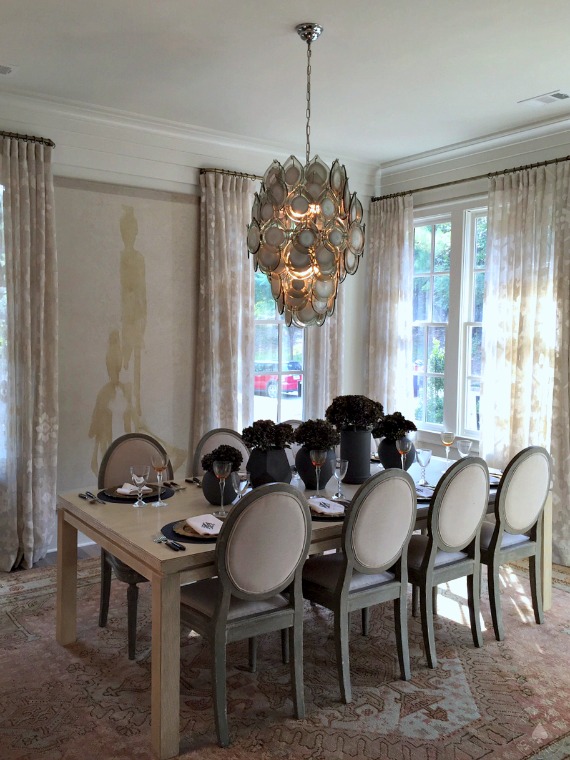 Designer/ Amy Morris- Photo/ Vicki Gladle Bolick
An unexpected element was the artwork, at first glance I thought it was an anomaly. However, it was an abstract watercolor adding visual interest to the soft paint color on the wall. I loved the traditional style chairs paired with a more modern parson style table in natural wood.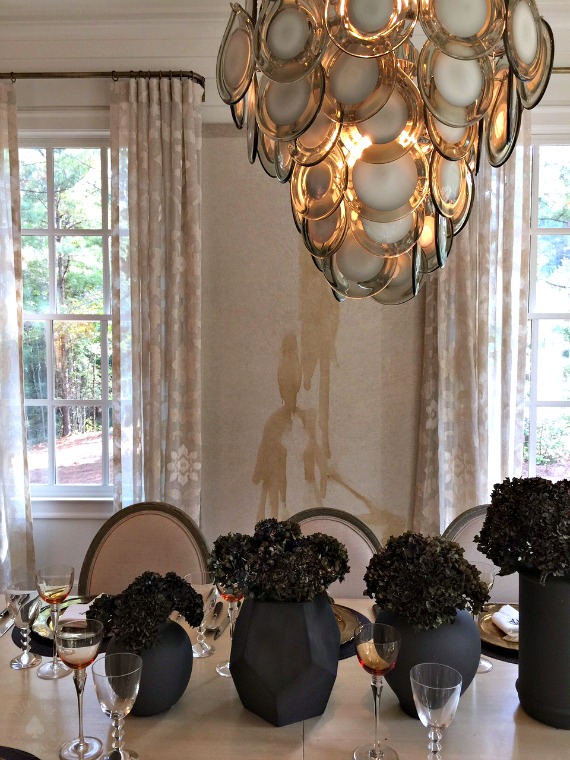 Designer/ Amy Morris-Photo/ Vicki Gladle Bolick
Yes, I know the light is simply fabulous. Truly the crown jewel of the room.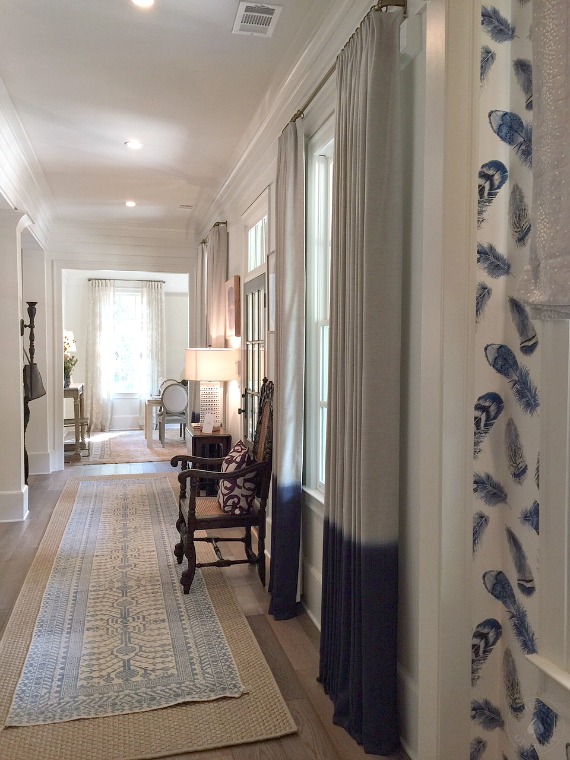 Designer/ Lyndsy Woods-Photo/ Vicki Gladle Bolick
Stunning ombre drapery and a whimsical feather motif wallcovering greeted you upon entering the home.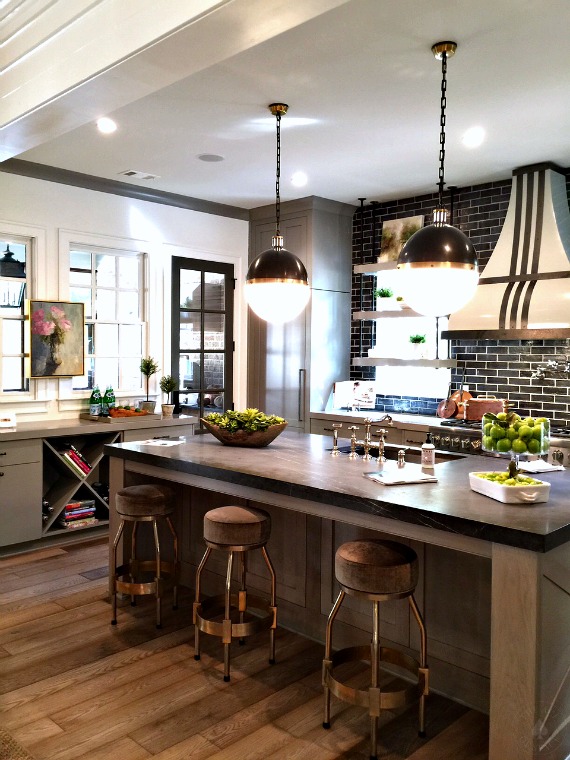 Designers/ Huff Harrington (Ann Huff & Meg Harrington)-Photo/ Vicki Gladle Bolick
The first thought I had when I saw this kitchen was how warm and inviting it was. The colors used in this space were richer in tone from the honed marble to the brown backsplash tiles, making this space feel approachable and livable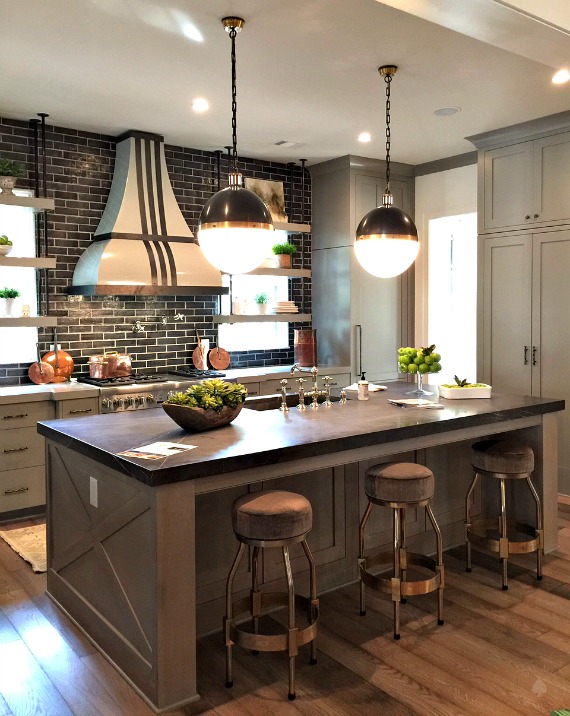 Designers/ Huff Harrington (Ann Huff & Meg Harrington) -Photo/ Vicki Gladle Bolick
Warm & sophisticated from the Hicks Pendants (Circa Lighting) to the custom cabinetry detail.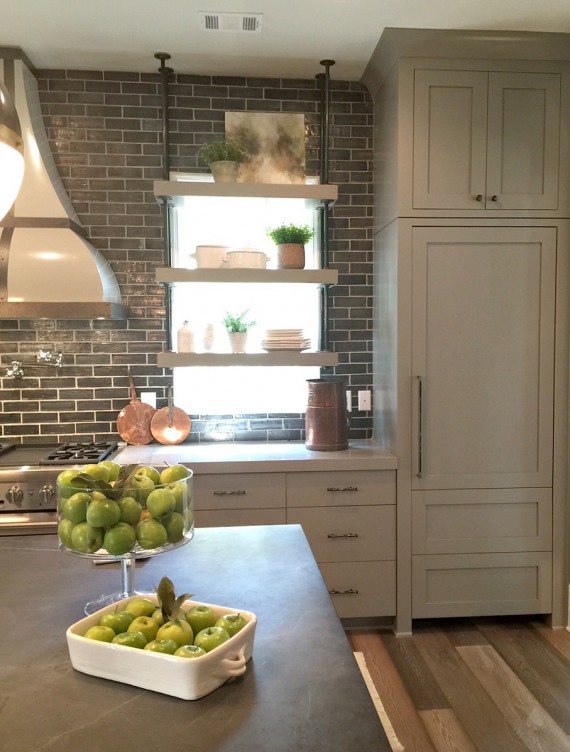 Designers/ Huff Harrington (Ann Huff & Meg Harrington)-Photo/ Vicki Gladle Bolick
A closer look at the incredible detail in the kitchen, from the mixed wood flooring, opening shelving suspended from the ceiling to the gorgeous vent hood…
If you live in Atlanta or the surrounding areas, I'll be partnering with Simon Pearce for an afternoon of autumn entertaining tips. So stop by, and enjoy some light refreshments and decorating tips. The details are below…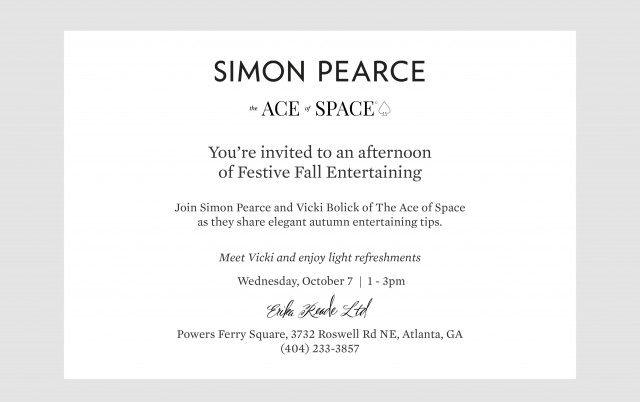 If you are in town, we hope you can make it!
As always don't forget to follow us on Social Media for more design inspiration and happenings…
Until next time,
BE INSPIRED. BE AMAZED.