For once this "rolling stone" isn't traveling and I'll be attending AmericasMart right here in my hometown of Atlanta. I'm excited to be joining a select group of design tastemakers and bloggers as part of the #StyleYourSeason Program, an inaugural collaboration with AmericasMart International Gift & Home Furnishings Market & Pantone®. Designed to be a complete experience at AmericasMart ranging from insightful panels, networking events, and reporting by #StyleYourSeason Bloggers. Beginning on Friday I'll be sharing this experience through Social Media and posting the most up to date showroom offerings on Instagram, Twitter & Facebook using the hashtags #ATLMKT, #StyleYourSeason, #PantoneAtlanta. In February, look for my interactive Trend & Product Report which will be available on AmericasMart website. In the coming weeks I'll be sharing interviews with some top names in the industry along with Market recaps.
The theme of this years Market is #StyleYourSeason in collaboration with Pantone® Home & Interiors. Signature vignettes will feature and highlight the "Color of The Year," as well as the PANTONEVIEW® Home & Interiors Color Forecast. The vignettes are curated by some of the industrys top design tastemakers such as Jamie Durie, Kristin Alber, Michel Boyd, Tami Ramsey & Krista Nye Swartz, Robert Leleux, Heather Hogan Roberts, Janie Hirsch, Michael Habachy & Shaun Smith. Rolling out the"rose-quartz" carpet the "Colors of the Year," will be celebrated at the "Colors of the Year Party," a must attend event if you are at AmericasMart.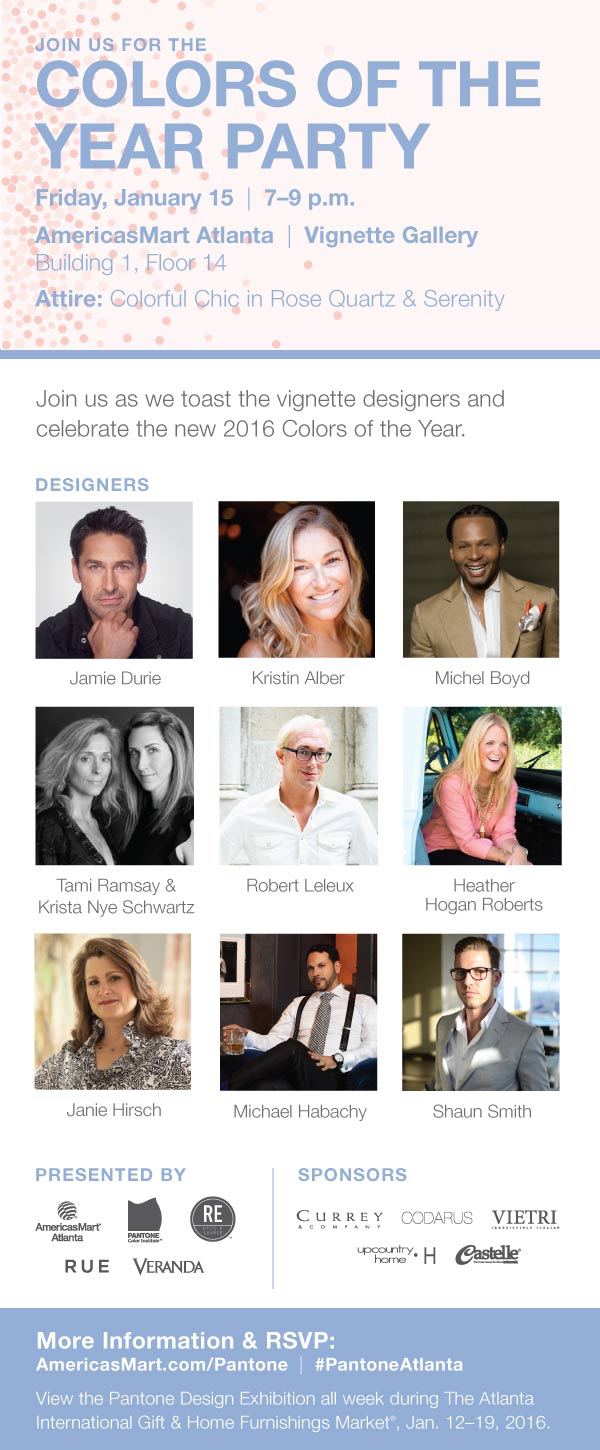 Along with showroom parties & events, there are many insightful panels to attend with a star-power packed line-up! These are just a few….
Southern Style Icons: A Conversation with the Region's Most Beloved Interior Designers
3PM on Thursday, January 14
These acclaimed tastemakers embody the Spirit of the South while also making their mark on the national design scene. They collectively embody extraordinary talent as well as the humor and humility required to educate, nurture and enlighten clients and fans across generations. In this entertaining panel discussion, five of the region's most prolific interior designers will share the defining moments that helped shape their careers, salient advice for designers developing their own unique brand, and the importance of finding a mentor in an industry that's always changing but where collaboration is universal. The panel will feature design luminaries Gerrie Bremermann, Michelle Nussbaumer, Shaun Smith, Beth Webb, Brian Patrick Flynn, Krista Nye Swartz & Tami Ramsey and will be moderated by Robert Leleux.
The Colors and Trends Driving Design in 2016
10AM on Friday, January 15
With tastes consistently evolving, the old color rules have changed. Color stories for 2016 highlight a more spontaneous approach with new harmonies in both color and design. Join Laurie Pressman, VP of the Pantone Color Institute, as she reveals the key color trends for 2016 and enjoy an inside glimpse into the selection of Pantone's 2016 Colors of the Year. Plus, see these trends realized firsthand while in the Pantone® Design Exhibition––featuring curated vignettes from top designers all showcasing the latest colors from the PANTONEVIEW® home + interiors 2016 color forecast.
Behind the Design: Business Insights from Today's Brightest Talents
Moderated by Arlyn Hernandez
2PM on Friday, January 15
Barclay Butera, Young Huh, Krista Nye Schwartz and Tami Ramsay are some of the fresh faces that are changing the game in the design field. They pull together amazing interiors that manage to check all of our dream-design boxes. These designers are defining themselves by their malleable approach to decorating that adapts personal instincts to individual projects. This same philosophy holds true in how they run their businesses. Behind the bright spotlight are the behind-the-scenes challenges of growing their own firm, handling today's savvy clients, and navigating the demanding media and publishing landscape. Join an insightful conversation that will inspire designers with new ways to think about their business behind the design.
At Home with Susanna Salk & Stacey Bewkes of Quintessence
11AM on Saturday, January 16
This dynamic design duo has been a guest at some of the most extraordinary homes of design icons, rising A-listers and international tastemakers as part of their popular program, At Home With…They'll share how their video series took off, and take us with them on an adventure through the gorgeous places and spaces they've visited around the world—from Lake Como, to Brooklyn, to Los Angeles to Paris. Journey through the lifestyles of the world's most celebrated designers, their process, and their most cherished pieces at home. You will leave inspired, and have notes on how these magnificent design moments can be translated into your business. Stacey and Susanna will also share their story on the power of collaboration and connecting with a "design buddy" to help your ideas flourish!
Stacey Bewkes is also the voice behind Quintessence design blog, a trusted source for original lifestyle content ranging from interiors, fashion, art, architecture and more. Susanna Salk is a popular design author and stylist, and host of the At Home With video series.
Eddie Ross Live!
2PM on Saturday, January 16
Eddie Ross will create a one-of-a-kind tablescape using products sourced here at Market, from both temporary and permanent exhibitors. See Eddie's picks, toast the opening day of temporaries, and hear about his Market inspiration firsthand! Join Eddie for an encore presentation, Modern Mix book signing, and meet & greet on Saturday, January 16 at 1:30 pm in the same location.
For more information on what are sure to be informative & insightful panels, and information about the show visit www.americasmart.com
Until next time,
BE INSPIRED. BE AMAZED.