Dark, dramatic and allusive. Words that could describe "Old Hollywood" starlets, yet more aptly describe a timeless trend in color. One can only imagine, colors with names like "Night Shade" casting an aura of mystery around a room. While whites and soft grays will always be as classic as a pearl necklace, it's the more enigmatic colors that capture our attention, at times making us want to step outside our comfort zones in a very bold way. And over the years we've compiled a list of our favorite color trends using dark paint colors.
Regardless, of what we may think, inky hues make a room feel grand in a very Hitchcockian way, pairing beautifully with any decor style from "Castle Chic" to Scandi. It allows a room to make an entrance in a way that can feel deliciously edgy or darkly glamorous. When I was a Designer, my favorite spaces were layered in deep and dramatic colors, long before it was considered de rigueur. One was a gentleman's lounge, painted in BM Hale Navy in three different sheens, and the other a powder room in Farrow & Ball Pelt No. 254 for a progressive couple who loved to walk on the wild side of design.
Of course, we have always considered ourselves "design rule breakers," always leaning toward the unexpected. And darker shades provide that element of surprise that pushes all color boundaries. So what are our must use picks for 2017 and beyond? Here they are…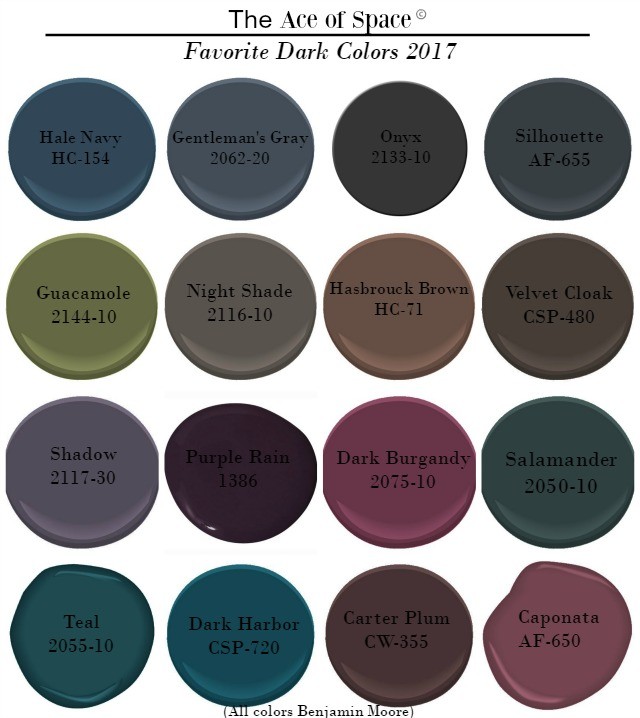 I hope you enjoy some of my favorite colors, and until next time…
LIVE A LIFE WELL CURATED
Don't forget to follow our design journey at Sweet Pond Cottage on Instagram here.