One of my goals in 2016 is to bring more attention to companies or products that I feel are game-changers in the world of design. Such is the case of Struttura (coincidently this global firm is located in Atlanta, GA). So flash back to early December when we were at a restaurant waiting for a table. There was a nice (and very fashionably dressed) couple sitting next to us, and of course, we began chatting. I asked the woman what she did for a living, after all, don't people in design emit a certain creative vibe? Well, she happened to be one of the owners of a company that specializes in Italian plaster and decorative finishes, working with some of the top names in the industry. Fast forward to a few days later, when we met over espresso (when in Rome) to discuss emerging trends in decorative and artistic services. It became obvious that Struttura is changing the game. Founders, Desiree Harper & Simon Streak are combining a new twist on finishes with sophisticated, decorative European techniques. In fact, after looking through their extensive portfolio, I was re-thinking any previous notions that decorative arts are purely for opulent multi-million dollar estates and suburban castles. Struttura is a global firm whose far-reaching talents have transformed upscale restaurants, estates, commercial businesses and celebrity homes around the world.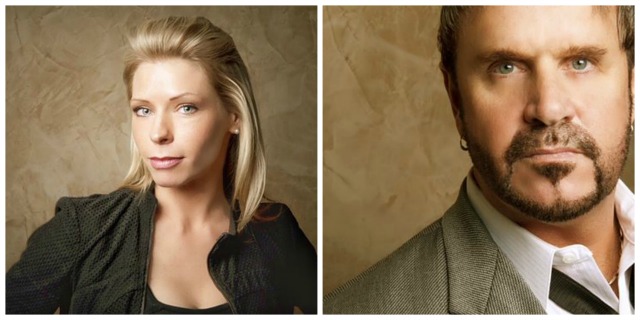 (L) to (R)-Desiree Harper, Simon Streak
Of note to those who are part of the "green conscious movement," Struttura uses lime-based product mined in Italy, organic & non-toxic. The same type of product was used to decorate walls found in Roman landmarks such as Pompeii & Rome withstanding a volcanic eruption and centuries exposed to the elements, certainly good news for the modern day homeowner.
So over the past few weeks I have become completely enamored with the idea of using plasters, limewashes & sophisticated finishes, they not only offer long-term durability but provide the foundation for building timeless interiors. Rather than counting sheep at night, I am dreaming of fireplace columns encased in Roman Plaster, limewashed cabinetry in my kitchen and tropical "flora & fauna" covering the walls in the dining room. Yes, I dream of design with all its possibilities.
Here is just a small sampling of the incredibly transformative work created by Struttura.
"LIMEWASH is used indoors or out. Can be applied to cabinetry, wooden beams, furniture & many types of millwork. Gives pieces a more established & aged look."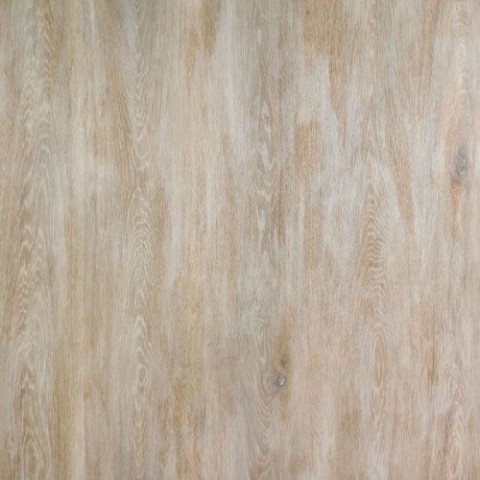 Image via Struttura
A close-up detail of a limewash finish applied to wood.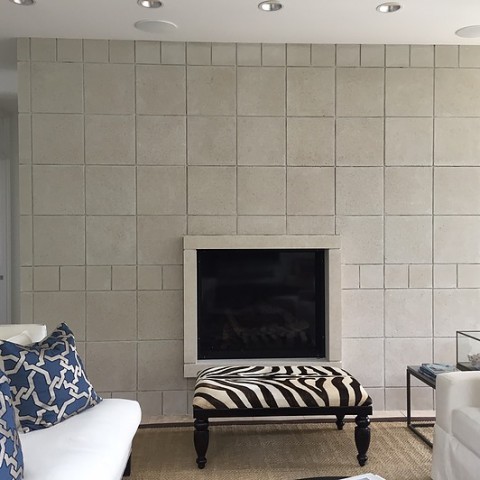 Image via Stuttura
Limewash provide texture & depth to this masonry wall.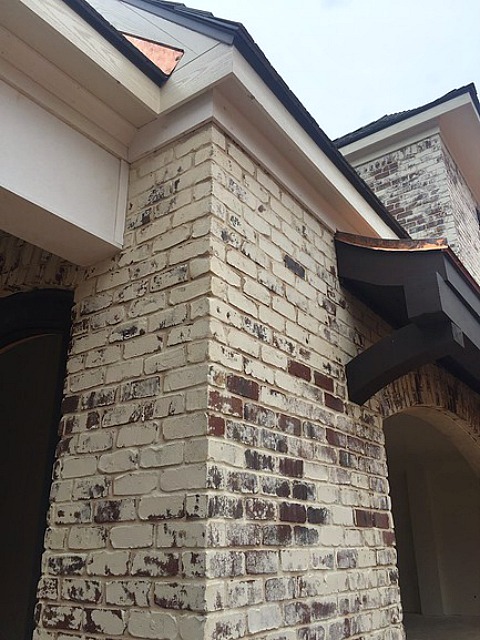 Image via Struttura
The Limewash applied by Struttura is also used on the exterior of brick homes to provide a well-established look.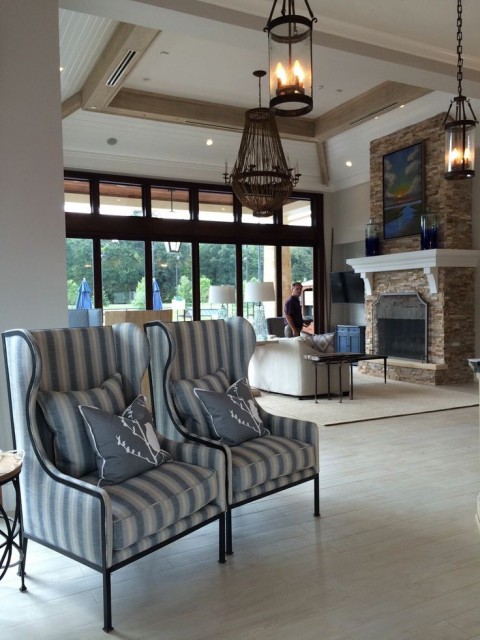 Image via Struttura
Limewash applied to millwork gives it an aged, evolved look. One that easily translates throughout interior styles from Scandanavian to contemporary.
"GLAZING is a technique used to add dimension & detail to a flat surface or relief.   It can add character to cabinets or furniture, or it can take on the appearance of texture.  It can duplicate any type of wood (faux bois), stone, brick, denim, silk, woven fabric, suede, leather or marble."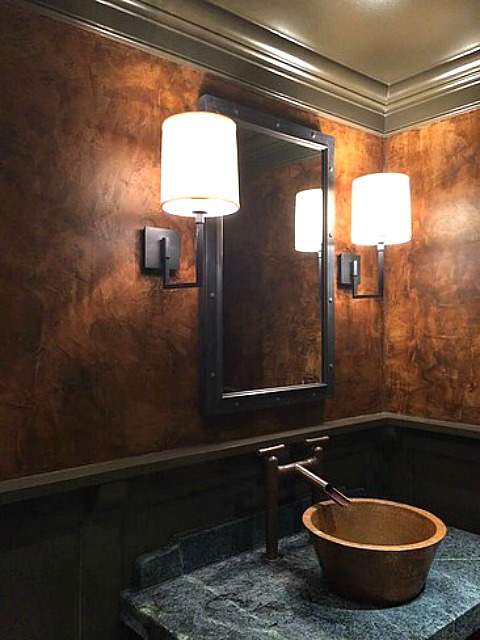 Image/ Struttura
A faux bois glaze provides visual richness.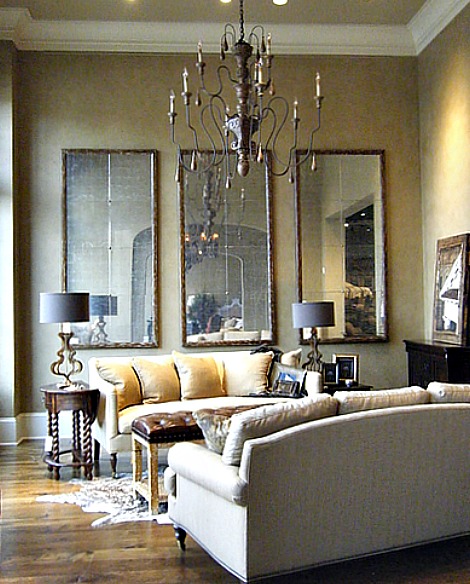 Image via Struttura-Wall Finishes/ Struttura
Glaze finishes on the walls provide depth and a touch of luxury.
"METALLICS encompass a multitude of mediums.  These include a wide range of metallic paints, textures, foils, & leafing products. Leafing can be applied on building details made from wood, stone, fiber glass & metal which can take on the dynamic qualities of gold – it's luster & color."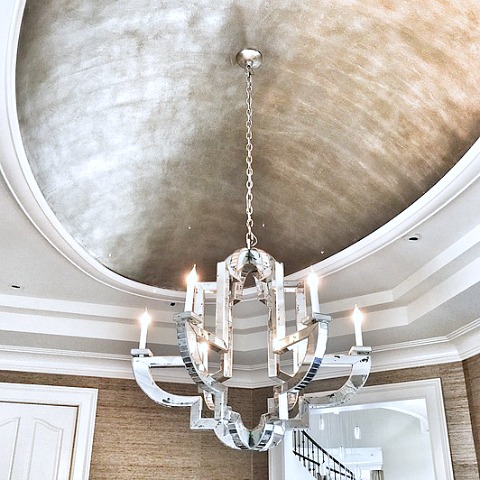 Image via Struttura/ Metallic finish-Struttura
A metallic finish is applied inside the trey ceiling providing reflectivity & drama.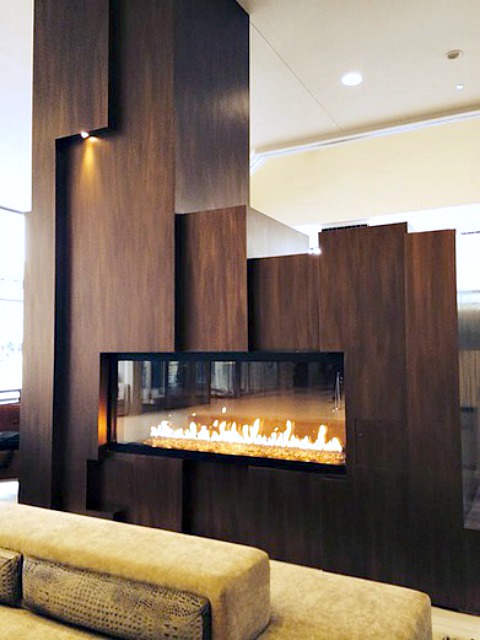 Denver Marriot/ Rust Finish-Struttura
A hand applied rust finish was applied to this fireplace column located in the lobby of a Denver hotel.
"Murals & Trompe Loeil is French for "Trick of the Eye,"this technique of realism & illusion can be cleverly introduced to add interest or open up a space."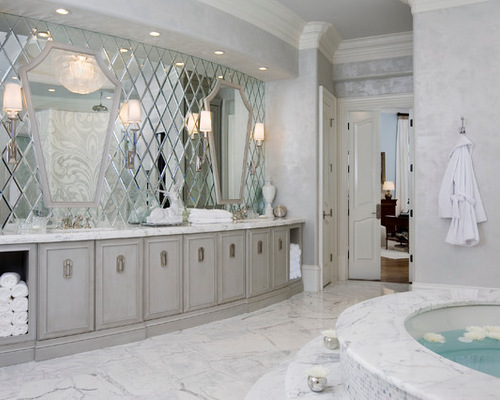 Designer/ Michael Habachy/ Mosaic Wall Finish-Struttura
A hand-applied mosaic wall design adds depth & dimension to this classically elegant bathroom.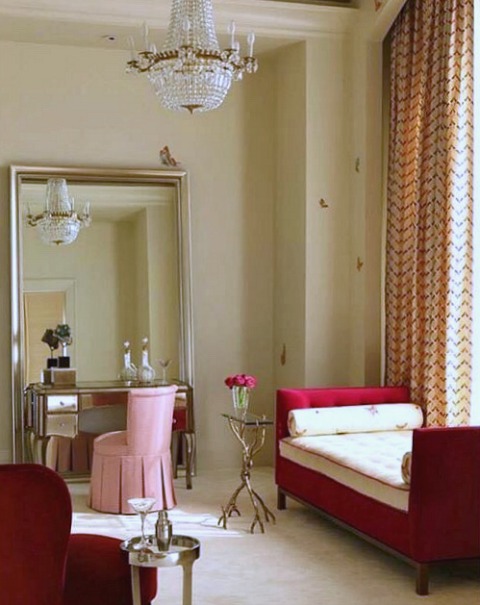 Image via Struttura/Handpainted Butterflies-Struttura
This room dressing room is located inside a private high-end residence. The hand-painted butterflies provide a feminine touch with a bit of whimsy.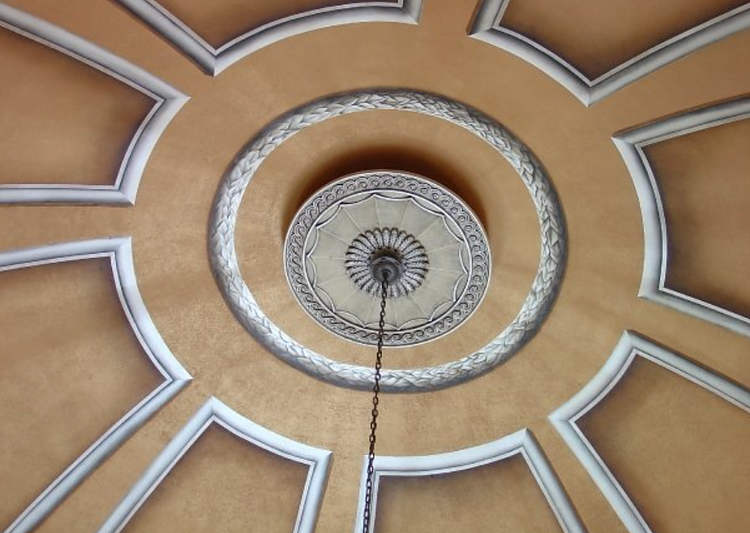 Handpainted  Ceiling-Struttura
The handpainted ceiling design is dramatic & stunning, perfect for high or domed ceilings.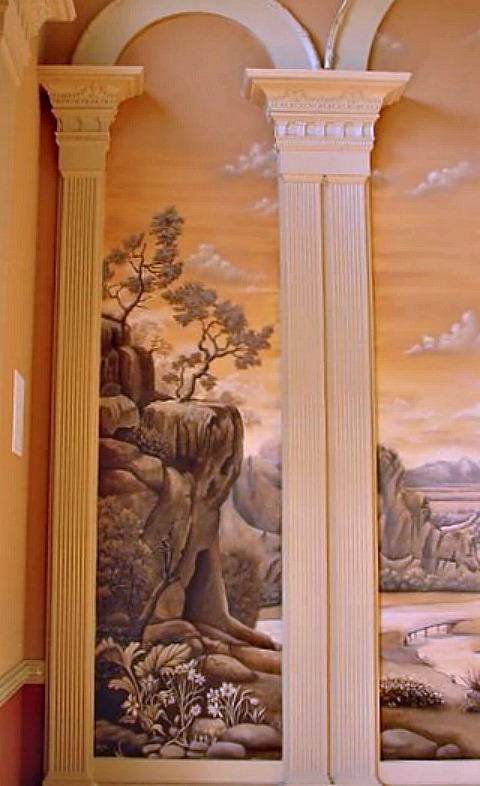 Wall Murals-Struttura
The hand painted wall mural was created by Struttura. With the popularity of hand-painted wall coverings, a mural can be paired with more modern elements for an updated feel with old world elegance.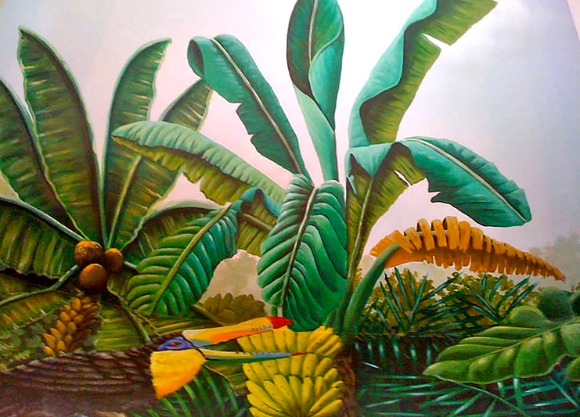 Mural by Struttura
If you've been reading my blog for a time, then you know one of my favorite luxury wallcovering companies is Annabo, well…they have competition.
"Italian Plasters or Historical Venetian Plaster is elevated to a new level through the creative work of Giorgio Graesan of Milan, Italy.  The natural glossy characteristics of Venetian stucco are retained while adding today's technology for coloration and speed of application.  Finish options include glossy finish, Marmorino matte finish, pearlescent effects, stencils, and multi color blends."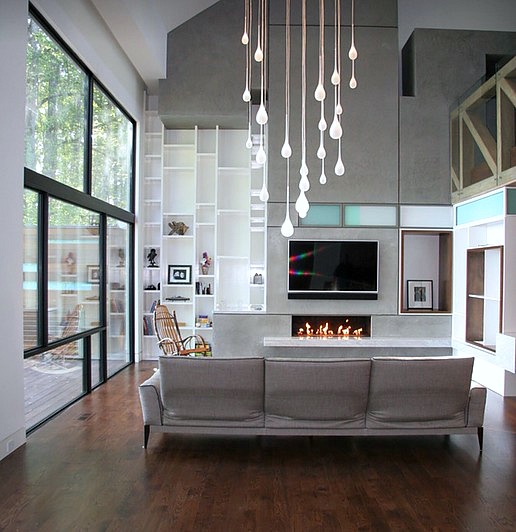 Image via Struttura
Italian plaster was applied to the fireplace adding dimension to this contemporary space.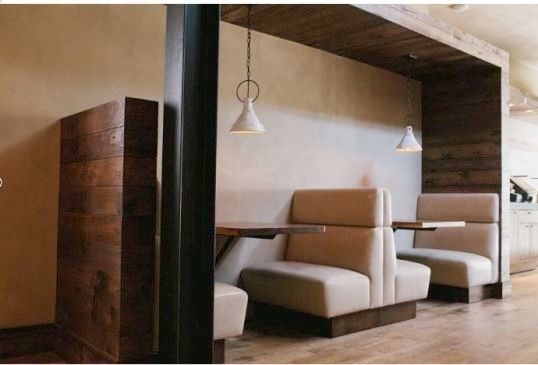 Lure Restaurant / Wall Treatment- Struttura
A centuries-old technique of applying Mamorino plaster provides timeless appeal even in modern spaces.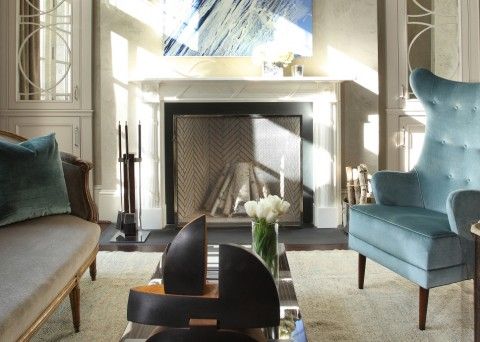 Designer/ William Peace-Mamorino Plaster by Struttura
Mamorino plaster lends an old world sophisticated air to this skillfully layered space by William Peace.
I encourage you to visit struttura.us for more information and to see their incredibly extensive portfolio.
Until next time,
BE INSPIRED. BE AMAZED.
Don't forget to connect with us on Social Media for more design inspiration & happenings!
INSTAGRAM
PINTEREST
FACEBOOK
TWITTER
LINKEDIN
Are you a designer or architect (interior or garden) design event organizer, artist, or have entertaining tips? Would you like your work, project, or exhibit published on The Ace of Space?  Please provide High-Resolution images (or similar quality) and a text description, and send them to Vicki@theaceofspaceblog.com.  We will review the material and your submission will be evaluated according to our Editorial standards.  Please note that not all submissions will be published; however, we urge you to submit again in the future. We do not provide monetary compensation for any articles or photo images, however, we will provide photo credits & copyright details if requested.