Recently, I had the pleasure of sitting down for an interview with the gracious and charming Interior & Event Designer, Ken Fulk during Discover ADAC in Atlanta. Somewhere in between a successful book signing (his) and a flight back to San Francisco (also his) we talked about a variety of topics, ranging from his southern upbringing to his design philosophies.
A Virginia native, Fulk has garnered media attention (and a growing legion of fans) for his exuberant style and creation of experiences for clients worldwide. His parties have become legendary (think Jean Paul Gaultier).
But behind his well mannered and dapper exterior is a creative genius whose designs are iconoclastic, witty and deliciously bold. Fulk is a "Director" of stylish experiences big and small, fanciful and always memorable. Most recently, the "Magician of Design" released Mr. Ken Fulk's Magical World, a stunning book showcasing the best of his design work giving us a delightful glimpse behind the magic curtain.
It was during the interview that I was transported into Fulk's colorful and magical world. But in the end with a gracious bow, and a slight of hand, the design magician cast his spell and disappeared, leaving behind a little bit of magic for me to share…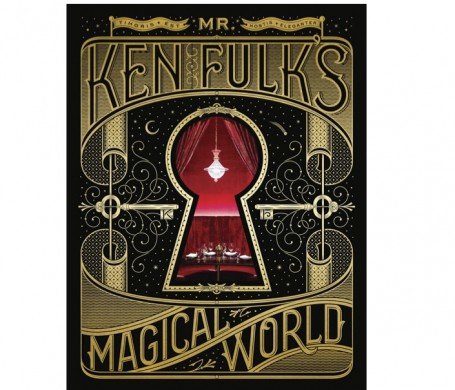 Vicki Gladle Bolick: When did you decide to be a designer?
Ken Fulk: I'm not sure there was a particular moment in time, it's just been part of my DNA. It was definitely a circuitous route to get here. A friend hired me to decorate his apartment in NYC and then is was like a faucet went off. Suddenly, I had clients everywhere.
VGB: As a designer, I know you've avoided any signature style, so how would you describe your aesthetic? 
KF: I think my designs are rooted in fine lines and things that are timeless. I also love "mucking it up" a bit. If you root things in good design whether it's clothing, furniture or interiors it pares itself down to something that is classic. But, the fun is finding the contrast, the tension. That's where the magic happens. I love showing things that are familiar in a different light.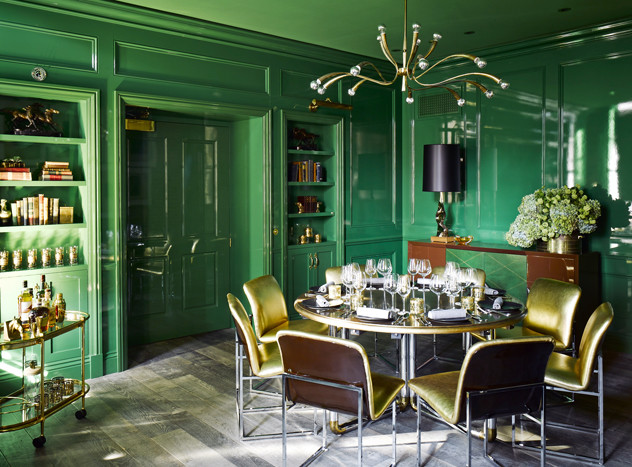 Photo courtesy/ Ken Fulk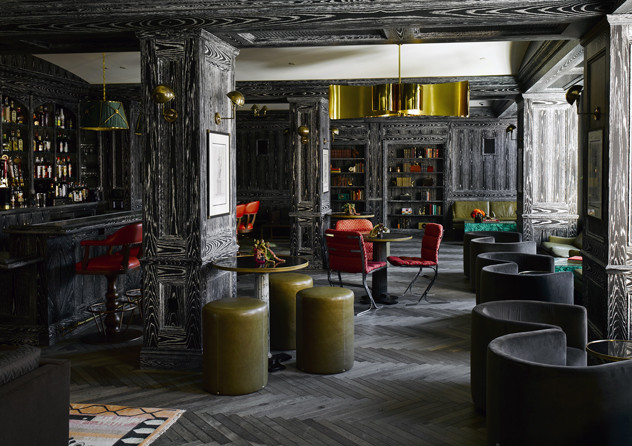 Photo courtesy/ Ken Fulk
VGB: Who has been an inspiration to you?
KF: It's funny, I didn't take the traditional path to becoming a designer. I really wasn't a student of design, more a student of life. I'm moved by places. Like the Johnstone Museum in London or Monticello. I went to Monticello as a kid and wondered why can't I live here? I literally wanted to put in a pool and have grand parties.  It was inspirational to me to see that other people had created, interesting, layered lives.
VGB: What architects have inspired you?
KF: Going to Italy and seeing Palladian villas. But we truly live in a grand age of modern architecture, don't we? Architects are doing extraordinary things so it would be hard to choose, although I have had the privilege of working with Norman Foster on a project.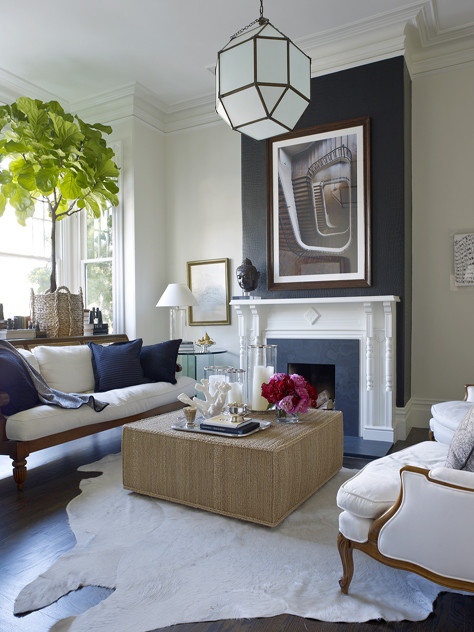 Photo courtesy/Ken Fulk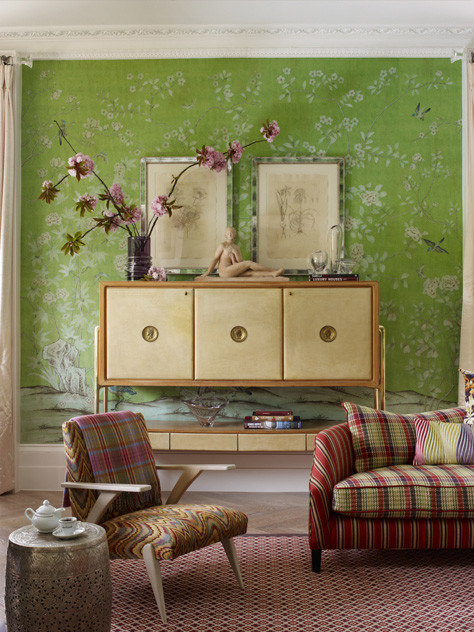 Photo courtesy/ Ken Fulk
VGB: What's your favorite room in the house?
KF: Let me say that I live fully, I have 4 dogs and they live and sleep on everything. I would be hard-pressed to pick a room, but my favorite room would be anything with a fireplace. Then there is the library at our house in Provincetown or the bedroom at our ranch in Napa. But, it really depends on the locale. Our homes are not stage sets but well lived in.
VGB: What design books do you treasure?
KF: I have a huge collection of design books, but I love vintage books so any early David Hicks books, he was so dashing and debonair. Or anything by Assouline, the books are so beautiful…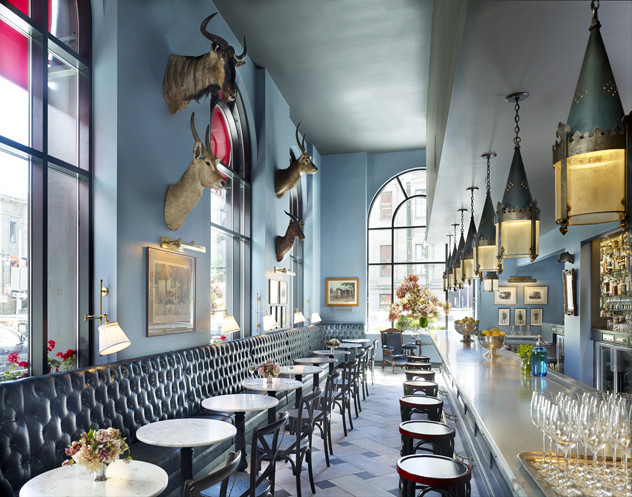 Photo courtesy/ Ken Fulk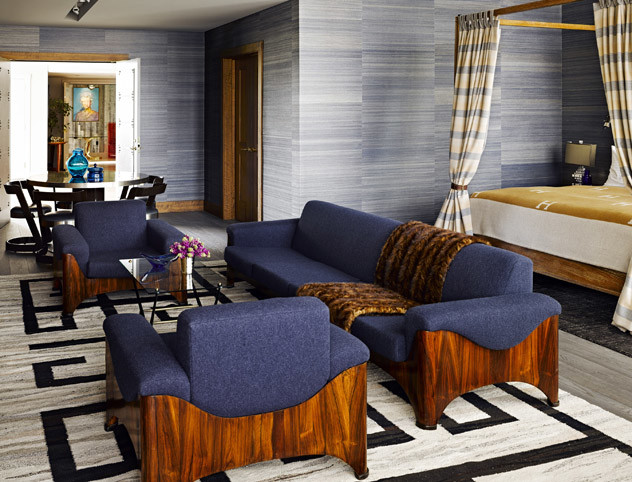 Photo courtesy/ Ken Fulk
VGB:  Did decorating play an important part in your family?
KF: Growing up in the South was more about keeping a home, throwing a party…intrinsic things. It was part of the DNA. The rich had decorators, but for most, it was just about how you kept your home.
VGB: Who would your dream dinner guests be?
KF: Definitely, Thomas Jefferson, Picasso, Oscar Wilde, he would be so witty and funny, and the Obamas.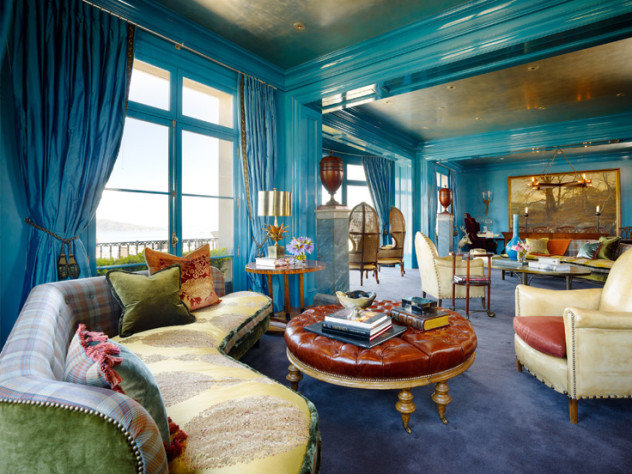 Photo courtesy/ Ken Fulk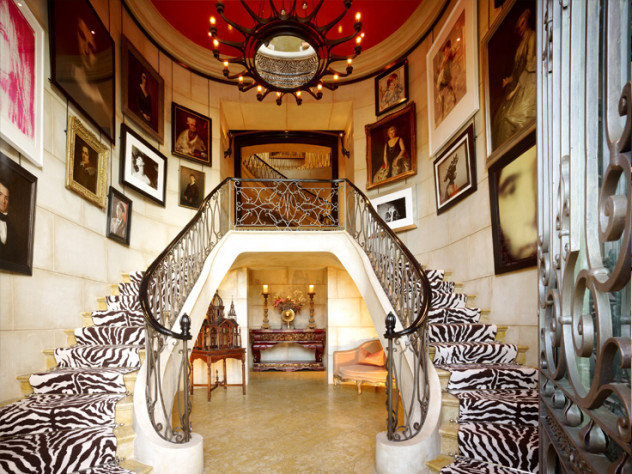 Photo courtesy/ Ken Fulk
VGB: What words would you use to describe your entertaining style?
KF: Vibrant and shockingly relaxed. Once a dinner party is underway, I have fun. I'm fun and I want to have fun, and I want people to have fun. It's also important to be present, I think that's missing for a lot of people. I also like mixing it up, a black tie event in a barn or blue jeans in a mansion. Why not? That's the tension, the unexpected. I equate all of my events as movies that run through my mind and I'm the director…
VGB: How did your love of entertaining come about?
KF: I think it was innate, my parents had restaurants growing up…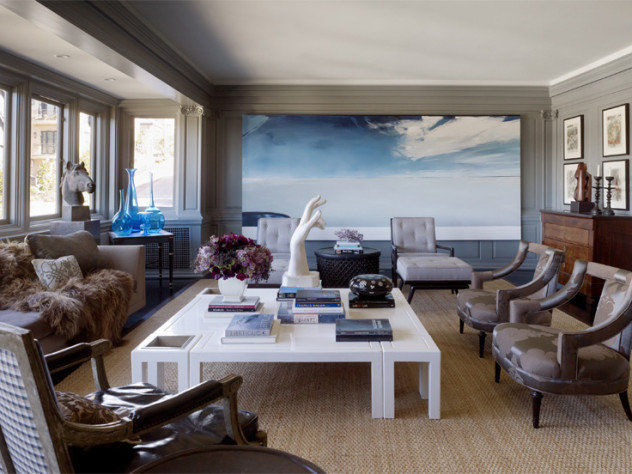 Photo courtesy/ Ken Fulk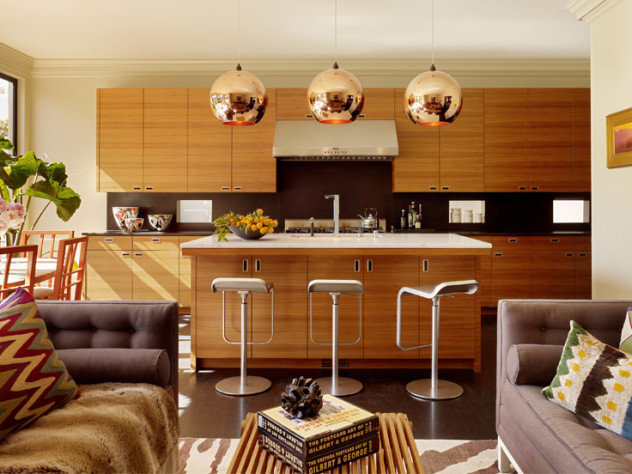 Photo courtesy/ Ken Fulk
VGB: Do you have a party you consider to be your greatest?

KF: I like to think that the best is yet to come. The bar is raised with every experience we create and I am a bit of a perfectionist so refining every detail is part of the process. Of course there are memorable moments from over the years that I am quite proud of—a surprise performance for Jean Paul Gaultier that involved Dita Von Teese atop a pink velvet mechanical bull, shutting down a city block in downtown San Francisco for a private Stevie Nicks Halloween concert, staging a storybook wedding deep inside a redwood grove on the Big Sur coast with "ruins" of a ancient kingdom.

VGB: How has your entertaining style evolved over the years?
KF: I've become well-practiced at rolling with the unforeseen hiccups so the greatest shift in my style is that I'm more relaxed, which has made me a better host. You just can't sweat the small stuff or you won't have any fun. And that's the point, isn't it?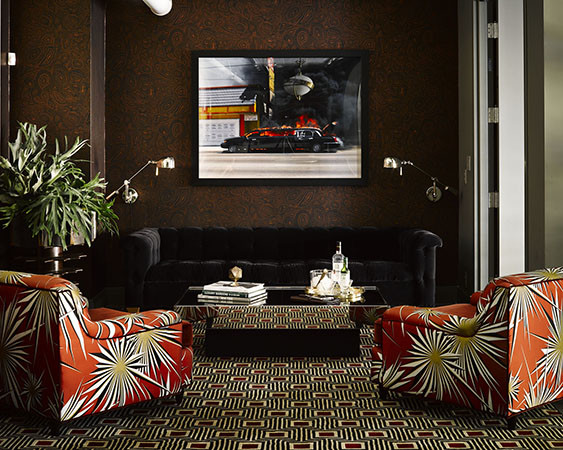 Photo courtesy/ Ken Fulk

Photo courtesy/ Ken Fulk

VGB: Where do you find the inspiration for your legendary parties?

KF: I'm constantly referencing the "movie in my mind," which is usually a mash-up of films from my youth mixed with TV or music videos or fashion spreads from magazines. It goes beyond the inspiration and comes into play as we develop my vision, incorporating the music, the scent, the cast of characters and the pacing of the party, or the way the evening unfolds.
VGB: What brings you the greatest joy in life?

KF: My happiest place is at home with my dogs and my husband Kurt. Whether it's at our "tree house" in San Francisco or our ranch in Napa or at home on the water in Provincetown, I'm happiest in the quiet moments or the easygoing gatherings with our friends.
###
You can see more of Ken's work in his stunning book Mr. Ken Fulk's Magical World.