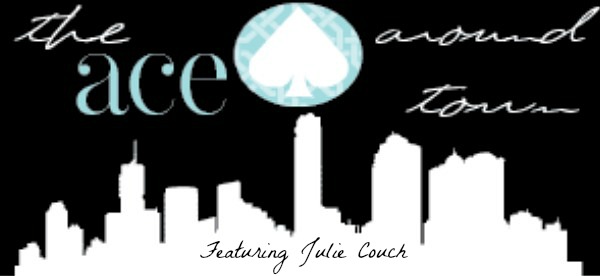 It rained harder than I've ever heard it last night in Georgia. I fully expected Noah's Ark to float past our house, and wouldn't have been surprised if our street turned into a shipping channel. A flotilla of vessels floating past Casa B. In fact, it was one of those nights that I was thankful that I didn't succumb to true rural southern architecture and buy a house with a tin roof. However, it was the perfect night to put the finishing touches on this post, and introduce you to our latest "Taste-maker". Did you think we stopped? Not a chance. Now that school is back in session, my "Tastemakers" are back creating great design. Combine that with the fact that I just can't decide who to feature (because there are so many fabulous designers in the South), and you have a stalled series. Making decisions is not one of my strong suits, in fact before I walk out the door most days I will have changed my shoes a few times (or my outfit). Don't even get me started about our living room, which goes through a full transformation at least once a month if not a complete change in the floor plan (Mr. B. thought he walked into the wrong house last week).
Fabulous design doesn't happen overnight, although some designers are so talented that they probably could. Such is the case with my latest "Taste-maker." Since I spend countless hours immersed in design, I first became aware of Julie when I stumbled upon an interior that she designed which featured occasional chairs in the most heavenly shade of blue, the seat-back in a Quatrefoil design. The image ended up on my Pinterest board, and Julie's name in a mental note of someone I should watch. So when I started the Series mid-summer, there was no hesitation to include her, if she would agree (we were honoured when she did). Once you look at the pictures, I can imagine collective nods of appreciation throughout the ranks of my followers. Although, she and I never met and only corresponded via e-mail, I can imagine she eludes southern charm combined with an obvious eye for the chic and stylish and you have a winning combination. Her interiors may hint at the traditional, but the result shows a flair for creating that sometimes elusive timeless feel, one she tailors precisely to the client's wants and needs. A true talent who was born with a discerning eye that often escapes many in the industry. It marks the difference between the designer and decorator. There is no mistaking the sheer raw talent in our sixth "Tastemaker," Designer-Julie Couch. So without further ado, and with a drumroll-I would like to introduce you to the latest subject of "The Ace Around Town Series."

What made you chose design as your profession? Was there a defining moment?
JC– Even in High School I knew design was what I wanted to do. I went around in circles, had a sales job after college, and then returned to design school in my mid-twenties when I realized I just couldn't be happier doing anything else.

You run a successful design firm in Nashville, what advice would you give to someone else in the business who is just starting out?
JC– Simply do good work! Take any design job that comes your way. My first design job was for my best friend's mom and paid $20. per hour. I was thrilled to do it, and did my best. I knew that to be a great designer I needed experience. So my advice would be to swallow your pride and do the work!

What designer (s) inspire you?
JC– I LOVE Windsor Smith, Nate Berkus, and Bobby McAlpine. Each are absolutely genius in their own right.

 Favorite design style? 
JC– If I have to choose just one style, I would choose minimal, impactful pieces that include lots of white upholstery, natural wood, and iron accents. Meaningful fine art is a must for any home.

How would you describe your design aesthetic?
JC– ARTFUL, SOUTHERN, SOPHISTICATED.

 What is your favourite piece of furniture in your home?
JC– A custom campaign style bed I had made almost a decade ago for my master bedroom. I never tire of the classic and graceful lines.

Where will we see you in five years?
JC– Hopefully I'll have more sweet babies and a few signature lines including lighting, rugs, and furniture collections.

 What is a little known fact about you, that you can share with my readers?
JC– My favorite time of the day is before 7AM while I'm cooking scrambled eggs for my little boy-Gus. All while he sips coconut milk and dances to the radio…

Thanks so much, Julie and quite frankly if you designed my home, I would be dancing every day too…
Now are you ready? Because here are some portfolio pictures that need no further words…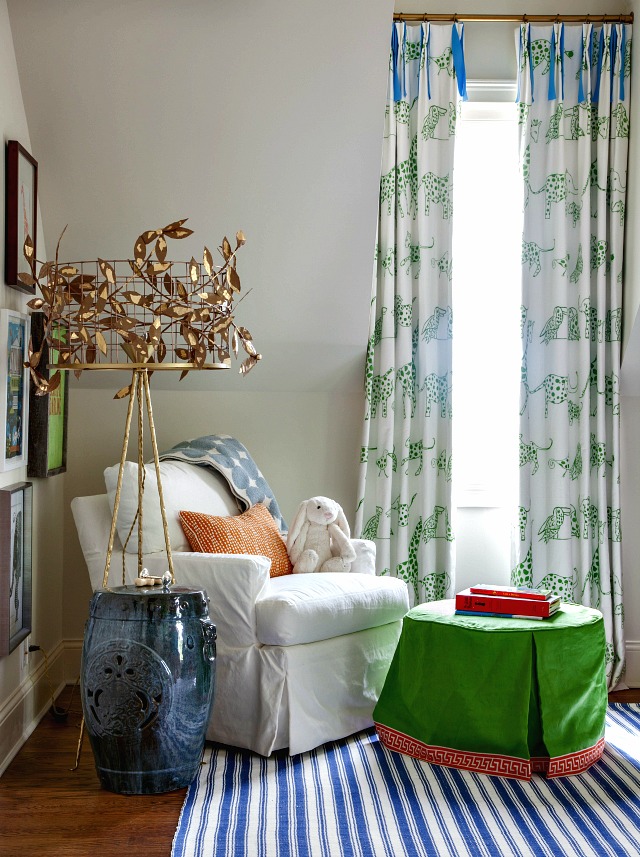 Photo courtesy/ Julie Couch
The perfect blend of pattern and the lamp…well…I DIE.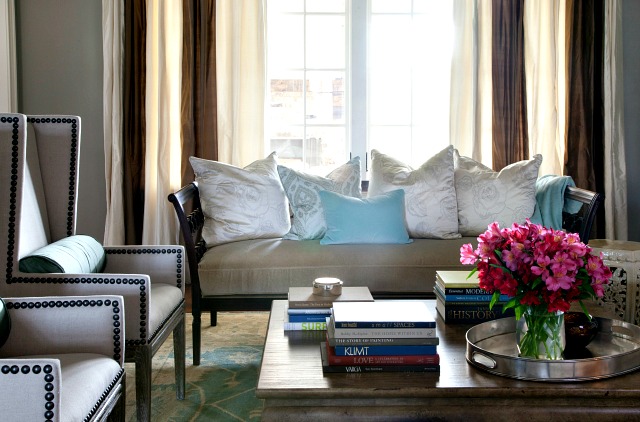 Photo courtesy/ Julie Couch
Serene, chic, Southern style…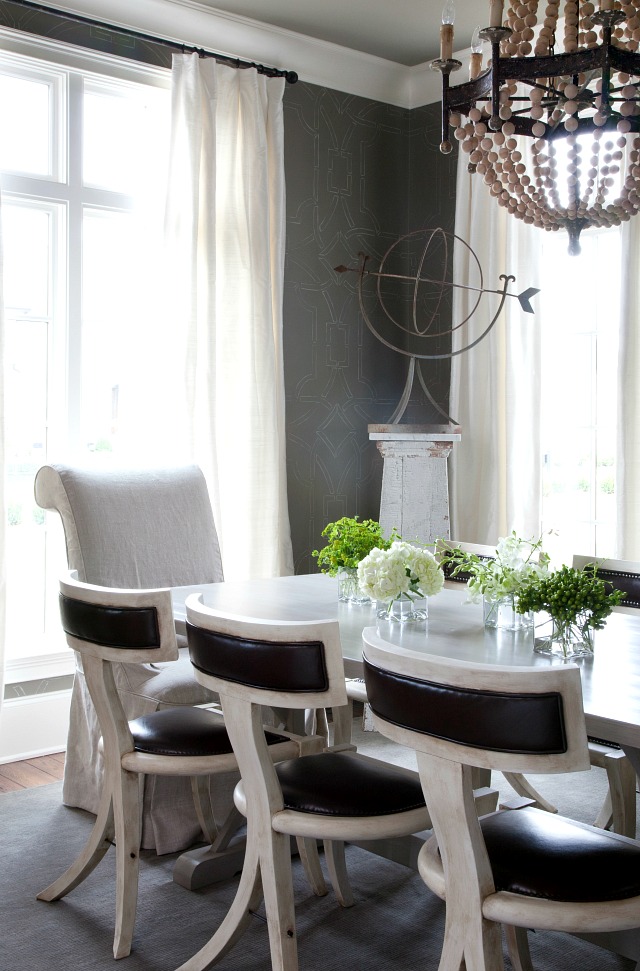 Photo courtesy/ Julie Couch
Simply divine dining…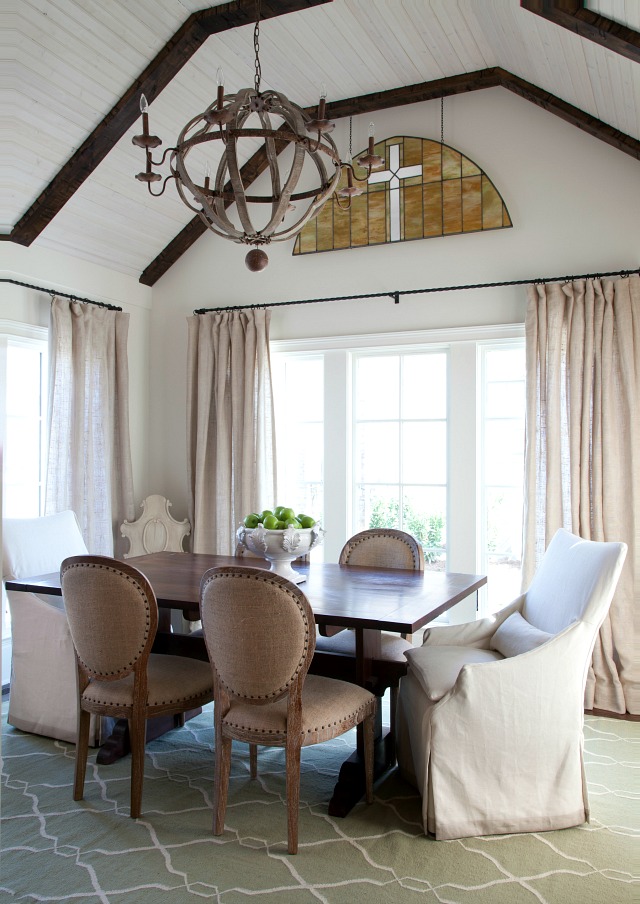 Photo courtesy/ Julie Couch
Put it in neutral…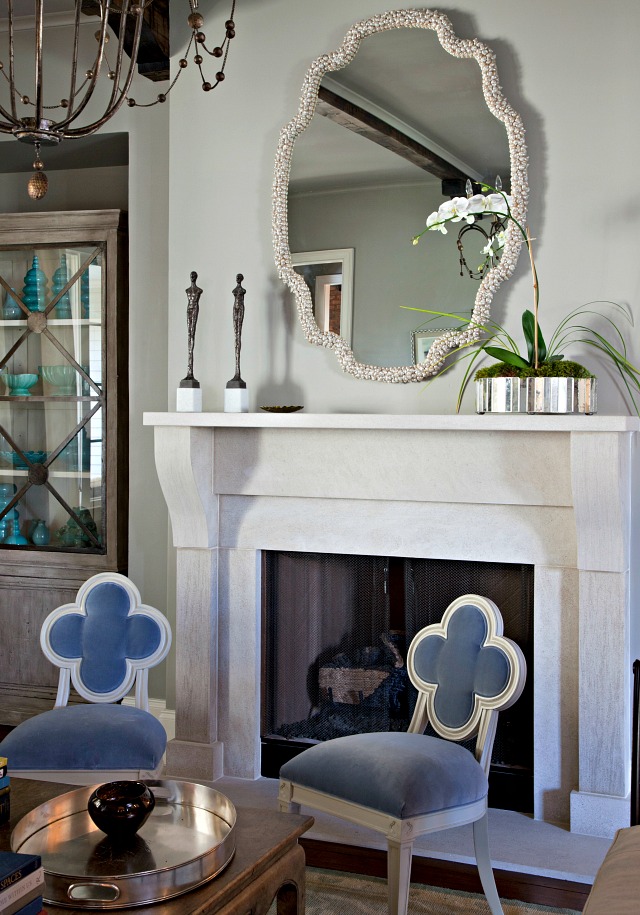 Photo courtesy/ Julie Couch
This is THE picture that I first saw and when I fell in love with Julie's designs…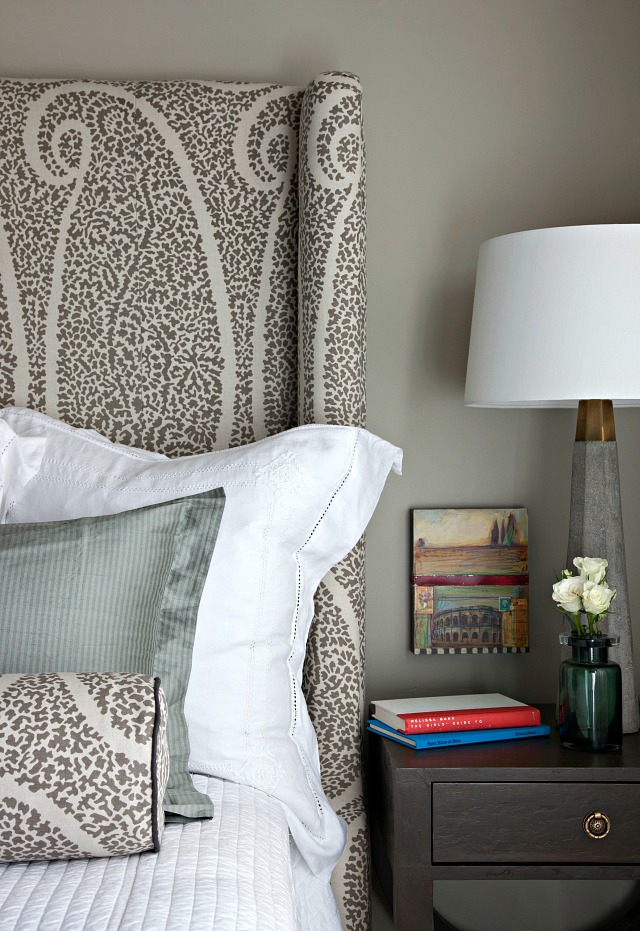 Photo courtesy/ Julie Couch
I know the "devil is in the details," and Julie does it so well…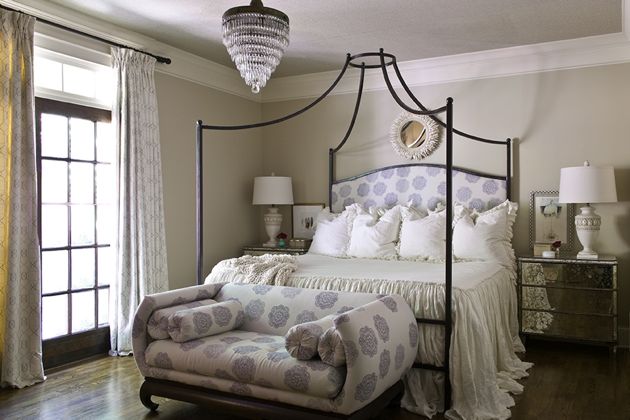 Photo courtesy/ Julie Couch
I had to include a photo of Julie's favorite piece of furniture. This stunning custom bed with a John Robshaw block print.
If you are visiting or reside in Nashville, and want to see her curated collection of merchandise visit her new shop at 1205 Linden Ave., they are open 10-5 Wednesday-Saturday. More of Julie's fabulous portfolio can be seen at juliecouch.com and you can visit her blog at decoratorsdozen.com
This week we'll be sharing our personal all access tour of HGTV's Urban Oasis 2014 decorated by Lindsay Pumpa. As always don't forget to follow us on Pinterest, Instagram, Twitter & Facebook for more design inspiration.
Until tomorrow,
BE INSPIRED. BE AMAZING.
 P.S. Pardon our dust as our blog is under construction. Some of our blog features are not fully operational (our apologies). We are excited for a whole new look and new features coming in October…so until then we'll still be posting five days a week.