I have to say AtlantasMart this year was one of the best. We had top design talent from around the country in attendance and, of course, the showrooms were all decked out in high style, dressed in their Southern "Sunday best." Walking down the hallways was challenging not only because of the household-name talent gliding past, but also the visual showroom eye-candy that caused me to "rubber neck" literally running into Rachel Ashwell, the founder of all things shabby chic (I didn't even spill a drop of my coffee). She was ever so gracious (and I was embarrassingly apologetic). At one point in our lives weren't most of us influenced by her aesthetic? So in true "Ace" style I turned a happy accident into a little side conversation with her about upcoming trends. Lovely inside and out.
Market this year was fast-paced, crowded and somewhat of a fashion runway, the true intersection of fashion and decor right here in Hotlanta. While I did speak at Market this year about "Branding for Designers" (on behalf of Parlore, the App that's becoming a designers BF).  I was also in attendance to find out what trends we can expect in the fall/winter and moving forward into 2016.
As a Design Blogger, I have always stood firm on the fact that I only like trends if they have a timeless quality. My belief is if you can incorporate them into your interiors and they withstand the test of time, (or at least five years) then it is worth the investment. Accessories always being the exception to any rule. I love to change those seasonally, and accessories will always be the "no-fail" way to update a space, and bring in new life.
So where do I think we are headed on the "design highway?" You'll have to read on to find out…
1. Hand-loomed, hand-crafted product.  Natural fibers, and organic shapes. Hand-crafted pottery or handwoven textiles. We'll see more accessories that are made by hand. I think the design world is all about supporting local artisans and you'll start to see more and more product designed by hand and incorporated into interiors. This is great news for Etsy shop owners.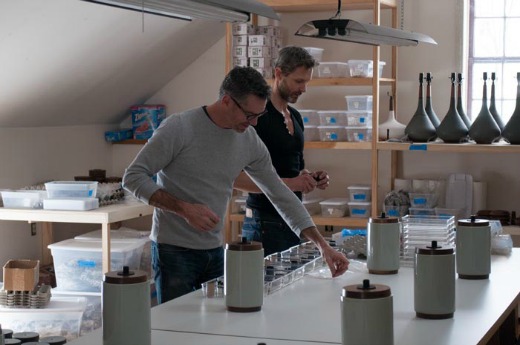 My friends from Stone & Sawyer, who handcraft the most stunning lamps in Catskill, N.Y. (www.stoneandsawyer.com).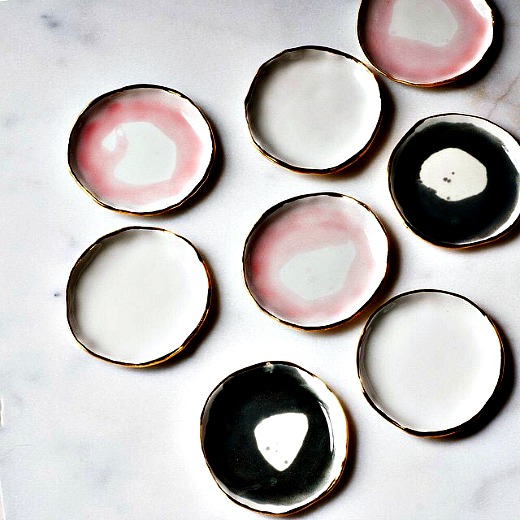 Via Suite One Studio
These hand-crafted and custom glazed plates will certainly add a bit of artisan panache to a table-top.
2. Organic Shapes & Textures.  From dinnerware to furniture, undefined shapes & natural textures are making an appearance everywhere right into the year 2016.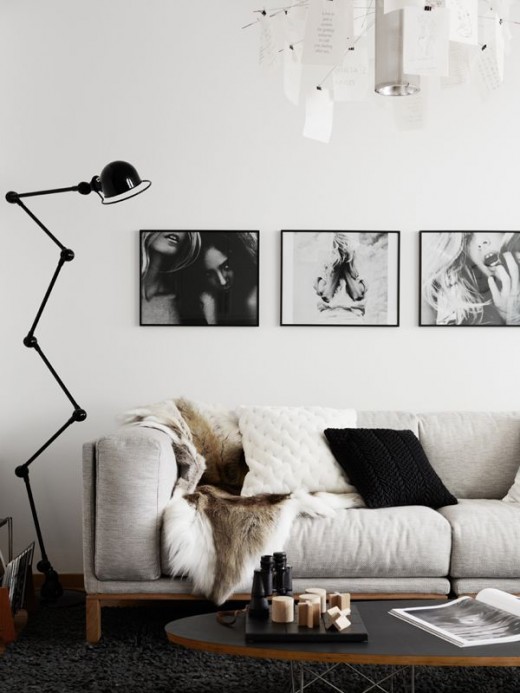 Via Afton Bladet
Mixing up organic shape and texture is still popular, even in high-end and luxury interiors…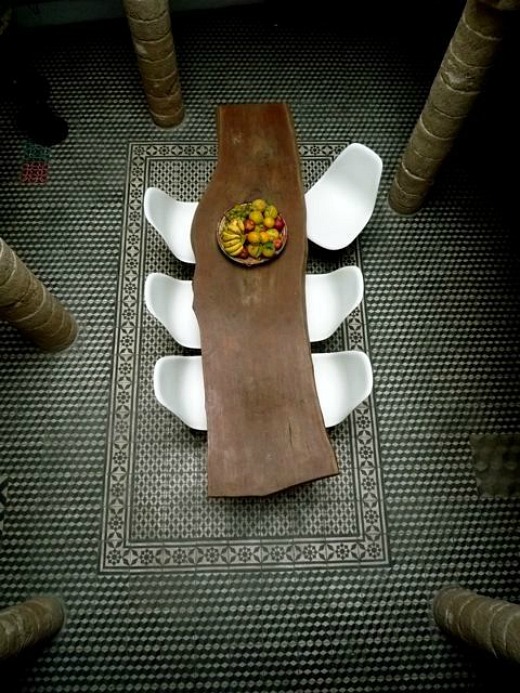 Photo via Emma's Blog for Behomm
Organic shapes and live edge tables are on trend this year and into 2016.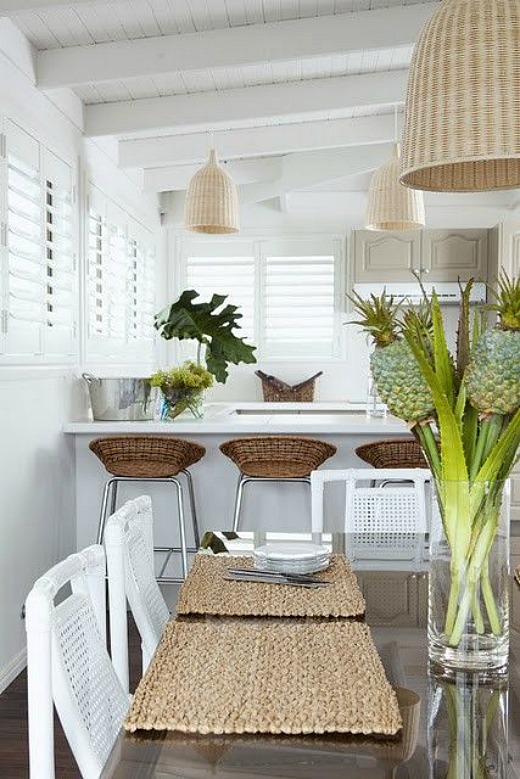 Photo/ Censational Girl
It's going to be all about organic texture and  natural materials.
3. Warm Metals. Brass and warm gold-tones are here to stay for at least another few years. But what is going to continue it's trajectory on the popularity scale is copper and bronze & rose tones. Imagine a warm-toned metal frame on a piece of occasional furniture, and you'll get the picture.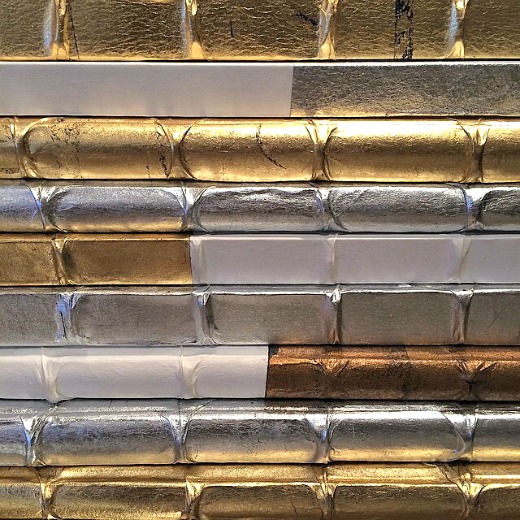 Photo/ J. Douglas
Oversized books from their precious metal collections at Atlanta Market.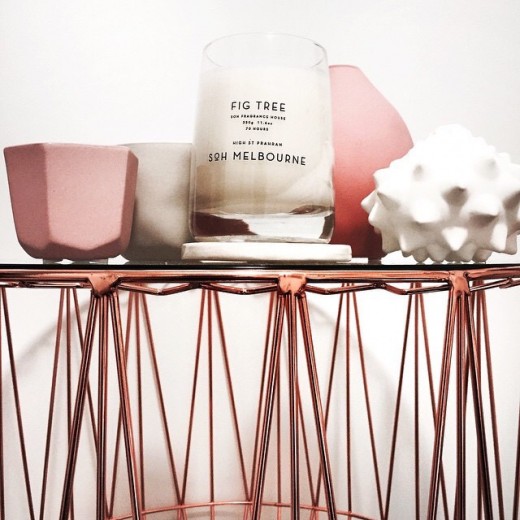 An occasional table in copper.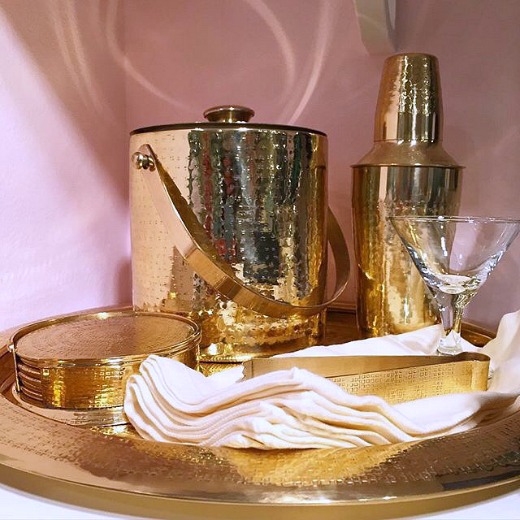 A gilded cocktail set from Atlanta Market (showroom unknown).
4. Tropical Motifs. Yes, this fun trend is also on the rise. We'll see botanical specimens stylized for fabrics, tropical "birds of a feather flocking" together on wallpapers, trays and vases. The design world is still enamored with all things that swing from trees and roam the lush tropical world of a textile & accessories designers imagination.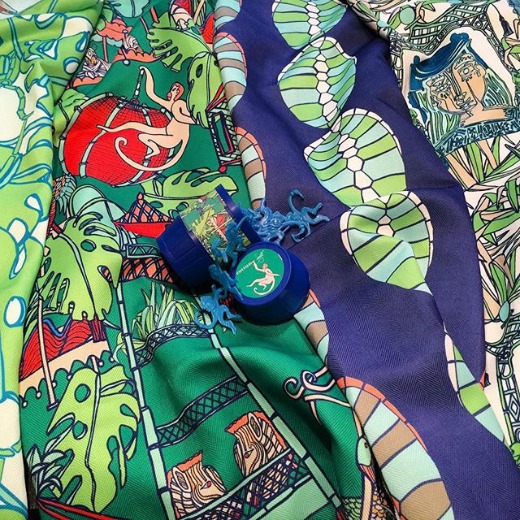 Photo/ Mary Catherine Folmar-Cotton & Quill 
If you aren't familiar with Cotton & Quill, Mary Catherine has created a fabulous collection of fabrics & papers.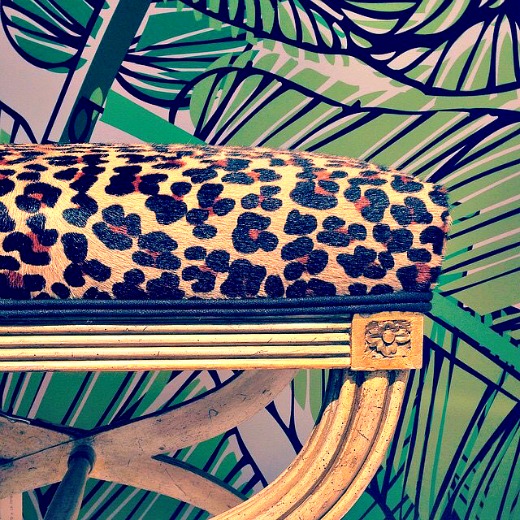 Photo via Jayson Home
When botanical wallpaper and jungle patterns collide in the most beautiful way.
5. Ethnic Prints. African inspired textiles and accessories. Tribal prints and globally influenced color, patterns & shapes. While the use of tribal motifs has been somewhat of a standard in the world of design, it's the use of these historic designs with new and bold interpretations that are taking the design world by storm. Think bold reds, vibrant oranges, mus-tardy yellows, natural greens mixed with a traditional palette of black, browns, grays & creams. Plucked from the plains of the Serengeti.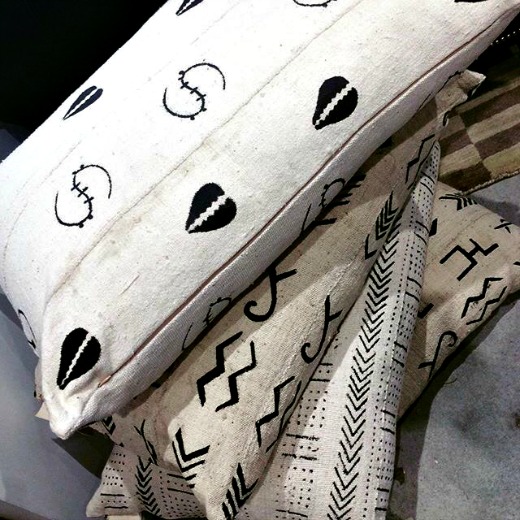 Via Danielle Colding (@daniellecolding)
Mud-cloth pillows from Codarus at Atlanta market.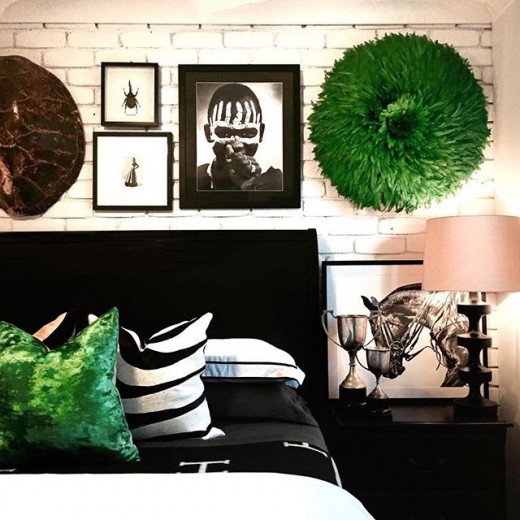 Via Harold's Finishing Touches
Tribal influence is going beyond textiles, and includes artwork and accessories.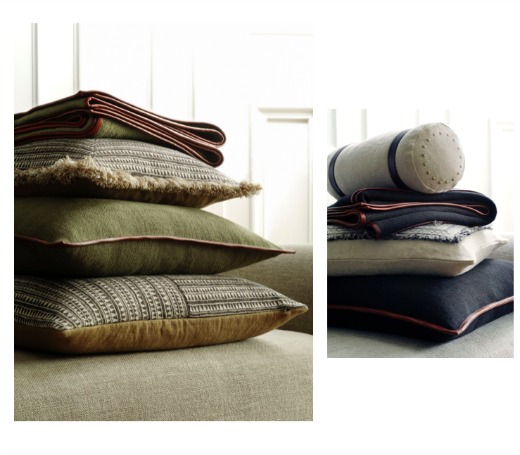 Photo courtesy de le Cuona
A little bit of tribal inspiration for 2015 and beyond…
From the de le Cuona tribal collection (www.delecuona.co.uk)
6. Animals Gone Wild. Yes, animals are everywhere. From our walls to under our feet. Exotica is here to stay, and so is our love for stylized interpretations of jungle life.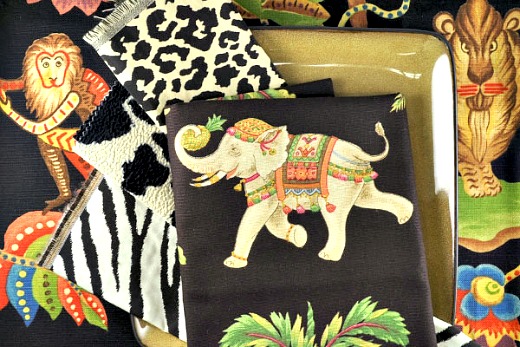 via onlinefabricstore.net
Animal and tropical prints are the perfect marriage.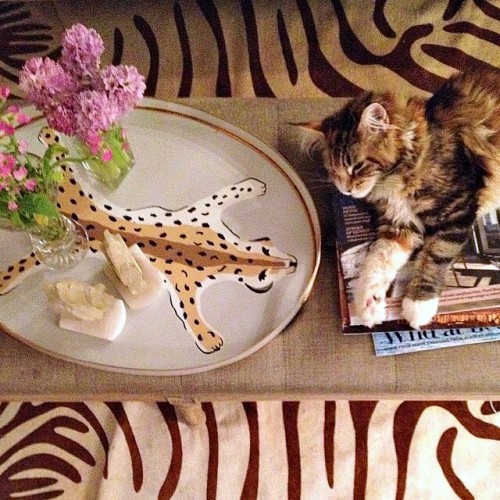 via Jessika Goranson
All things big and wild, (and smaller too) are going to be on trend through 2016.
7. Bring Home the Green.  Plants are back, were they ever really out? Well…get ready because this is the perfect time to work on your green thumb. Plants are everywhere, from small table-gardens to groupings of small pots on a side table. Thankfully for most it's just the tabletop variety, and if your not sure start with a cactus.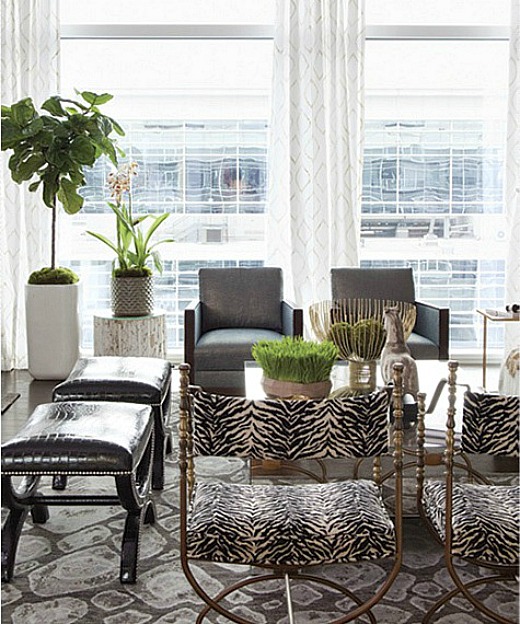 An interior from one of the South's top designers, Kerry Howard, not only bringing home the green, but mixing all the hottest looks in one stunning space.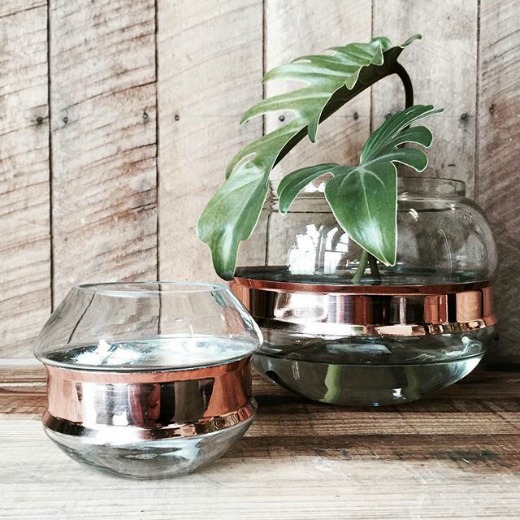 via Bundall and Burleigh (www.villagestores.com.au)
These glass vases with copper bands would look divine with succulents too…
8. Metallic's.  Sparkly metallics are shimmering onto the design scene. From textiles to accessories. Quite frankly I think every interior could use a little glitter and glam. It's not all about Studio 54 shimmer-metallic sheen's will range from "disco ball glitz" to more subdued hues.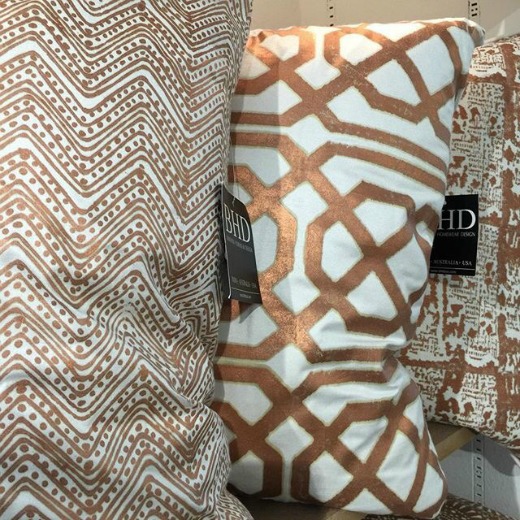 via B Home
These fabulous metallic pillows were on display at Codarus during Atlanta Market.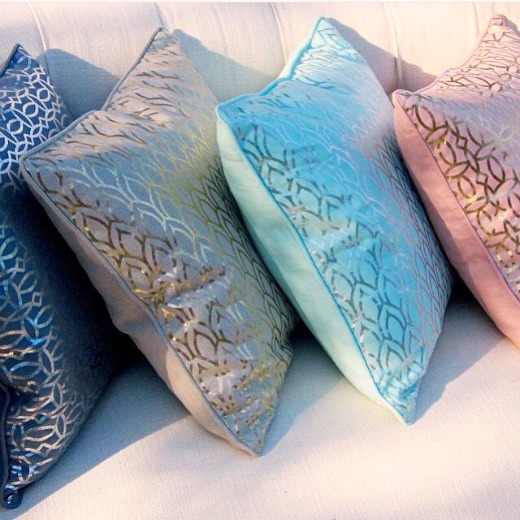 via @brittanylfrench
The metallic pillows are from Belquist.
I hope you enjoyed my trend picks from 2016, and as always don't forget to follow us on Social Media for more design inspiration and happenings. I did want to mention this was an unbiased view of the trends that are emerging for 2016, and not an endorsement of any particular product or designer. There was so much to see at Market, and as a result so many pictures and so little time to show you them all.
You can follow me here to see more emerging trends:
https://facebook.com/theaceofspaceblog
http://pinterest.com/bolickinteriors/
http://instagram.com/theaceofspaceblog.com
https://twitter.com/theaceofspacebl
Until next time,
BE INSPIRED. BE AMAZED.