Showhouses are to the design industry what the runway is to fashion. An opportunity for designers to flex creative muscle, often with spectacular results. Showhouses are not only designed to pique our interest but offer endless inspiration. And while we may never paint a ceiling hot pink lacquer, or turn a foyer into a botanical fantasyland, it's the anticipation of being transported into the world of some of the industry's most notable talent who prove they are just like us, looking for as many money and time-saving tricks to create "dressed to impress" spaces which captivate and amaze.
The 3rd Annual Kips Bay Decorator Show House Palm Beach checks all the design boxes, unforgettable interiors that will undoubtedly be reshared across Social Media platforms for the foreseeable future and beyond. Each room of the Dutch and South African home has been transformed using some of the most luxurious textiles, unexpected wall treatments, drool-worthy furnishings, and impressive statement lighting. "In just under three months, the Showhouse was completely transformed each room of the remarkable 8,751-square-foot home inspired by South African and Dutch architecture. Affectionately dubbed Bamboo Hill, the main home, located at 260 Palmetto Lane in West Palm Beach's South End neighborhood, features four bedrooms, five bathrooms, a great room with vaulted ceilings and french doors that open up to an expansive loggia, and a spacious kitchen with an adjacent outdoor dining terrace. The home's large master suite offers sprawling garden and pool views. The estate also boasts two guest houses, a pool house, and an expansive private garden with lush tropical flora for the ultimate outdoor living and entertaining experience." The Show House is open from February 1 – March 1, 2020 benefiting Kips Bay Boys & Girls Club and Boys & Girls Clubs of Palm Beach County. To find out more about this stunning Showhouse and how to purchase tickets visit here.  Read on to see a preview: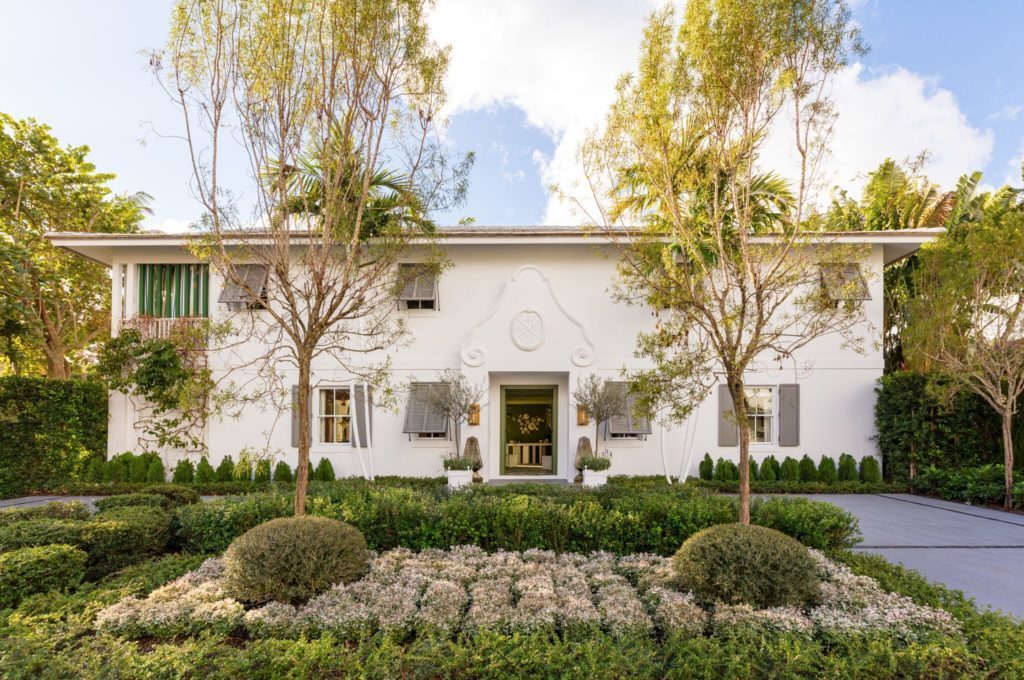 Designer/ Jobe Lopez-Photography/Sargent Architectural Photography
Lake Worth Beach-based Jobe Lopez of Lopez Group, Inc. "drew inspiration for the home's front garden
from the vineyards at the Klein Constantia Estate in South Africa." Luscious greenery and native Floridian
plants open up the façade of the house, one of the many striking features includes the trunks of palm trees which were painted white to underscore the plantation feel of the home. A unique and striking feature.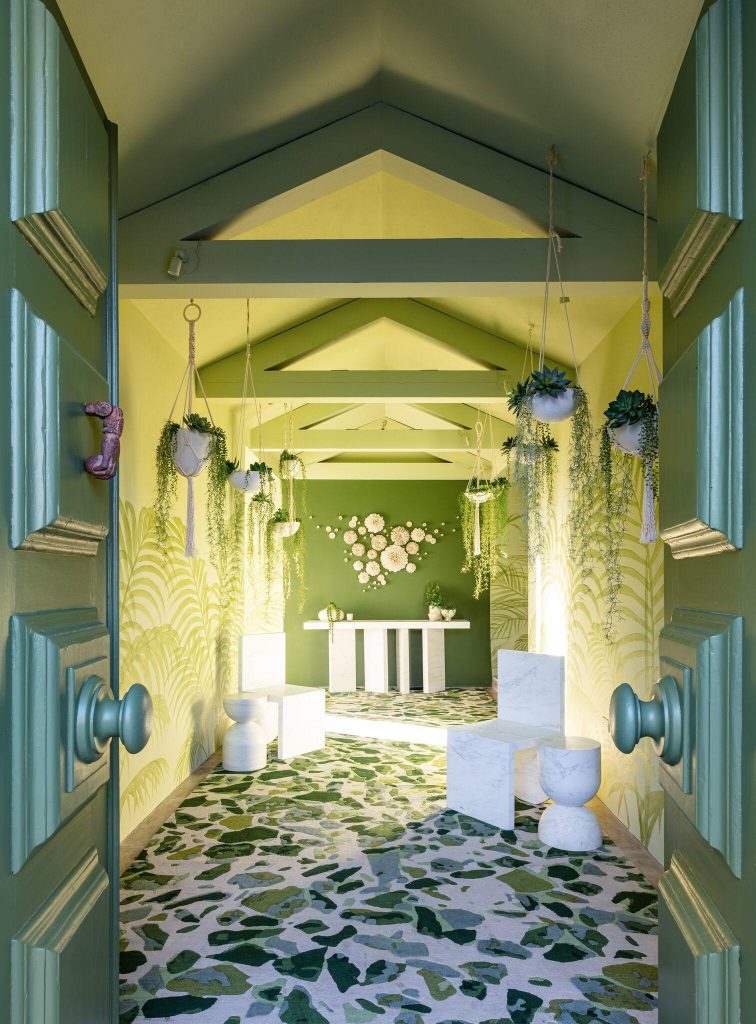 Designer/Alizee Brion – Photography/Sargent Architectural Photography
The entryway is aptly named "Le Jardin" "celebrating the home's blurred boundaries between the exterior and interior, with the lush outdoors serving as the inspiration for the tropical garden design." A hand-painted bamboo leaf mural by artist Austin Kerr lines the entrance while a striking porcelain flora installation by Valeria Nascimento adorns the back wall. Curated pieces from Light On White's debut furniture collection are featured throughout.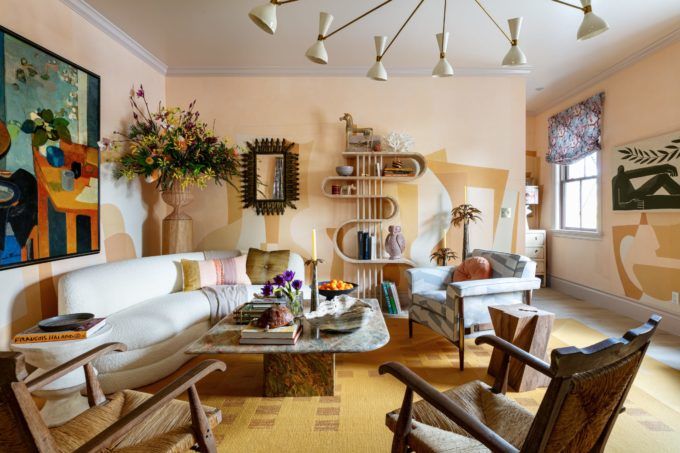 Designer/Joe Lucas – Photography/ Sargent Architectural Photography
Lucas Studio, Inc. transformed one of the home's guest suites into a chic and intimate sitting room he's named, "The Palmetto Snug." Inspired by the Fromental abstract wallpaper, the room features coastal touches of pinks and corals, vintage rush chairs and Barand sculptural pieces.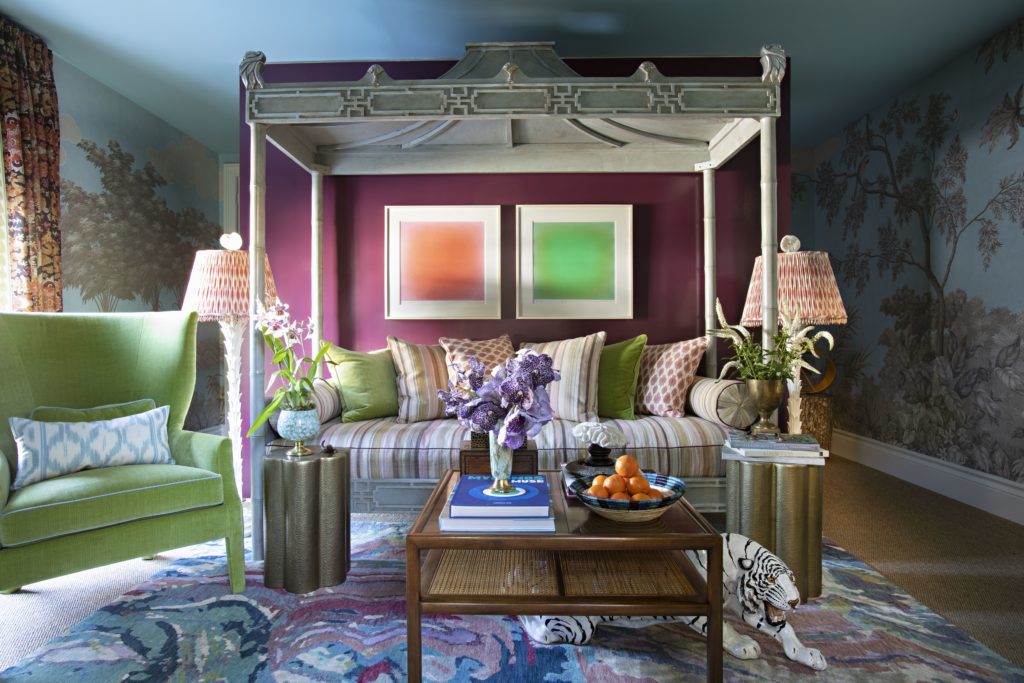 Designer/ Kevin Isbell- Photography/ Sargent Architectural Photography
Designer, Kevin Isbell created the second guest suite dubbing it "A Writer's Retreat." "Designed with the worldly traveler in mind," the features of this eye-catching space include an oversized pagoda-shaped daybed set against a floating wall lacquered in deep eggplant, bright colors and a ceramic tiger from Eleish Van Breems Home. A hand-painted mural pays homage to the home's South Florida location.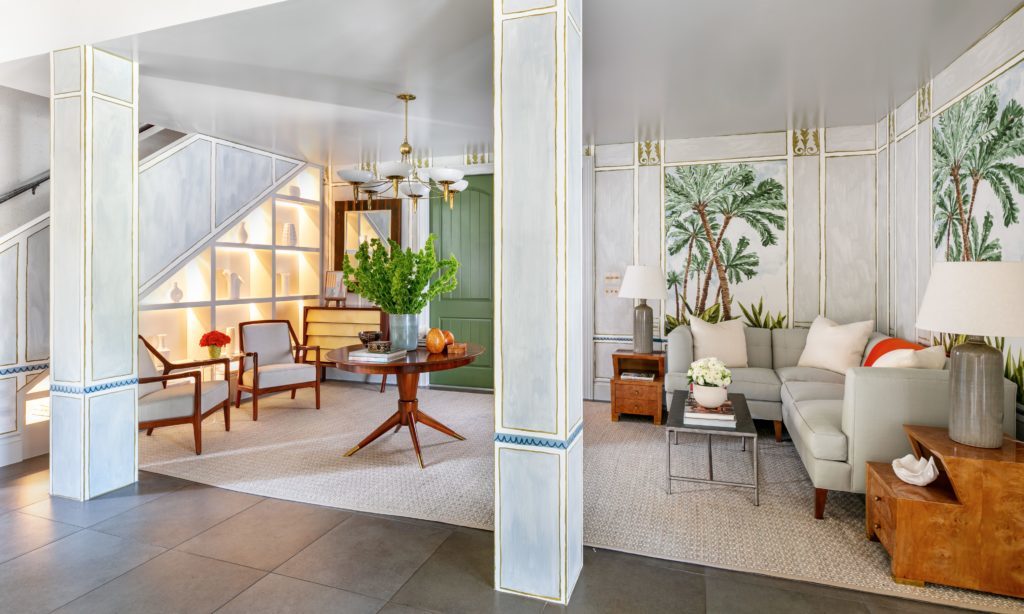 Designers/ Brian and Alexandra Brady-Photography/ Sargent Architectural Photography
Brian and Alexandra Brady of Southhampton-based Brady Design made their father-daughter debut
with a classically inspired foyer. A whimsical scene of palm trees framed by pilasters greet visitors, a skillful mix of antiques and custom
design elements.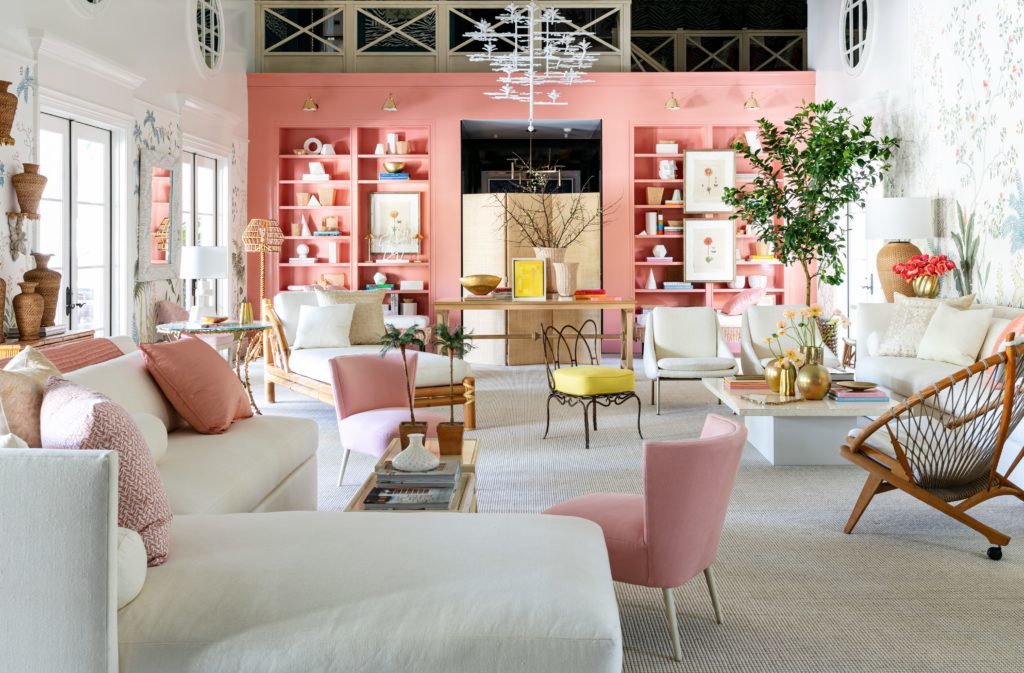 Designer/Suzanne Kasler-Photography/Sargent Architectural Photography
A Palm Beach-inspired color palette of pink and white and featuring rattan, linen, and
natural materials, the Great Room features stunning views of the outdoor logia, garden, and swimming
pool. High-gloss, built-in bookcases in Benjamin Moore's Custis Salmon are a stunning focal point,
highlighting books and white sculptural pieces. An eye-catching floral wallcovering conveys a sense of timelessness.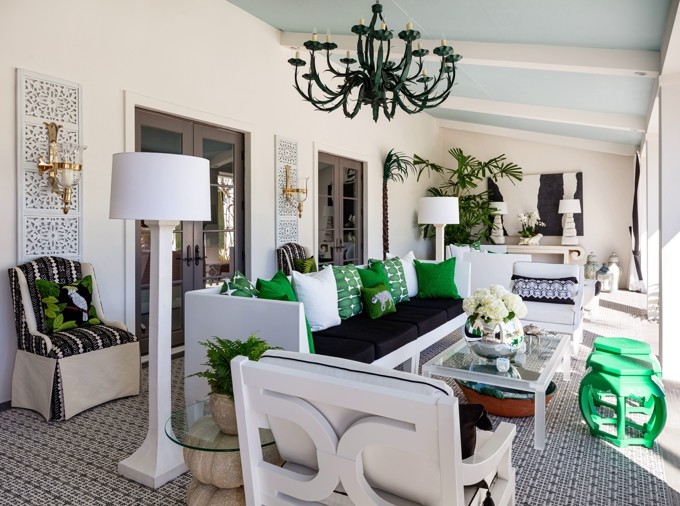 Designer/ Sherrill Canet-Photography/Sargent Architectural Photography
A classic color palette of black and white is amplified through the use of jeweled accents. The Loggia blends modern touches with antique pieces for a tailored look giving this outdoor retreat.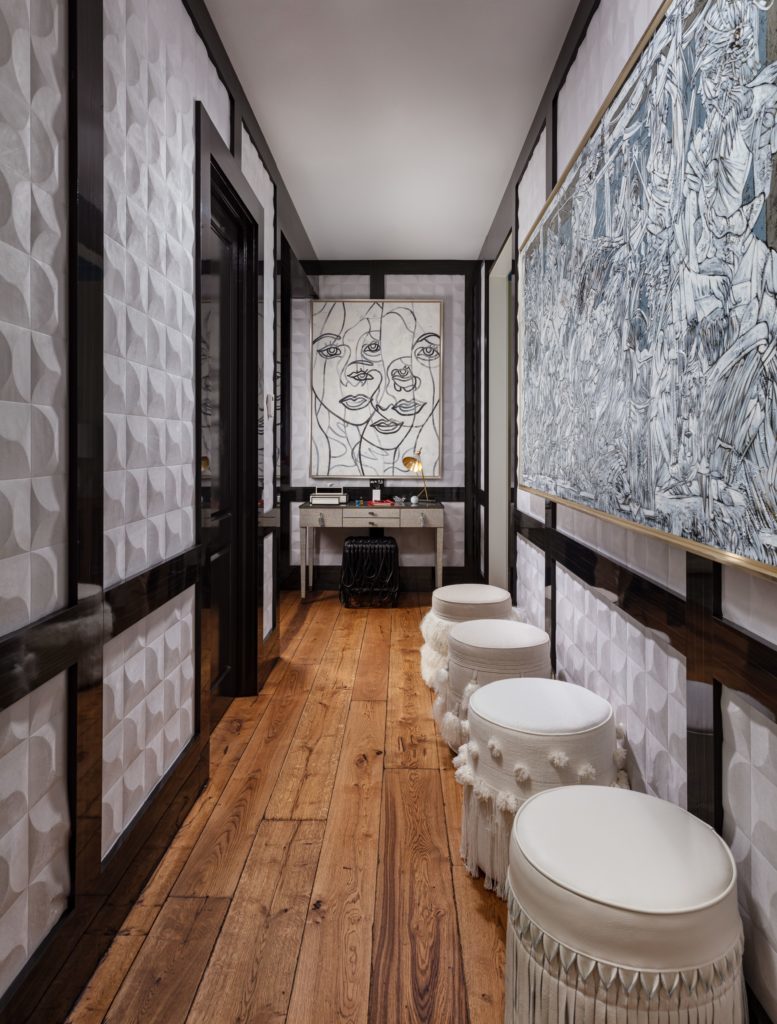 Designer/Javier Fernandez-Photography/Sargent Architectural Photography
The vestibule, hallway and powder room feature a contemporary design titled "Design with Bite." The perfect intersection of both vintage and modern style, the space features stunning details such as a light grey pony hair console table, contemporary art pieces with whimsical "pouf" ottomans lining the hallway, and framed wall panels with three-dimensional suede inserts.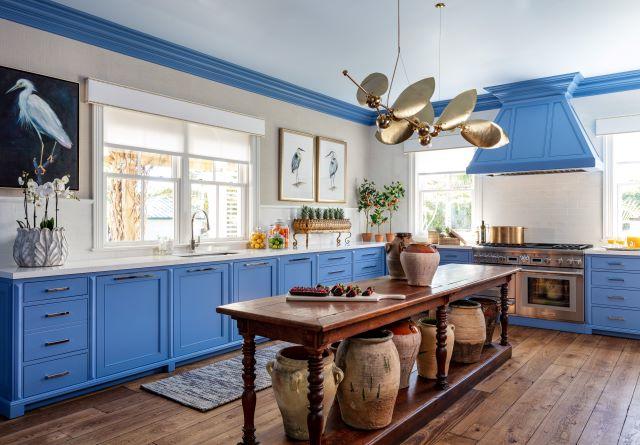 Designer/ Sarah Blank-Photography/ Sargent Architectural Photography
Classical architecture is the inspiration behind this timeless kitchen. The space is anchored by a
Thermador range and features KOHLER's Poise Stainless Steel Kitchen Sink, beautiful Dekton by
Cosentino countertops, a wine cellar, and a large island that seamlessly blends form with function.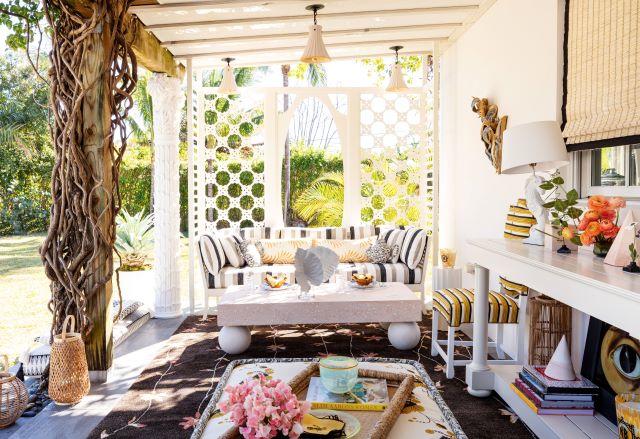 Designer/ Colette van den Thillart- Photographer/ Sargent Architectural Photography
This stylish outdoor dining terrace was transformed "into a delightful enclave full of character and texture reflective of stylish living." Surrounded by fragrant bougainvillea, the terrace features a black and white color scheme with subtle touches of curry and Naples yellow.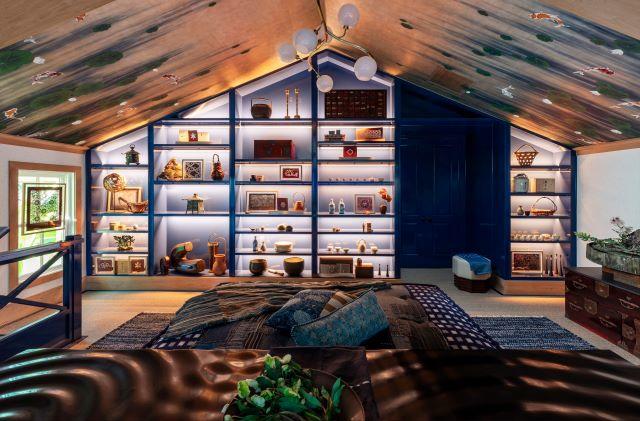 Designer/ Sarah Magness-Photography/ Sargent Architectural Photography
The Master Study was transformed into the "Mindfulness Retreat."  Japanese Furnishings blend seamlessly with modern decorative elements. A mediation bed is centered in the room is surrounded by a soothing palette of blues, greens, and silvers. Stunning Gracie "Koi Pond" wallcovering stretches across the ceiling, punctuating a feeling of calm.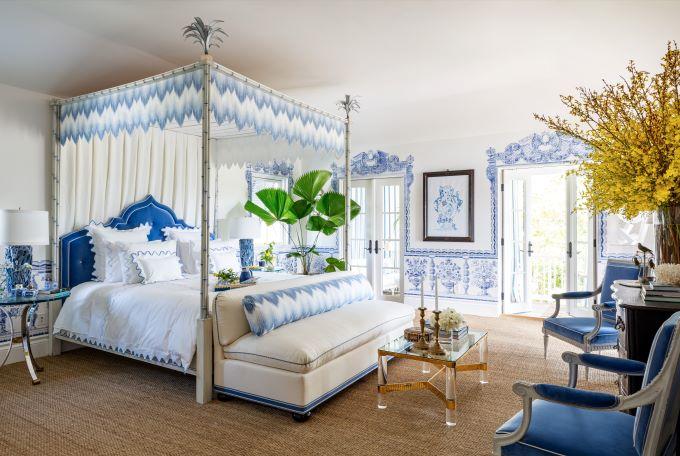 Alessandra Branca-Photography/ Sargent Architectural Photography
Inspired by one of Branca's favorite countries, Portugal, the bedroom touts blue-and-white wallpaper resembling Portuguese tile, a vintage bed, and pieces from her namesake furniture line, Casa Branca.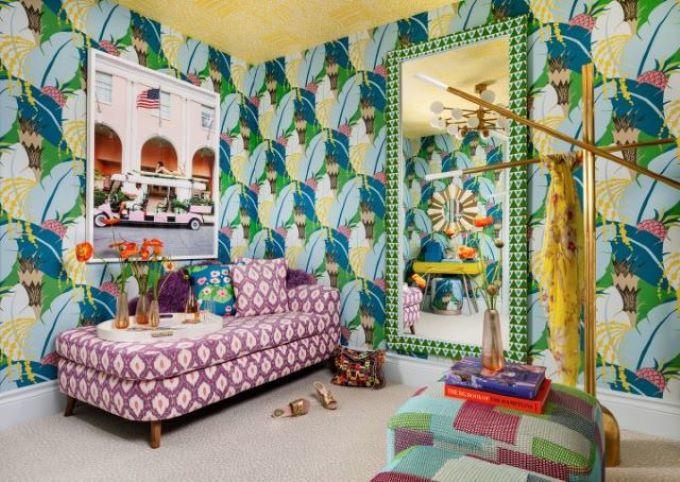 Designers/ Betsy Wentz and Tom Kirchhoff-Photography/Sargent Architectural Photography
Bold color and patterns are on display in the master his and her bathrooms and closets. The "his and her" dressing areas boast "personality and flair courtesy of eye-popping wallcoverings, fabrics and whimsical prints."

Designer/ Leta Austin Foster-Photography/ Sargent Architectural Photography
Jungle-inspired patterns and Asian influences are punctuated by China Seas "Nairobi" wallpaper by Quadrille in a custom colorway and modern elements. "Decorative Asian elements, Chinese porcelain, and a collection of books fill the space, showcasing the dwelling of an
eccentric, yet sophisticated seasoned traveler."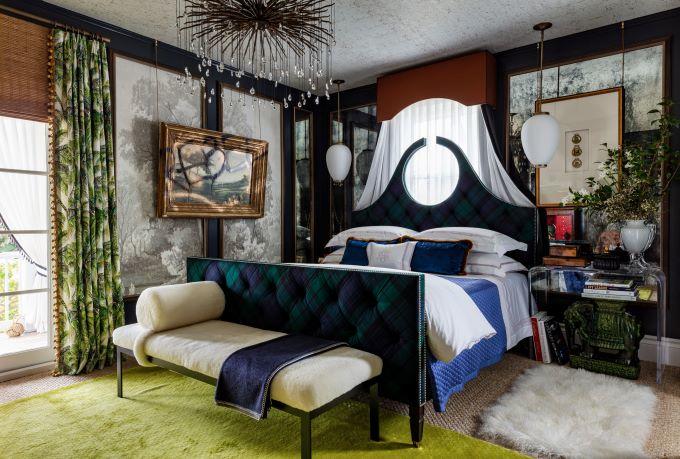 Designer/ Robin Gannon-Photography/ Sargent Architectural Photography
The surrounding flora inspired the second-floor guest bedroom and bathroom aptly titled "It's A Jungle Out There." "Elements of colonial-era Africa coupled with references to the "urban jungle" are highlighted throughout the space in a playful way." Eye-catching art and a plaid tufted headboard add a touch of sophisticated glamour.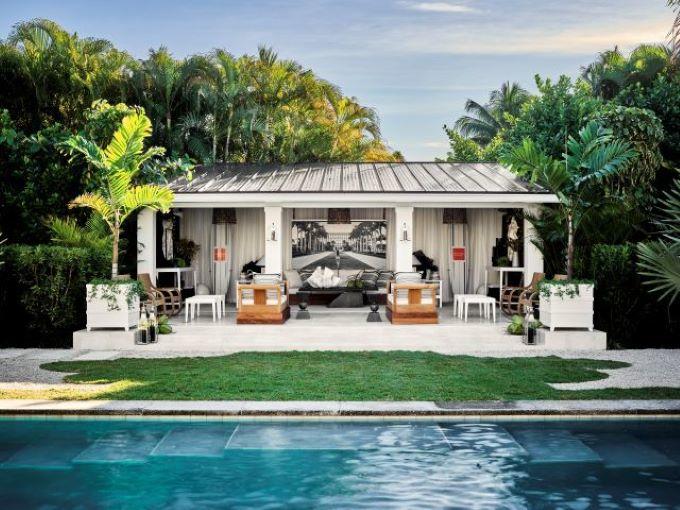 Designer/Jonathan Savage-Photography/Sargent Architectural Photography
Inspiration for the "Cabana Hideaway" was derived from the Nashville-based designer's lifetime of travel to the French West Indies. "The relaxed and livable outdoor escape is filled with fine finishes from Indonesian teaks, luxurious woven fabrics, and heirloom quality furnishings and accessories. Nantucket and Palm Beach fine art photographer, Nathan Coe's print provides the perfect backdrop to the lush upholstered Sutherland Furniture daybed."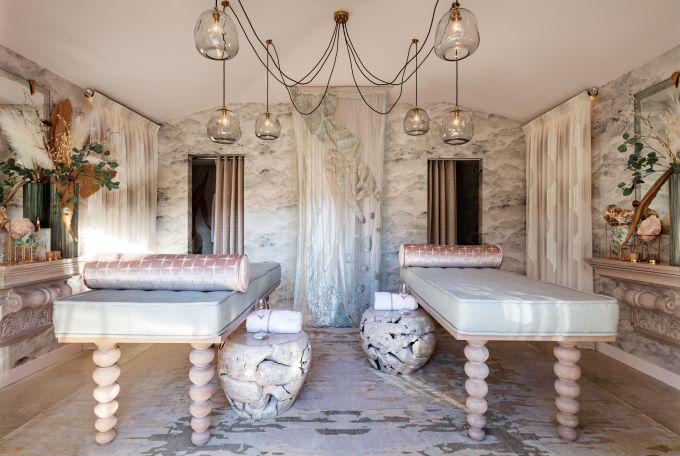 Designer/Keith Baltimore-Photography/Sargent Architectural Photography
The Guest Casita was transformed into a chic and well-traveled spa-like haven. Dubbed "The Sanctuary," the delicate color palette – of peach, crème, grey, and aqua – is fused with organic materials, textures and tranquil patterns.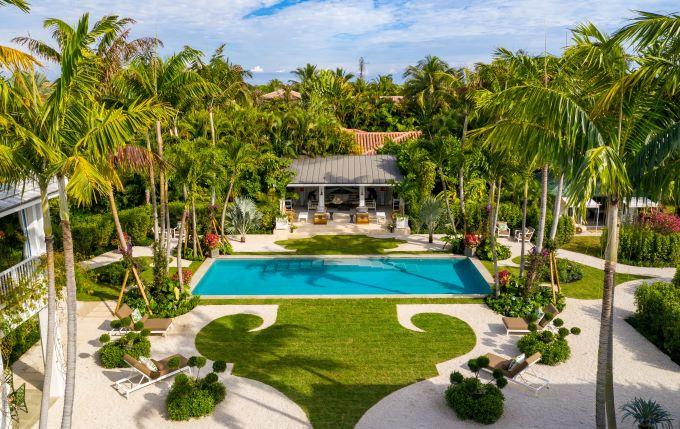 Designers/ Mario Nievera and Keith Williams-Photography/ Sargent Architectural Photography
The home's garden was transformed by Mario Nievera & Keith Williams of Palm Beach-based Nievera
Williams Design. "Drawing inspiration from the gardens of the Taj Mahal, "The Mughal Garden" features
bold patterns and bright colors that expose the glory of outdoor living in South Florida." 
                All photos provided with permission of Sharp Communications, PR Firm for the 2020 Kips Bay Decorator Show House Palm Beach.