Upriver from the Garden district in New Orleans is a southern gem, one of many grand homes that dignify historical St. Charles Avenue. A street lined with well-maintained 19th-century houses that speak of a grander and more lavish period in this city's wildly colorful history. Steeped in rich cultural layers beyond the brass band parades and lively nightlife on Bourbon Street.
It's here, a 10-minute Uber drive from my hotel that I entered a world re-imagined by 27 talented designers, who have masterfully reinterpreted traditional Southern design with a bold injection of New Orleans spirit. A historical home dusted with design gold by a cross-section of talented Southern designers.
I came to New Orleans to participate on a Southern Bloggers panel for the Southern Style Now Festival, and left feeling inspired by the brilliant talent that honored the very essence of Southern traditions. Each room a carefully curated mix of old and new with a juxtapostion of styles and striking design details.
Robert Leleux, the creative force behind the Southern Style Now Festival & Showhouse put New Orleans on the design map, along with an infinite number of creative talent such as artists, craftspeople & small businesses. A single piece of artwork, a wallpaper or even a fabric became a designers muse. Paying homage to the "New South."
Here is Part 2 & a recap of the stunning downstairs spaces of the Southern Style Now Showhouse presented by Traditional Home. A home that redefined Southern design while honoring New Orleans history & heritage. If you missed Part I, the upstairs, you can visit here.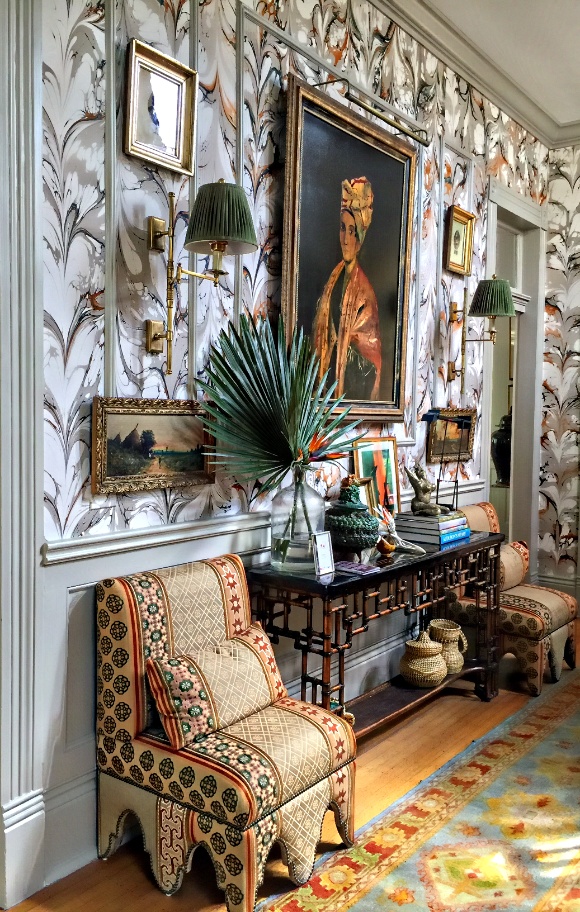 Designer/ Melissa Rufty-Photo/ Vicki Gladle Bolick
A masterful mix of old & new. An oil portrait of Creole icon Marie Laveau keeps a "watchful eye" over all who enter this stunning entryway, a bold reinterpretation of Southern design…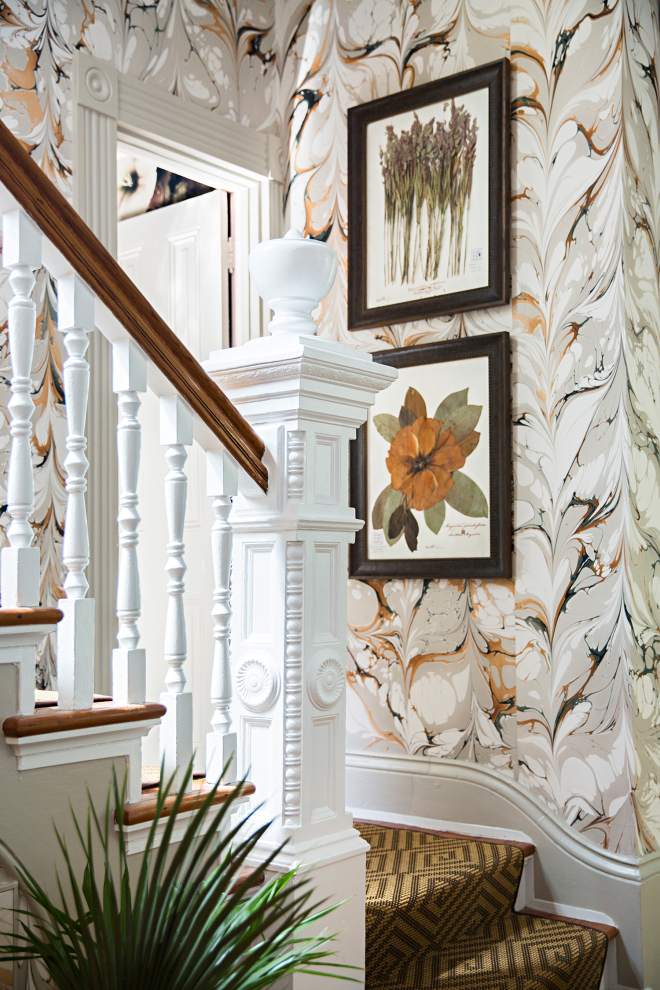 Designer/ Melissa Rufty-Photo/ nola.curbed
Melissa collaborated with Paige Cleveland of Rule of Three to produce the custom-color marbleized fabric panels that cover the foyer and stairwell walls. Each panel was done by hand, and the end result was breath-taking.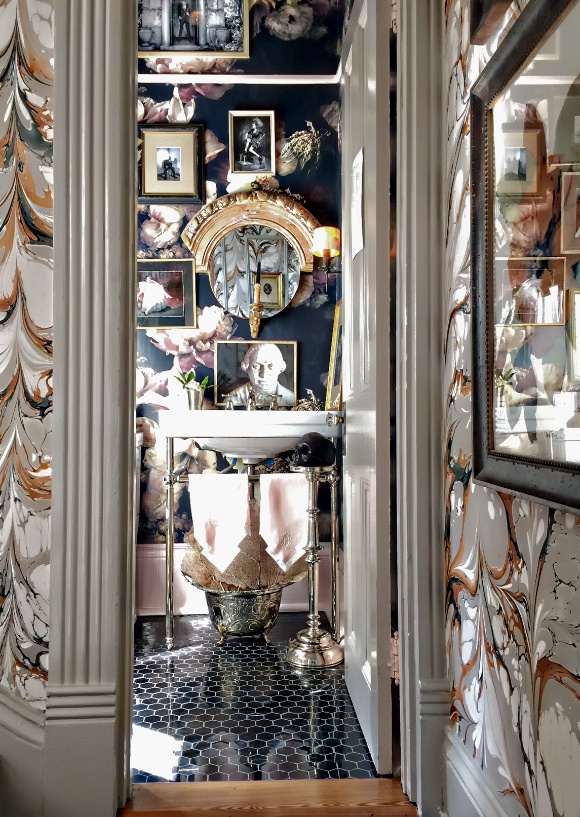 Designer/ Denise McGaha-Photo/ Vicki Gladle Bolick
Let me first say that I absolutely fell in love with this powder room designed by Denise McGaha. From the exquisite floral wallpaper from Ashley Woodson Bailey to the skillfully curated art collection from Brownlee Currey, this powder room is full of delicious details paying homage to the Garden district in a way that is both dramatic and perfectly feminine.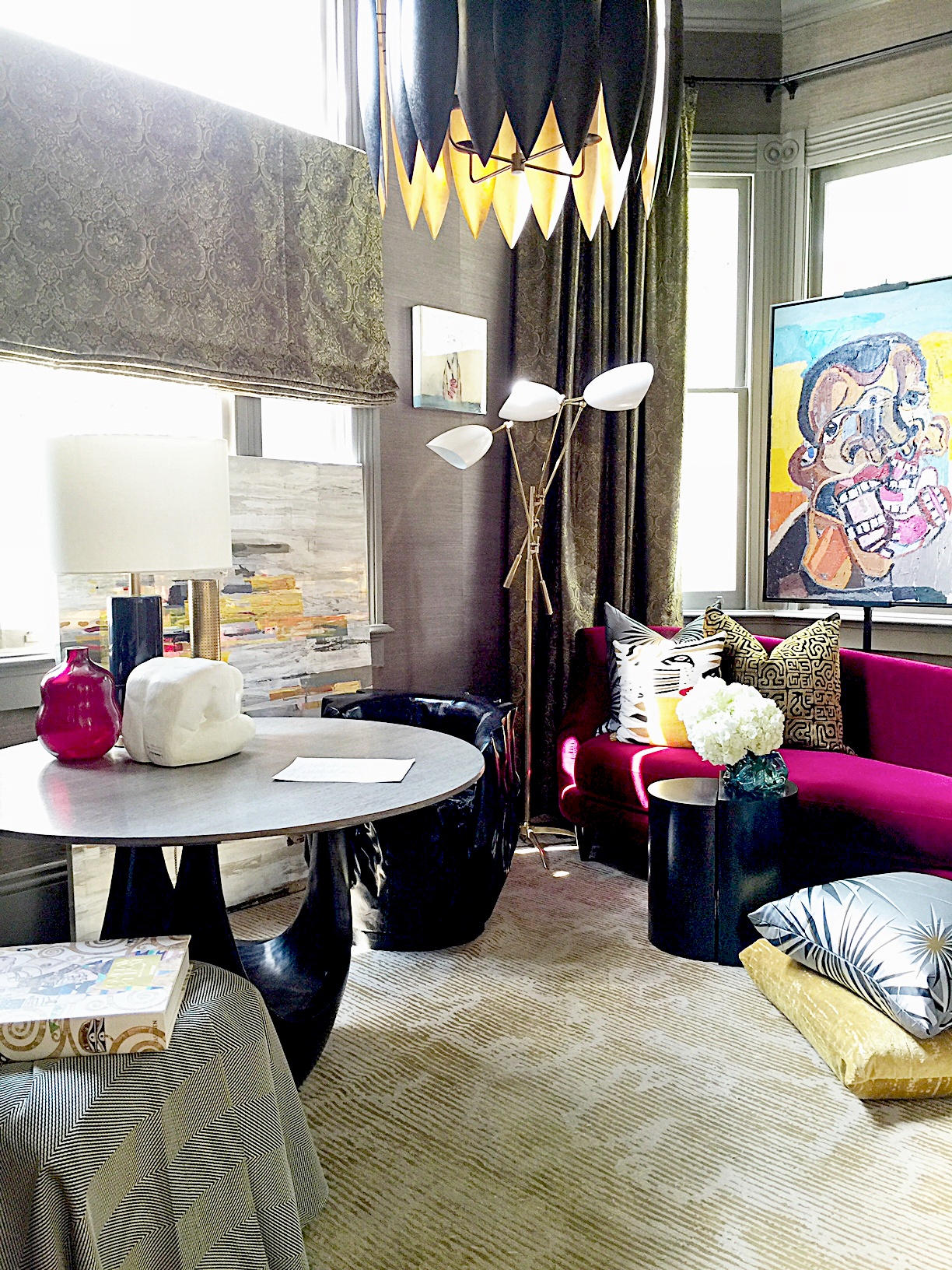 Designer/ Michel Smith Boyd-Photo/ Vicki Gladle Bolick
This Study designed by Michel Smith Boyd was truly a "study" in strikingly bold patterns & colors. An unexpected mix of  masculine pattern, textures & hues contrasted with luxurious fabrics & drapery. This inviting mix is warm & sophisticated with a new take on Southern tradition.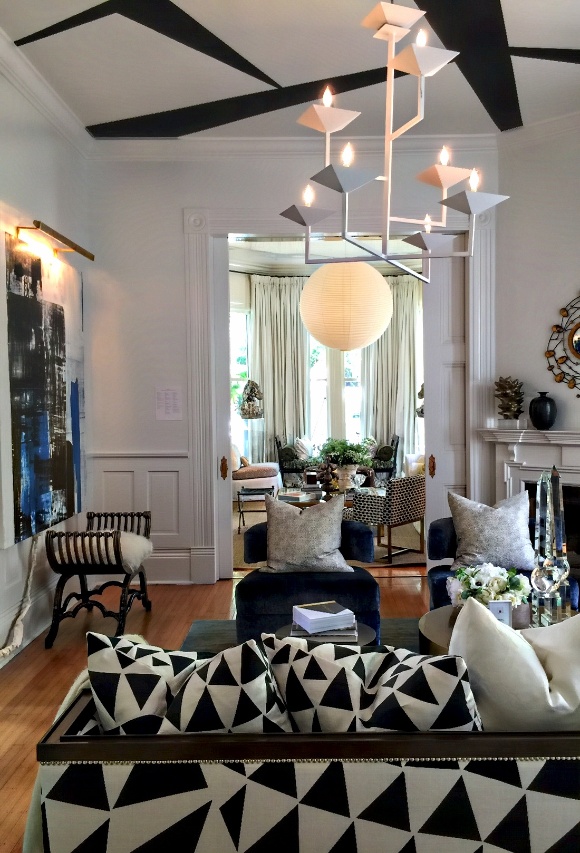 Designer/ Reagan Hayes-Photo/ Vicki Gladle Bolick
Regan Hayes brings graphic punch to a room steeped in Southern tradition. A clever juxtaposition of architectural detail gave the room  a refreshing edginess, from the original mouldings on the wall to the painted geometric ceiling detail. Original pieces such as the contemporary artwork mixed with bold patterns brought in layers of drama and sophistication.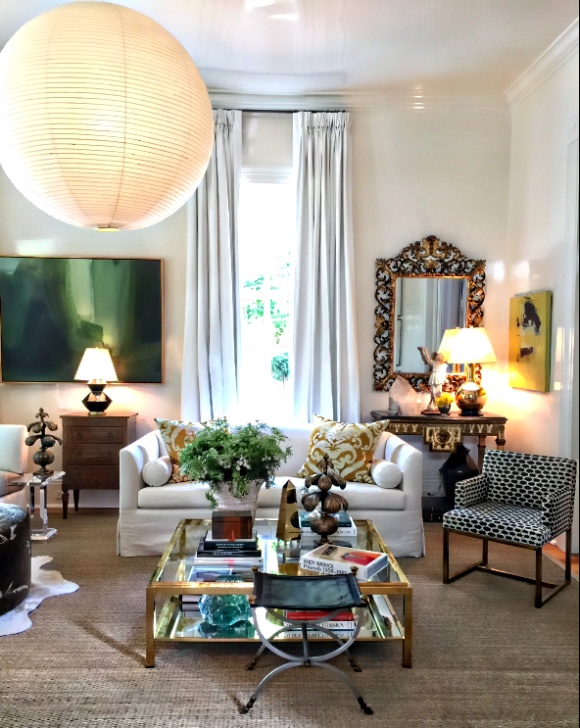 Designer/ Shaun Smith-Photo/ Vicki Gladle Bolick
A masterfully collected mix of modern with traditional defines this living room space by Shaun Smith. This room is alive with stylish details from the 17th-century daybed covered in luxurious Fortuny fabric to the classic antiques.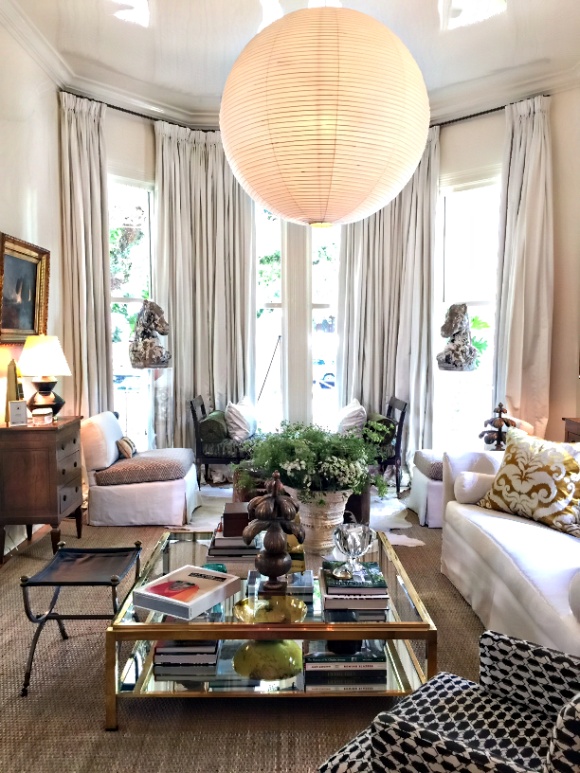 Designer/ Shaun Smith-Photo/ Vicki Gladle Bolick
This room was a flawless mix of old and new, paying tribute to the next chapter in Southern design. Luxurious silk drapery dress the stately windows, while an oversized Chinese-style lantern brought in a modern & fresh element.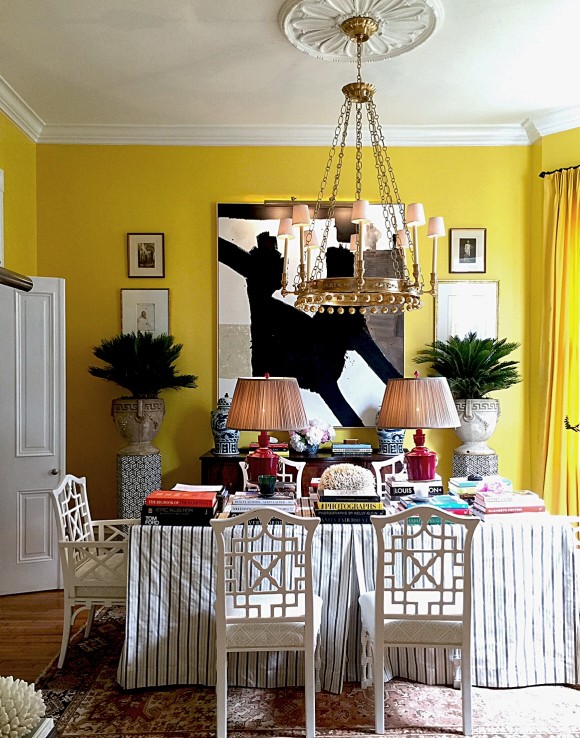 Designer/ William Rankin McLure-Photo/ Vicki Gladle Bolick
Daffodil yellow graces the walls, inspired by a room designed by Victoria Hagan. This room is vibrant & boldly traditional with a contemporary edge. A delightfully unexpected pairing that defines the soulful quality often associated with New Orleans.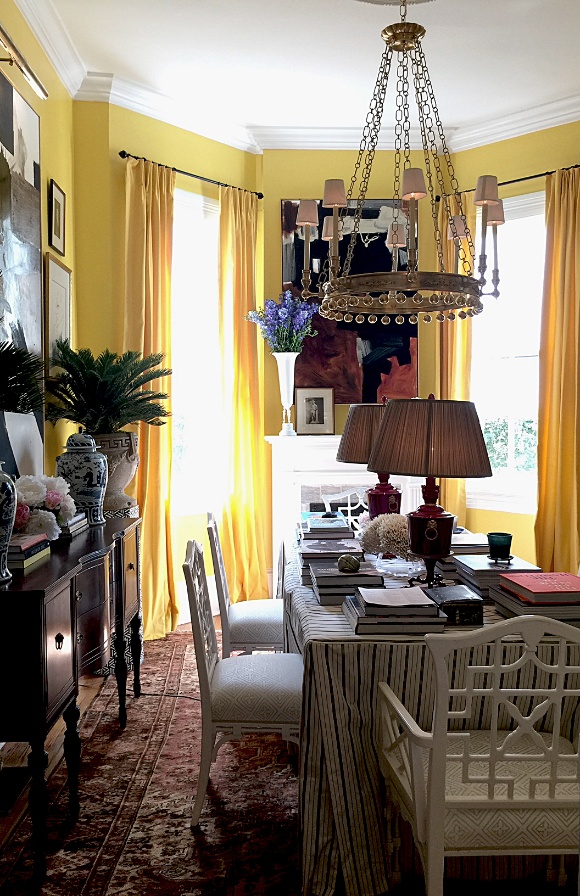 Designer/ William Rankin McLure-Photo/ Vicki Gladle Bolick
Primary colors were given a fresh new life. The details in this room were extraordinary from the skirted table to the graphic abstract art. I can only imagine that most who see this picture will be inspired into to turn their dining rooms into a library! I know I was…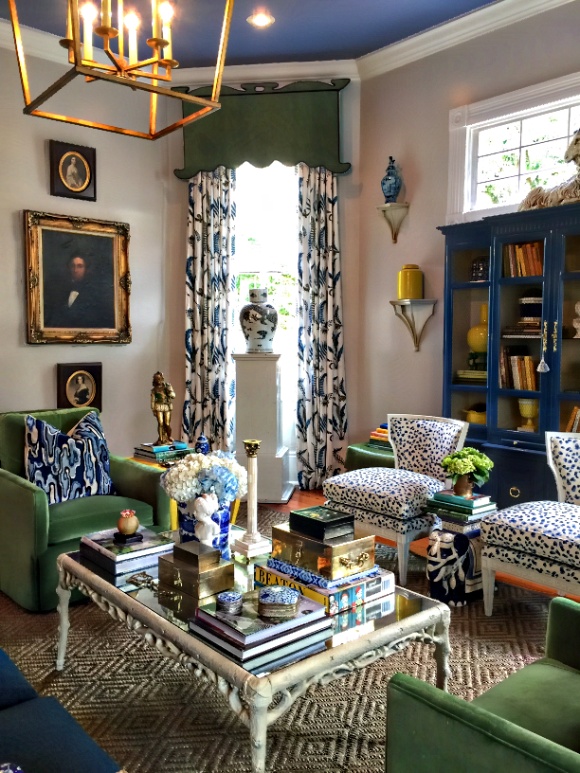 Designer/ Parker Kennedy-Photo/ Vicki Gladle Bolick
This room designed by the Atlanta design firm is rooted in the designer's love of Southern-style with a subtle nod to France. A springboard of Lee Jofa's "Ferns" fabric was used as inspiration for the color palette, of rich blues & greens richly layered throughout this classically designed Southern space given a delightfully stylish twist.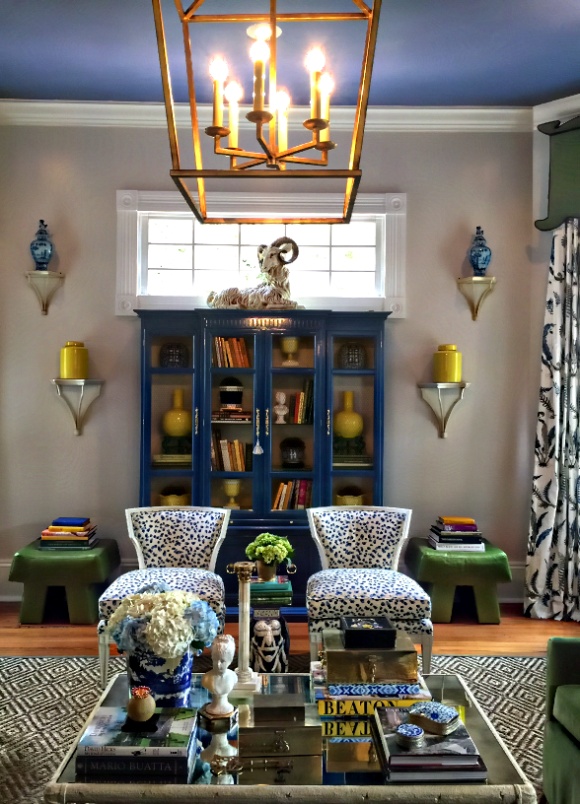 Designer/ Parker Kennedy-Photo/ Vicki Gladle Bolick
The designer's layered the Family Room in touches "that speak to their heritage and that of the home." From the vintage busts to the contemporary artwork, this room is a skillful blending of old & new traditions with a signature southern flair, the hallmark of this talented duo.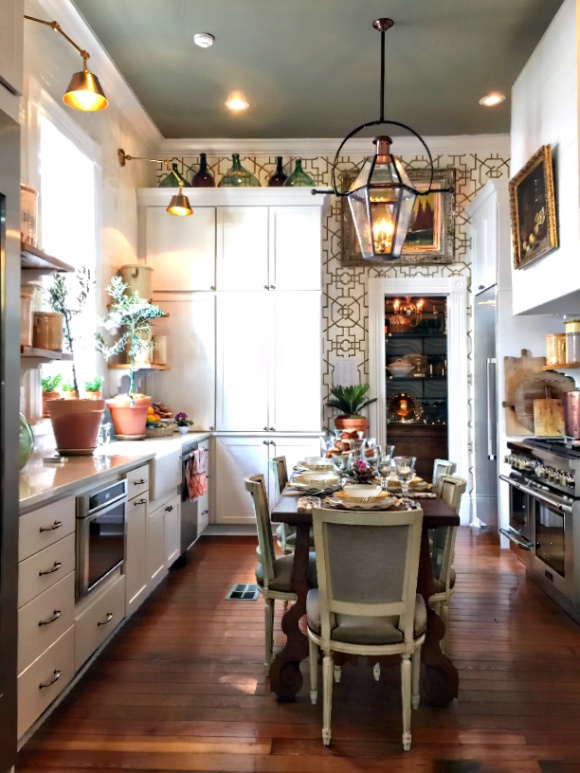 Designer/ James Farmer-Photo/ Vicki Gladle Bolick
Noted interior & garden designer, James Farmer defined pure Southern hospitality in his kitchen design. This kitchen is surrounded in warmth from the kitchen table to the rich layers of copper and wood patinas. Heirloom pieces add a pinch of traditional Southern charm…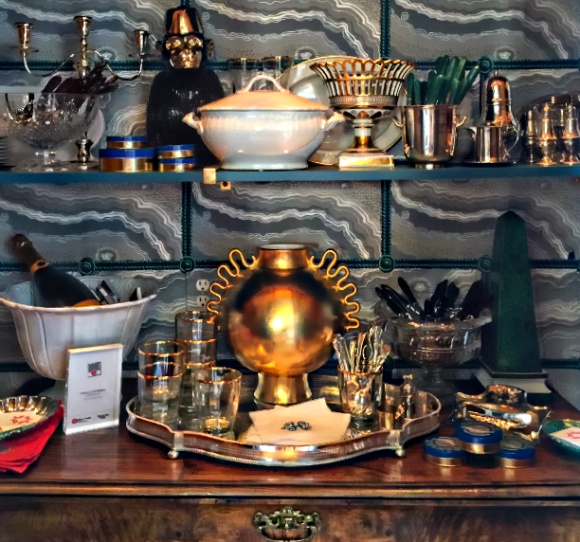 Designer/ Lindsey Coral Harper-Photo/ Vicki Gladle Bolick
This NYC based design talent was able to transform a small space into one with big impact. From wallpaper by Adelphi to a stunning & eclectic collection of "amazing finds." It was a captivating mix of old & new with a distinctive Southern flavour.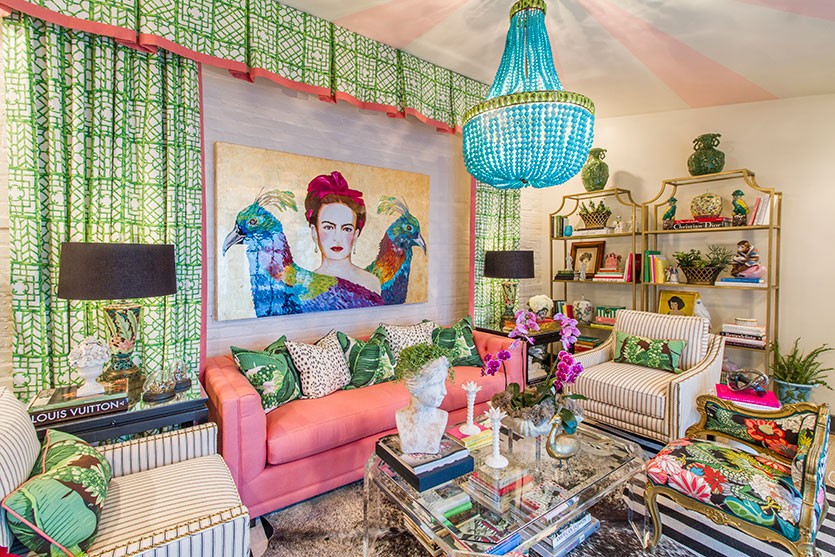 Designer/ Lisa Mende-Photo/ Vicki Gladle Bolick
Lisa created a room in the guest cottage that was a little bit Southern soul mixed with glamour & sophistication. A dazzling painting by Ashley Longshore is the focal point of a room that defines the very essence of New Orleans, in vibrant and bold hues with a touch of Dorothy Draper elegance.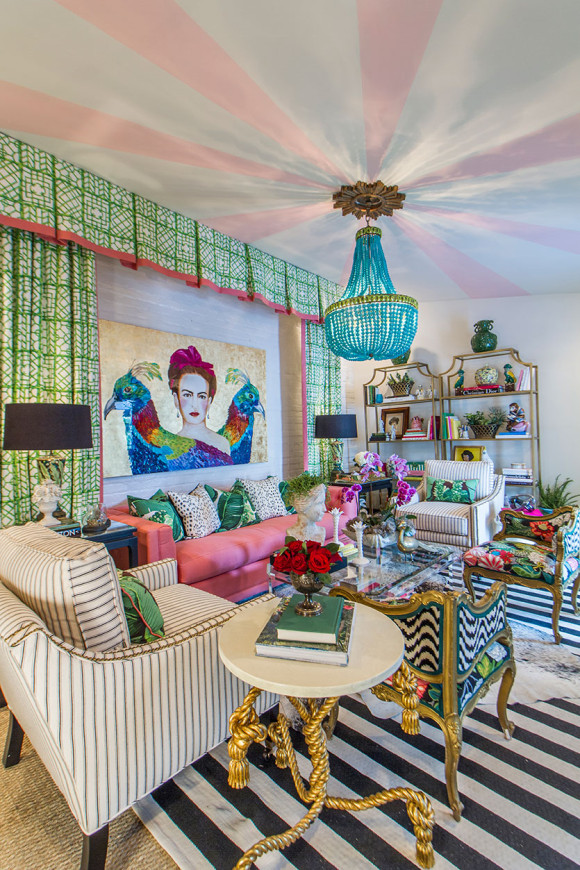 Designer/ Lisa Mende-Photo/ howtodecorate.com
I don't think I could capture the vibrant beauty of this space as well as the photographer from How to Decorate. But, one of the design details (of many) that I adored were the stripes on the ceiling  and the reflection cast by the stunning fixture from Currey & Company.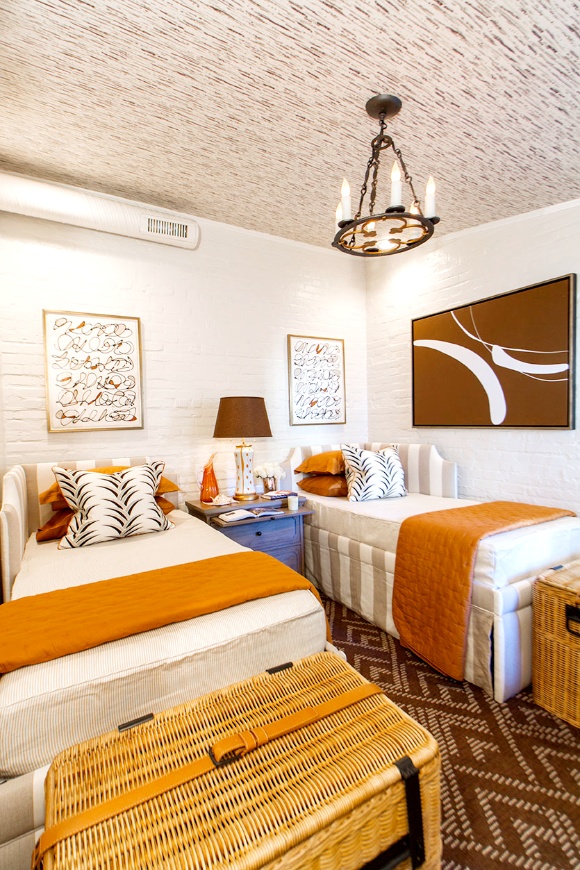 Designer/ Jonathan Savage-Photo/howtodecorate.com
This cottage guest bedroom is the perfect retreat for visitors to this stately home. This space is deliciously layered in soft neutrals & stylish touches from the awning striped fabrics to the stunning ceiling wallpaper from Carleton V. LTD. Savage brought in Southern touches such as the Deco-inspired drapery fabric that gives its own subtle nod to "New Southern" design. A room that may make it difficult for guests to leave…
I hope you enjoyed the tour of the Traditional Home "Southern Style Now Designer Showhouse." If you'd like to see the upstairs spaces you can follow the link here.
My apologies to those who we weren't able to feature such as Clary Bosbyshell who designed the Laundry Room & the team at The Plant Gallery-Kenneth Rabalais, Jennifer Rabalais & Tina Legasse & the Cottage Guest Bathroom by Betsy Nixon Hazard. If anyone has photos of these spaces please send them to Vicki@theaceofspaceblog.com and we would love to add them to the post!
Until next time,
LIVE A LIFE WELL CURATED.
As always don't forget to follow us on Social for more design inspiration & happenings!