What we won't do for love. Houses, castles, and hotels have been built for love and designed to reignite and honor love. And like the perfect relationship, some are designed for pampering, comfort, and indulgence. From the shores of pristine lakes to the rolling landscape of Tuscany, there are hotels whose sole purpose is to cater to romance complete with Michelin star dining and world-class spa treatments. All in the name of love.
So whether you get a couples massage in the wine cellar of Tuscany's Castello di Casole, or charter a sunset sail on the crystal blue waters off the Mexican coast, these are just a few of our favorite hotels that are heating things up for those who are looking for a little romantic getaway. And we are sharing some of our favorites, so read on…
No.1. Twin Farms, Vermont. Twin Farms, 452 Royalton Turnpike, Barnard, VT 05031 When Nobel award-winning author Sinclair Lewis proposed to journalist Dorothy Thompson she promised to marry him if she bought her a farm in Vermont. He eventually found a 1795 farmhouse on 300 acres and Dorothy said "yes." Dorothy kept the 1795 era farmhouse until 1958 until it was acquired by the Twiggs Smith's who launched a Bed & Breakfast. This romantic resort now features free-standing cottages, wood burning fireplaces, and screened porches. Each Cottage was individually designed by famed architects and eminent interior designers and features a museum worth art collection. Twin Farms is an unrivaled combination of 5-star service with rustic charm. Take advantage of the fresh Vermont air by hitting the nearby trails (bikes, snowshoes, skis). Or head to the lake and ask for canoe or fly-fishing instruction, its all included. They set the stage…you bring the romance.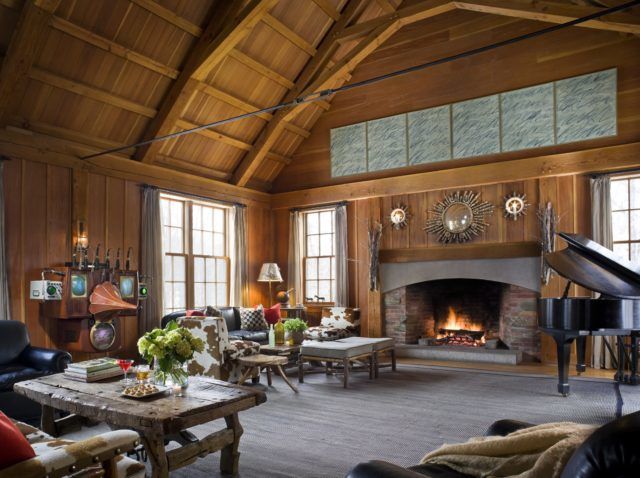 No. 2. Manoir Hovey 575 Rue Hovey, North Hatley, QC J0B 2C0, Canada
Set against "sweeping vistas and rolling grasslands" and nestled against the shores of Massawippi, one of Quebec's most picturesque and pristine lakes, this 30 acre and 5-star luxury hotel dates back to 1900 when it was the former Summer home of Henry Atkinson, the former president of Georgia Power in Atlanta, GA. Mount Vernon was the inspiration behind the original design for the estate, which still features such charming details as a broad white-pillared veranda, wicker furniture, and enchanting English gardens. Luxury defines Manoir Harvey from the Frette Linens to the world-class service. The interior of the hotel varies in narrative from rustic to contemporary, many of the rooms feature wood fireplaces and antiques paired with modern conveniences. The perfect place to enjoy a romantic interlude.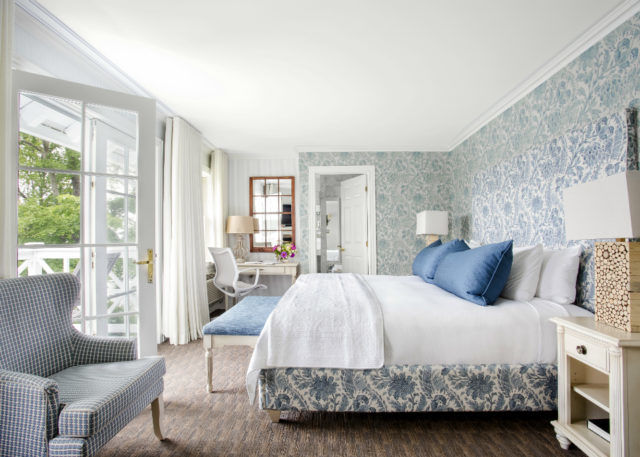 No. 3. Rosewood Castiglion del Bosco, Italy-Deep in the Tuscan countryside is Castiglion, the nearly 4500-acre working wine estate. The estate features the families original villa and 23 large suites all stylishly decorated in a rustic chic style featuring antiques and updated amenities. Located in the center of the picturesque Tuscany countryside you can simply enjoy the view, organize a truffle hunting excursion or attend a cooking school and learn how to cook traditional Tuscan dishes. Castiglion del Bosco is the perfect alchemy of comfort and indulgence in the heart of one of the most beautiful landscapes in Italy. L'amore è nell'aria (Love is in the air)!
No. 4. Blakes Hotel, 33 Roland Gardens, Kensington, London SW7 3PF, UK,  London-Located a stone's throw from Regent Park in South Kensington, Blakes Hotel, occupies a row of black painted Victorian row houses. The interior was created by acclaimed designer Anouska Hempel, one of the worlds most well-known stylists. Anouska signature style and influence is evident in each of the 51 rooms, each inspired by a different country. A stunning mix of elegant refinement and old world charm created from market finds and fabric remnants. With its lavishly theatrical interiors, the Blake Hotel offers stylish seclusion for those looking for a romantic getaway.
Shop Our Favorite Travel Essentials to Pack in Your Suitcase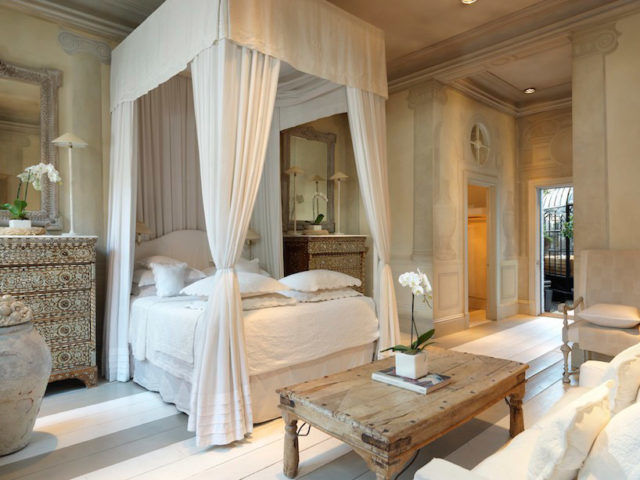 No. 5. The Gritti Palace-Located in one of the most famous cities in the world, the Gritti Palace has played host to an elite parade of guests for centuries. Built in 1475 on the banks of the Grand Canal, the Palace was turned into a hotel at the beginning of the XIX century. After a meticulous renovation in 2013, this grand and decadent hotel still retains some of the original stucco walls and architectural details. "Art in its many forms was an important part of the restoration, from the precious Rubelli fabrics that decorate guestrooms and suites, to the exceptional glass chandeliers meticulously hand restored according to tradition by able glassmakers from nearby Murano." The Gritti Palace is still considered one of the most romantic hotels in a city that will be forever linked to Cupid.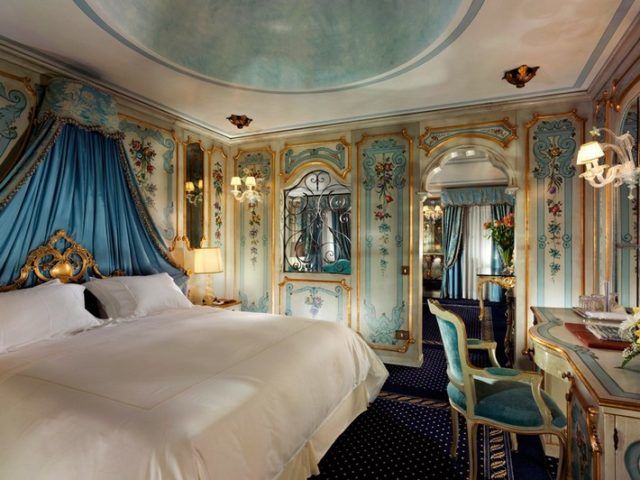 No.6. Royal Mansour Marrakech-Situated in the heart of one of the world's most exotic cities lies a place that defines the gold standard of Andalusian grandeur. Built into the medieval walls of Marrakech, with fifty-three luxurious riads spread out in the middle of manicured gardens, the Mansour is considered a palace among the riad-style hotels. Set in clusters, the riads form a small medina, mirroring the actual medieval heart of Marrakech, minus the hustle and bustle of life outside the walls. Designed with sophisticated opulence in mind and hand-crafted by over 1,500 artisans, the Mansour was said to have a limitless budget with spectacular details such as magnificent chandeliers, silk carpets, private roof terraces with plunge pools, and open fires. A paradise for those looking for a little adventure, intrigue, and endless romance.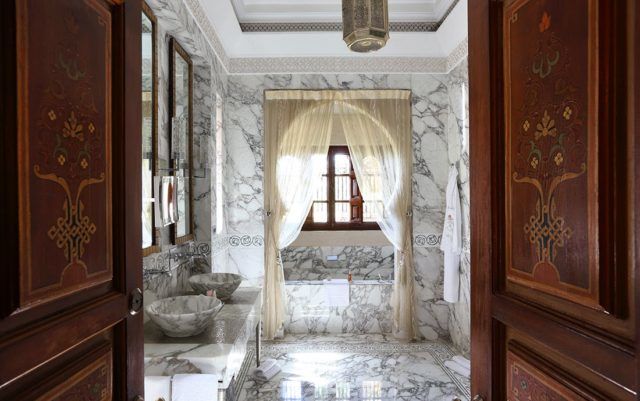 No. 7. Seven One Seven, Amsterdam, Netherlands, Prinsengracht 717, 1017 JW. Located centrally in Amsterdam's 17th-century canal belt, this chic 19th-century canal house once belonged to a wealthy sugar trader. With its perfectly styled interior, prime World Heritage Site location and focus on personal service it's easy to understand why Hotel Seven one Seven was chosen as Gault & Millau's "Hotel of the Year 2017."The Seven One Seven hotel contains nine lavishly appointed guest rooms named after famous European artists, such as Frans Liszt, Shakespeare, and Picasso. Each room individually decorated with antique furniture, French windows, original artwork, and a color palette fused to the style of individual artists.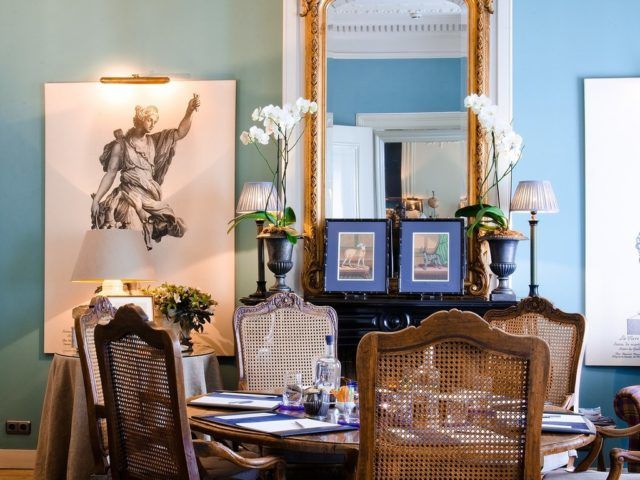 No. 8. Londolozi, South Africa Designed by Yvonne O'Brien and Shan Varty, the attention to detail at Londolozi is unparalleled from the exclusive Ralph Lauren wallpaper to the brown woven leather beds. The idea was that each camp would have its own unique personality, each telling its own story. An elegant interpretation of an African home. The richly layered rooms at this African oasis are understated elegance,  inspired by the untamed bushveld. Each piece handpicked by O'Brien from the "African head masks to the Horst Klem images." Each of the five camps is exquisitely designed to reflect the unique history of the place along with the people who have played an important role in the story of Londolozi. An extraordinary experience, for those who are looking for a romantic getaway in one of the most wildly beautiful places in the world.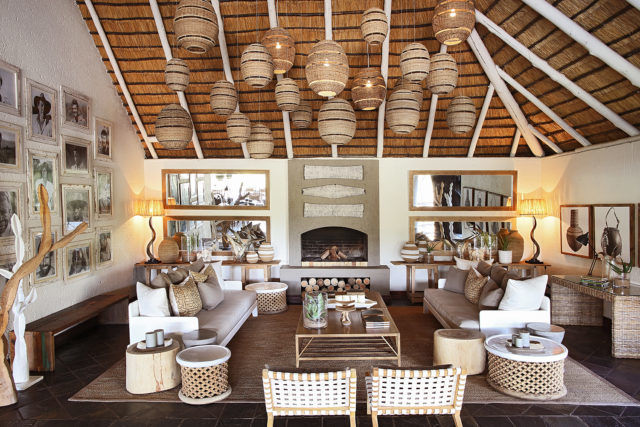 There's no need to commit to just one of our top picks, so go ahead and indulge your wanderlust with your favorite travel companion. These hotels are heating things up all year round!