If you've been reading my blog for a while, then you know that I am a full-fledged interior designer (before I became a full-time design blogger). There were a lot of nights that I made the trek into Atlanta to attend the Atlanta College of Art before it became SCAD (six months shy of graduating before finishing at Vanguard). I can hand draft (and prefer too), read blueprints better than I can my handwriting, and I see the world in terms of balance, symmetry and scale. So when I have a chance to use my hard-earned education, I will. So let's go back to Spring 2014, I received an e-mail from one of my favorite P/R firms out of NYC, Sharp Communications, and the team of Josh Schoenfelder (Lauren and Kate). Josh wanted to see if I would be interested in a custom vanity from Kohler and then installing it in our home. Well….I thought about it for less than an NY minute, and never looked back. (I do want to mention that one vanity morphed into an entire bath renovation). The opportunity to upgrade our builder grade bathroom with luxury bath cabinets constructed from premium hardwoods was a dream come true. Of course, with boxes of product filling our garage, I feel like an (overly) excited child eagerly waiting to open her much anticipated Christmas presents. We are a few weeks away from the demo, and have signed on a fabulous contractor, purchased our tile (our master is going to be swathed in Carrera marble, hexagonal tiles for the shower floor, 12″x24″s and subway for the shower walls). All of which will be upstaged by the Kohler vanity, fixtures and lighting from AllModern. Kohler has included every last lavish detail in the Tailored Vanity Collection providing an opportunity to choose your exterior, choose your interior, choose your top and coordinating components. They have made it easy to customize your bath from a stunning array of choices, for Mr. B and I the challenge was making a decision since we both had our vision of what the master would look like. Typical marital discord over design choices, sound familiar? In the end we chose a 72″ dual sink vanity from the Poplin Collection in Woolen Oak complete with custom drawer dividers, his and hers. Mine has a roll out appliance tray, make-up tray and drawer dividers. Mr. B. chose the side mount power strip and drawer dividers (we'll share the appliance tray). From the inside to the outside we customized our vanity to reflect the way we live. Kohler has created a collection that is not only "thoughtfully designed", but beautifully tailored. The vanity is topped with a Solid Expressions top (field trimmable) in white, which will pair beautifully with the Carrera. I love contrasts and the warm woods, paired with subtly veined white marble will transform our bath into a luxe and stunning sanctuary complete with custom features courtesy of Kohler. I want a bath that feels sleek and chic, and Kohler's Tailored Bath Collection truly has something for everyone from cottage style to urban chic, offering an array of choices.
If you followed my personal tour of HGTV's Urban Oasis 2014  (www.urbanoasis) then you know that Kohler is a sponsor, the baths are resplendent in Kohler product http://www.us.kohler.com/us/Bathroom-Vanities-&-Console-Tables/category/1018351/429204.htm, and all are stunning. I'm so excited to have my readers be a part of this transformation from the demolition of our old master to the "afters." I'll be sharing the process from start to finish including tips on how you can build your dream sanctuary. We are even video taping the renovation to document our progress every step of the way and sharing it online. Now for the pictures showcasing some of the product we'll be using in the transformation, I'm even biting the bullet and using wallpaper in the toilet area (if any of my former clients are reading this I know I've always said "no"to wallpaper in a bath, but it's going to be in the separate toilet room). It's time to make bold choices in our bath.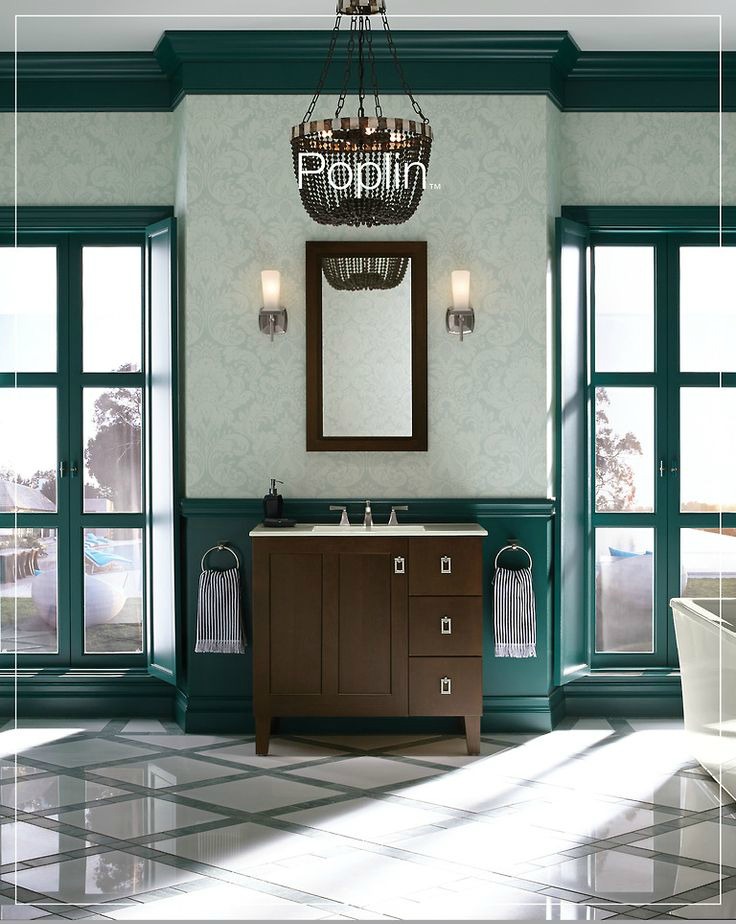 Our Vanity is from Kohler's Poplin Collection, and we chose the finishes, the inside, sink and top allowing us to customize our choices…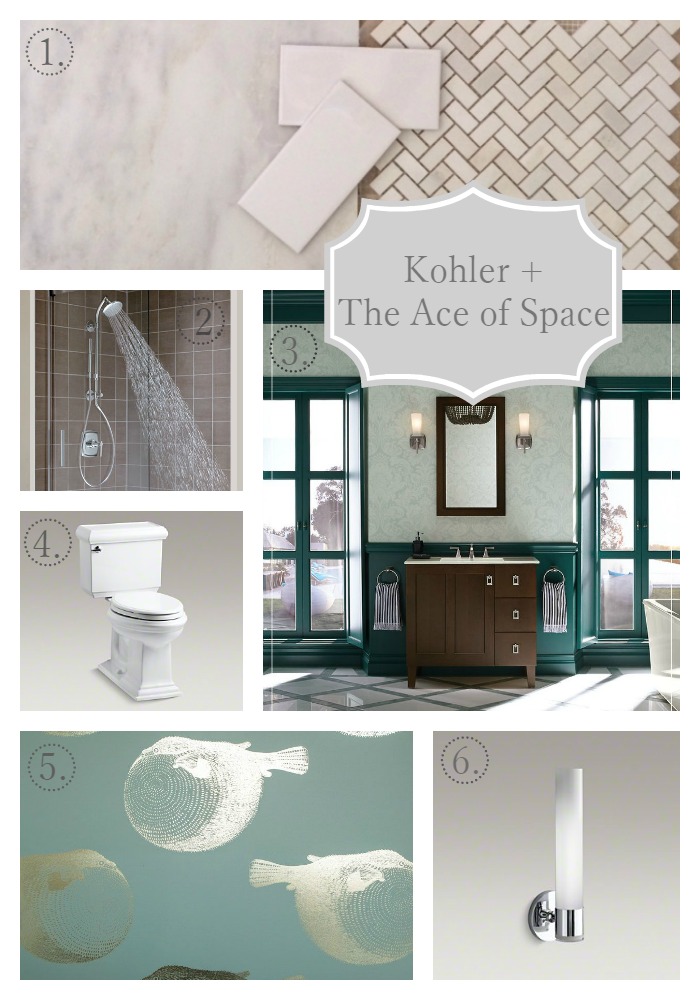 A design concept board for our bathroom, showcasing our product from Koher. (1) Our tile choices, using hexagonal & rectangular Carrera & subway tile. (2) A Shower Column. (3) The focal point of our bath the Poplin Vanity (ours is dual) from The Tailored Vanity Collection from Kohler. (4) From the "Memoirs" Collection a comfort height toilet. I love the elegant architecture of this piece. (5) The wallpaper for our toilet room, "Mr. Blow in Atlantis" from Walnut Wallpaper (It's a Blowfish, and I have been obsessed with this wallpaper for a very long time). (6) My plan called for three Puritan Sconces from Kohler, two flanking the mirror and one in the center.
I'll be sharing more of our selections in the coming weeks as the Master-bath progresses. For more information about The Tailored Bath Collection visit http://kohler.dirxion.com/tailoredvanities/app.php?RelId=6.1.8.2
As a side note: we received product as compensation for our blog post, but as always the musings and opinions are purely my own.
Until next time,
BE INSPIRED. BE AMAZING.