Over the last seventeen years I've worked in the design industry, first as a designer and since 2011 as a blogger and influencer. It's an industry that I'm very passionate about, and throughout my travels I've met some truly remarkable and talented people. From designers, artists, brands to makers. People who have left an indelible mark on the industry, driving trends or creating collections that grace homes both big and small.
Whether it's hand-loomed textiles or furniture hand-crafted by small companies operating out of a garage. There are so many dedicated creatives whose sole purpose is to make our homes feel uniquely ours.
Yet the world has changed over the past few months. We are facing uncertain times which is affecting so many businesses and livelihoods.
And we want to do our part, to support the design industry through a new Series on the blog "Spotlight on Art & Design." The goal is simple-to to highlight businesses and bring awareness to those who make our world a beautiful place to live in. So whether you are looking to connect with a designer virtually, buy a new piece of artwork or are looking for a new wallpaper source, I hope you"ll check out their websites and follow them on Social Media.
Yates Desgyn
The work of Yates Desgyn speaks to a continual and careful balance between constraints, function, and aesthetics. Each project expands on a sense of human experience to unite beauty and purpose, emotion and environment, and people and space.
The resulting spaces exude a sense of warmth and light while maintaining a modern aesthetic that fits in the context of surrounding architecture. Both interior and exterior areas are thoughtfully functional and visually engaging in equal measure.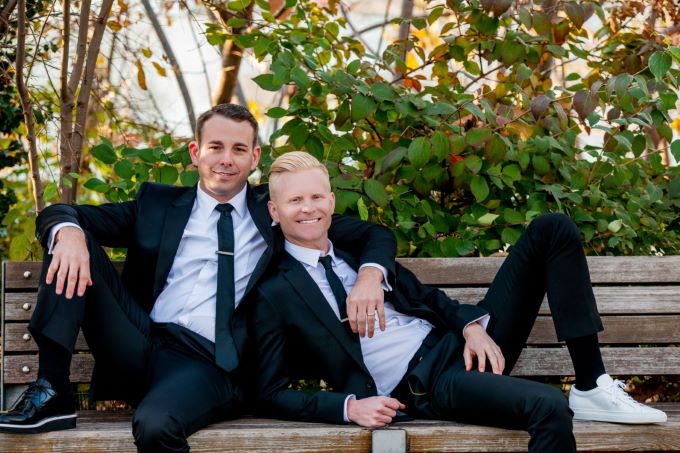 2101 Midway Road Suite 200 Carrollton, Texas 75006
956.367.2254
Debra Somerville
Debra was born in New York and raised on the shores of Long Island. She lived and worked in New York and Paris as a fashion model before becoming a photographer. She attended the prestigious ICP (International Center for Photography) where she developed her craft as a fine art photographer and later honed her skills in the field of journalism and commercial work.
After freelancing in New York, Debra moved to Connecticut and established a thriving commercial business for almost 20 years at her studio in Westport. Debra has recently relocated to Palm Beach City, Florida and opened her new studio and gallery in the Pineapple Grove Art District in downtown Delray Beach. Debra has enjoyed a successful career in commercial photography, shooting fashion, product, beauty as well as architecture and interiors.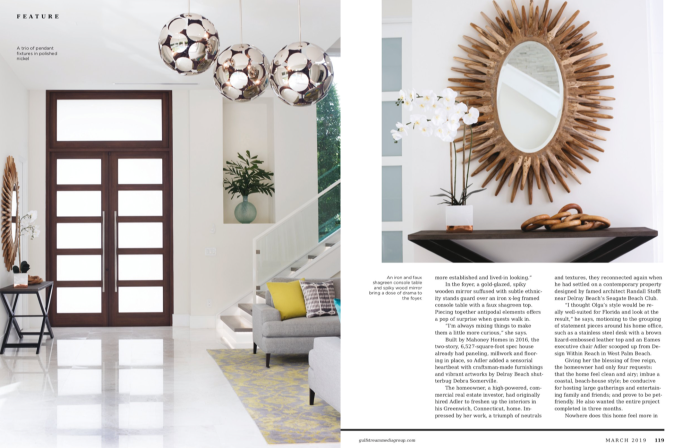 Debra Somerville Photography
606 SE 4th St. Delray Beach, Florida 33483
Tel: 203-434-9499
debra.somerville@gmail.com
Given Campbell
Given
Campbell
is an award-winning boutique wallpaper studio just outside Tampa Florida. Campbell started the company in 2004 hand printing wallpaper on folding banquet tables using a hand-cut stencil method. She now has all Wallpaper hand-screened which gives her more pattern options and faster turnaround times while maintaining that wonderful hand made quality. She has won a Best Of Year award from Interior Design magazine for a pattern called "Boxed In" created for Wolf Gordon as well as an award for The Best Small Business in America from Microsoft. She was also named a Tastemaker by House and Garden. Her wallpaper has been featured on the cover of Target's Club Wedd catalog, in The New York Times and on the Today show. Their Election Wallpaper was featured on the Reuters billboard in Times Square. Given Campbell also offers a library of patterns in various colorways but her specialty is custom wallpaper design. She creates bespoke wallpaper patterns of any kind, tailored to the client's exact wishes and they can print on a variety of surfaces and substrates: paper, grasscloth, metal, wood, acrylic. They also offer custom colors on any pattern at no charge.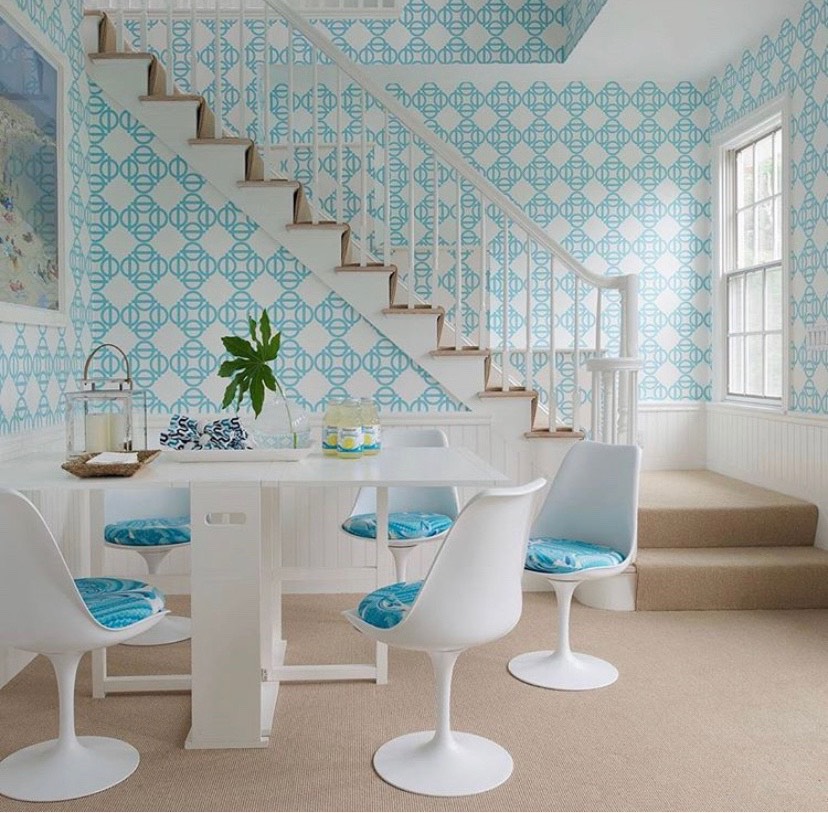 Designer, Laura Tutun uses the Tube Pattern in Shorebreak
Mobile: 813.417.5393
Email: 

given

@

given

campbell.com
Steven Favreau
President and Owner, Favreau Design and the Favrealous Factory
Entrepreneur, developer, brand consultant product and interior designer Steven Favreau is a foremost innovator on today's world design stage. His fashion sense and fail style is as iconic as his luxurious, theatrical flair. Maintaining an 11,000 square foot headquarters in the Seaport, Steven's residential and commercial projects span the United States and European Union. Part think-tank, part special events space, part showroom and office, the Favreaulous Factory won Wayfair's coveted Tastemaker of the Year Award in 2019. Created to take interior design to its edge and beyond, the Favrealous Factory features antiques ranging from 1621 through mid-century modern all the way to Favreau's contemporary custom designs.
An alumnus of the esteemed Fashion Institute of Technology in New York City, his TV appearances include HGTV's The White Room Challenge and as a two-time semifinalist for the HGTV interior design show Design Star.
Steven is a distinguished master of ceremonies, talk show host, moderator and panelist. Internationally acclaimed, Robert Allen Fabrics retained him as their Brand Ambassador in 2016. Voted "40 to watch" by The Business Journal, Favreau creates the most dynamic, chic and livable residential and commercial settings.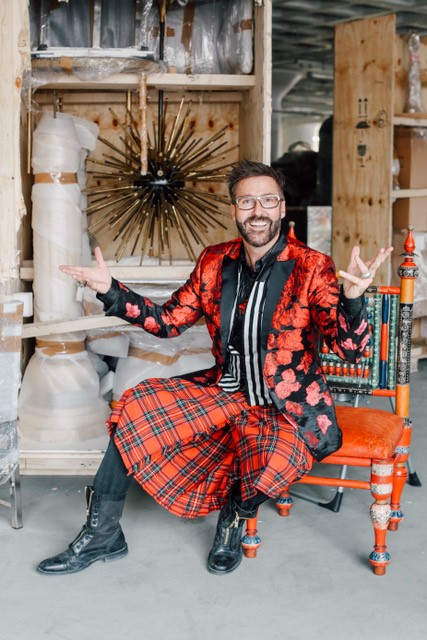 Pure Design Inc.
Ami Mckay, the top Vancouver interior designer and creative director at PURE Design Inc., is known for setting design trends in Canada and the United States with her sustainable product design, contemporary interiors, and gorgeous, healthy spaces. She has been recognized as a top interior designer and a visionary entrepreneur for her work in building one of Vancouver's top interior design firms.
Chatelaine Magazine calls Ami McKay one of "Canada's Top Five Interior Designers" and Rue Magazine named her one of the "Top 5 Designers to Watch in 2016." Ami is also the recipient of the Woman of Distinction award for her many years of success in business and spent two years as an interior designer and host of HGTV's "Makeover Wish," for which she was nominated for a Leo Award.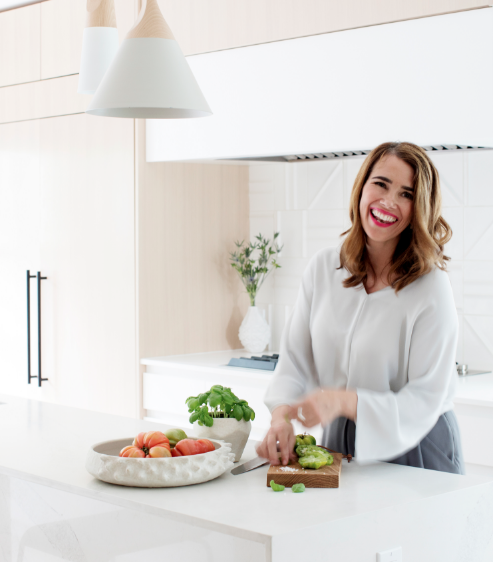 Pure Design Inc.
711 E. Hastings St.
Vancouver, BC Canada
Tel: 604-757-6631
Mitzi Beach
"Mitzi Beach A.S.I.D. C.A.P.S. is an award-winning Interior Designer, Author, and 50+ Demographic Marketing & Lifestyle Specialist. Author of a brand new book "Design Smarts, Inspiration for Home + Life." Mitzi, armed with 30 years experience and a masters degree in interior design, she is one of Design Hounds top 100 influencers 2018, selected as a member of the prestigious Style Spotters High Point market in North Carolina, as well as High Point Market Design Bloggers Tour, quoted in The Wall Street Journal as an expert in the emerging Aging in Place (AIP) trend. Along with designers across America, her home is featured in the 2018 "Christmas by Design" book."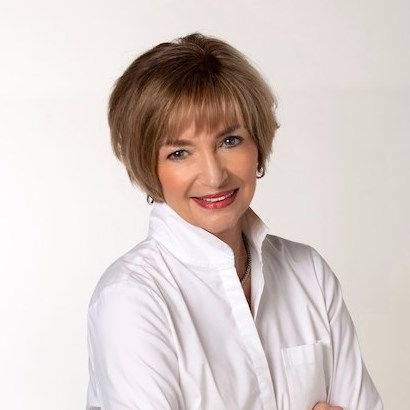 phone: 316-650-8610
AuthenTEAK
AuthenTEAK Outdoor Living is proud to provide their customers with industry-leading brands, design expertise and superior customer service and support. We offer a wide range of products that create beautiful and functional outdoor spaces to enjoy year-round. Whether you're looking for a cozy retreat for family and friends or a grand outdoor space to entertain a crowd, they can help you select the furniture, accessories, grills, umbrellas and fabrics to bring your outdoor style to life.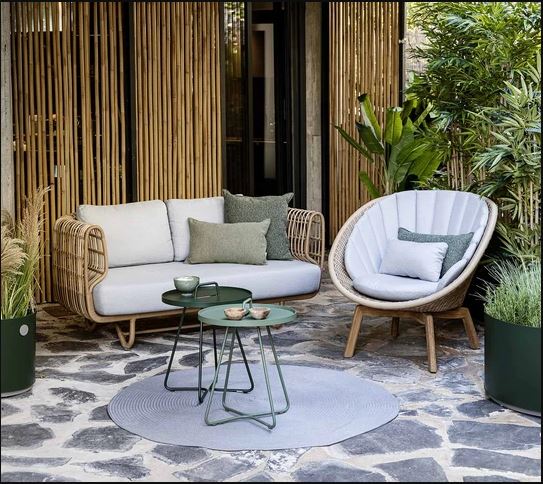 alison@authenteak.com
Tel: 470-698-2505
Patricia McLean Interiors, Inc.
Founded by Patricia McLean in 1985, Patricia McLean Interiors, Inc. is located in Atlanta in the heart of Buckhead. Considered a true, traditional designer, Patricia specializes in the customization of paint colors, finishes and fabrics and layering of antiques and accessories. Guiding clients architecturally through construction to ensure the "bones" are correct for furniture placement and flow is paramount to her design philosophy.
Patricia McLean Interiors has been highlighted in several books including Scalamandré Haute Décor, Luxurious Interiors,  Show Houses 3, Interiors Southeast and Spectacular Homes of Georgia, and in numerous magazines including Atlanta Homes & Lifestyles, Atlanta Magazine, Better Homes and Gardens, Southern Home, Southern Style, Southern Lady, Traditional Home, and Victoria. Patricia has also appeared on the television programs "Better Mornings" and "Good Day Atlanta."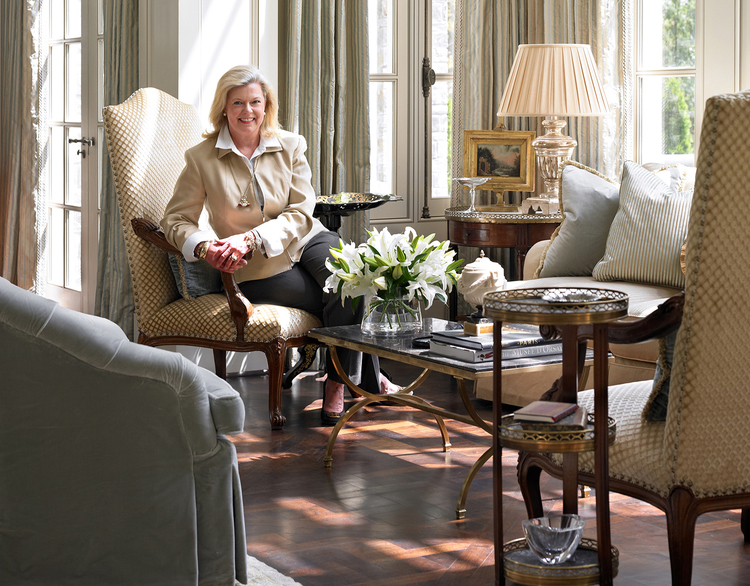 Laura Hildebrandt
Laura grew up in Annapolis, MD.   She has a BA from the College of Notre Dame of Maryland and attended Harvard University and the Interior Design Institute. Laura has always been passionate about interior design.   As a child, Laura frequently redecorated her house with her mom.  Laura honed her skills moving frequently to support her military spouse.  She was able to share her skills with other friends and neighbors while allowing the locale to influence the design.   Laura also drew on her love of travel to influence her design style. It is out of this passion for design that Laura started Interiors by LH in 2013. Interiors by LH has won Best of Houzz for Design in 2015, 2016 and 2017.  Laura also participated in the 2015 Home of Distinction in Potomac, MD. Laura has been featured in several design blogs and is a regular contributor to Home and Design magazine. Laura resides in Vienna, VA with her 3 children.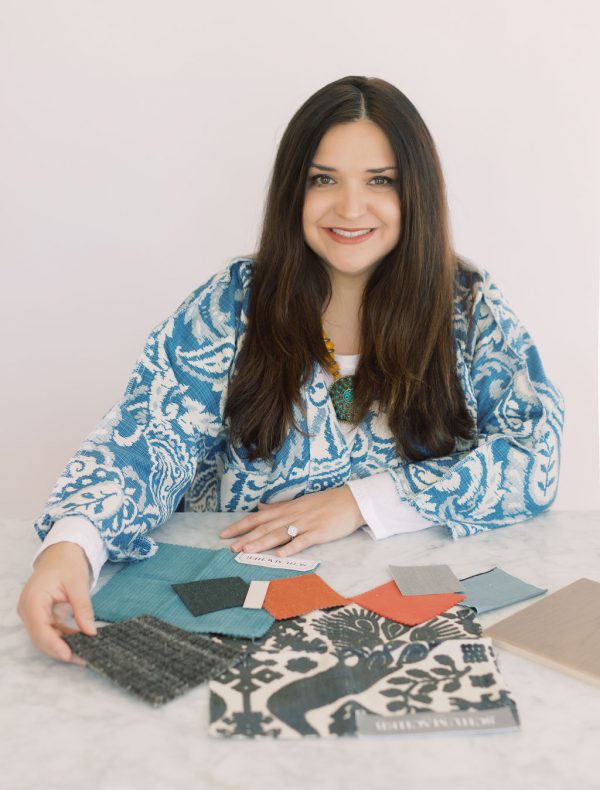 Ashley Finnemore
A Georgia Native, Finnemore studied Art History and French At Schiller International University in Strasbourg, FR and graduated with a Bachelors in Fine Art from the Art Institute of Atlanta focusing on Interior Design. She has returned to her hometown of Cartersville, with her husband, to raise two girls of her own. Making a conscious effort to slow down and be present has allowed her to see the world anew through the eyes of her children wide with wonder. "Rules and restrictions that have slowly accumulated are fading, and the goodness I once believed to be truth has returned," says Finnemore.
Finnemore works primarily in paint and non-traditional materials. Returning to simplicity experienced through bare feet, loads of questions, and a reverence for goodness, her connection to the natural world is evident in her hones, uninhibited expression one may see in her abstract work, and in the focus of her Chiaroscuro pieces.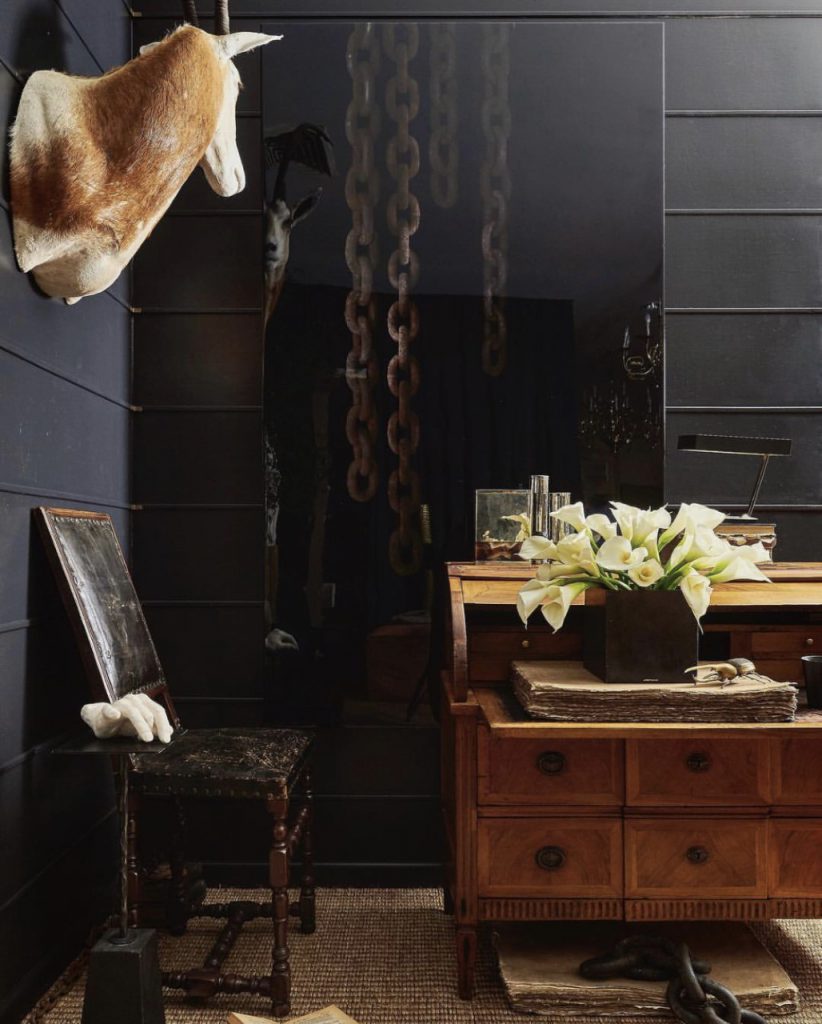 This piece was sold through Holland MacRae but is shown here on display in a space designed by Sean Anderson at Birmingham's Antiques in the gardens.  titled "running in the shadows" because sometimes the shadows confine is more than the chains.
100 Cook Street No. 102
Cartersville, GA 30120
Tel: 1-770-547-8070
https://www.ashleyfinnemore.com
If you are in the Design Industry and would like to be featured send an email to Vicki@theaceofspaceblog.com