It's been a year of change. But, the one I'm most excited about is the new look we launched on Thursday! I decided last year to expand, add a few contributing writers, columns, and generally shake things up a bit. But change take time. Over the next few months, we will continue to roll out improvements. It's always been my dream to be more than just a blog. So along with highlighting designers, artisans, and architects, we will also begin featuring entertaining and lifestyle columns. We are dreaming big, and I hope you love the "new look" as much as we do!
So what's on the menu today? Great design. And speaking of "great," we have a new installment in "Dine & Design," our feature highlighting the best in restaurant interiors from around the world. Over the years some of the finest restaurants have invested heavily in aesthetics, hiring some of the most prestigious architectural and design firms. Interiors are becoming an extension of the menu, a seamless collaboration between food & function. Blending the artistry of food with the beauty of design & architecture. From expansive living walls to double height booths, restaurant interiors have become a huge draw, attracting both the "foodie" and the design obsessed alike.
1//One Ocean Club Barcelona-Executive Chef Cesar Guillen conjures up dishes from the fresh local produce in the heart of Barcelona's new Marina Port Vell. The latter a luxury destination for super yachts located in the Mediterranean. Designed by El Equipo Creativo, this swanky & exclusive eatery boasts a vibrant color palette of deep greens and oceanic blues amidst a sophisticated maze of copper fittings that spanning the ceiling.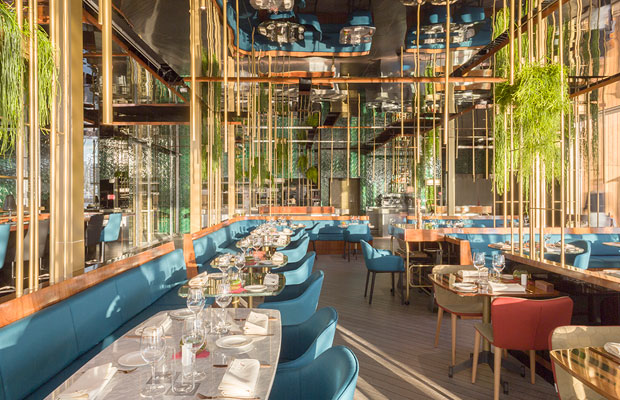 2//Cafe Doney in The Westin Excelsior-Features a sophisticated and eye catching color pallette of blue, gray and cognac in a sea of Italian design pieces and vintage Italia furnishings. Located in the historical city center next to the Spanish Steps and Via Veneto, this uber chic cafe is the pure definition of Italian design.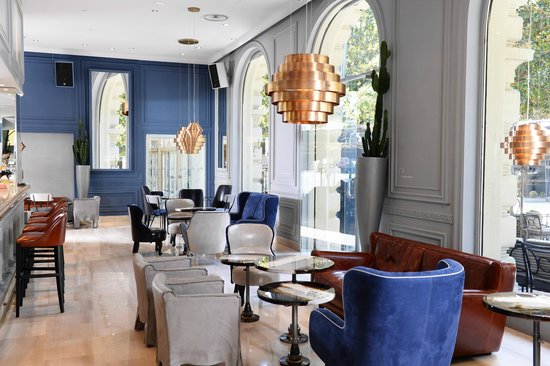 3//Brasserie Zedel-This restaurant's bones are nearly 100 years old, and originally part of the Regent Palace Hotel, Europes largest hotel when it was completed in 1915. In the 30's it was given an Art Deco overhaul by Architect Oliver Percy Bernard, and updated in recent years by Londons's David Collins Studio. The fabrics were rejuvenated by Donald Insali Associates.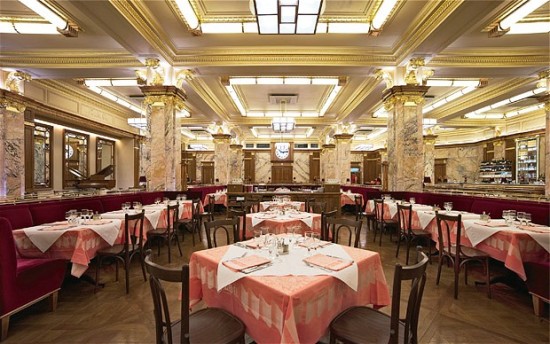 4// Bangalor Express-Located in London, designed by Outline. This unique dining experience includes a series of double height booths which run the entire length on one side of the restaurant. Diners access the higher booths by a scaffold tube ladder.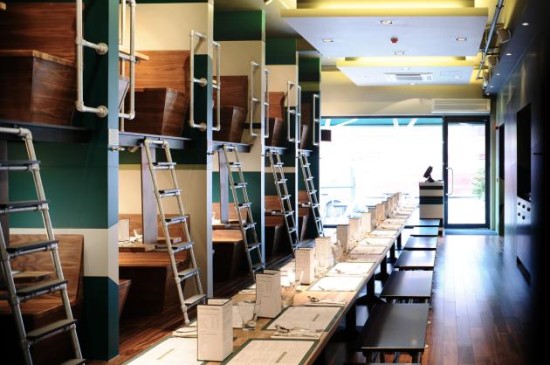 5//TAO, Las Vegas-"What happens in Vegas, stays in Vegas," and I'm sure that holds true for much of what takes place inside Tao at the Venetian. Well…except for the dining experience. TAO holds the distinction of being the highest grossing independent restaurant in the world, in a sea of silk and velvet furnishings with a towering 20ft golden Budda. I had the pleasure of dining at TAO, in January and the food was as spectacular as the nightlife.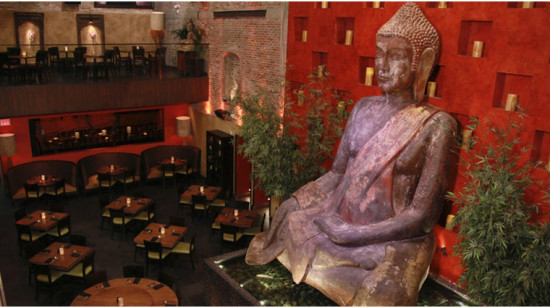 6// Spring, London-Situated in London's Somerset House this light filled and airy restaurant features high arched windows and original architectural features. The interior is accented in muted gold colors lit by Lindsey Ademan's stunning custom branching bubble chandeliers. Architects/Stewart Forbes-Interior Design/ Briony Fitzgerald.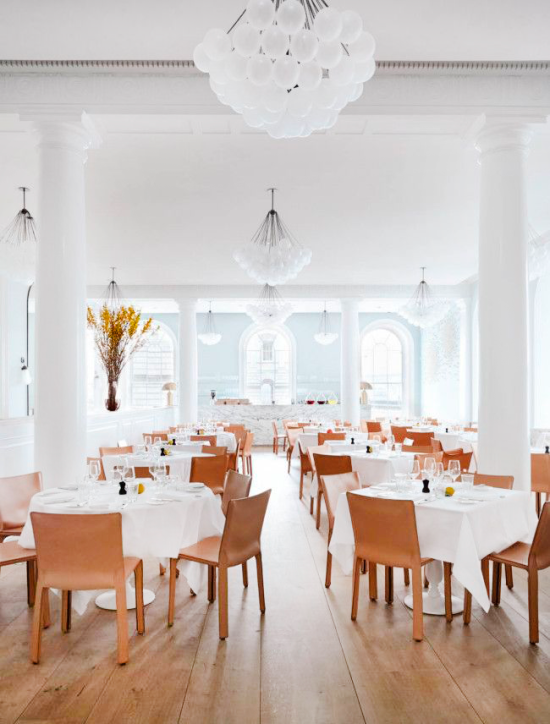 7// Nopa, Instanbul Turkey-This leafy paradise is located in the heart of the stylish Nisantasi district. The design features a sophisticated palette of black, brown, beige and gray hues, with brass details in the light fittings and pipe work which open up to spectacular and expansive vertical living walls. A dining utopia…
I want to send out a heartfelt thanks to all my followers! It's been through your support and encouragement that I've been able to grow The Ace of Space blog. What started as a way to highlight my design work has become a full-time commitment to provide fresh and cutting edge content. I hope you love our new look, and I want to send out a very special thanks to my amazing Web & Blog Designer, Heather Jones Of Viva La Violette, who is simply the best in the business!
Until next time,
LIVE A LIFE WELL CURATED.
Don't forget to follow us on Social Media for more design buzz!