Who doesn't dream of waking up in a Paris apartment? The perfect little walk-up complete with sweeping views of the Eiffel tower located in the heart of Paris. A fashionably elegant Pied-a-terre offering the quintessential mix in one of the cities grandest neighborhoods. Narrow cobbled streets, sophisticated shopping amidst the bustling streets of one of Paris's toniest addresses. So does this apartment truly exist (other than in my imagination)? Yes. It's in the portfolio of Paris Perfect, a luxury vacation apartment rental company which also renovates apartments on behalf of their clients creating the perfect stay in Paris.
The owner of Paris Perfect, Madelyn Willem recently finished transforming a charming studio apartment in the 7th Arrondissement complete with a stunning visage of one of Paris's most famous landmarks, the Eiffel Tower. Madelyn & her talented team worked closely with the apartments owner, Ann Huff of Huff Harrington during this truly remarkable transformation. Now that the renovation is complete and I wanted to share the images, proving that you can live very large and modish in a small space. So welcome to Cremant de Bourgogne, a very stylishly appointed apartment in the heart of Paris.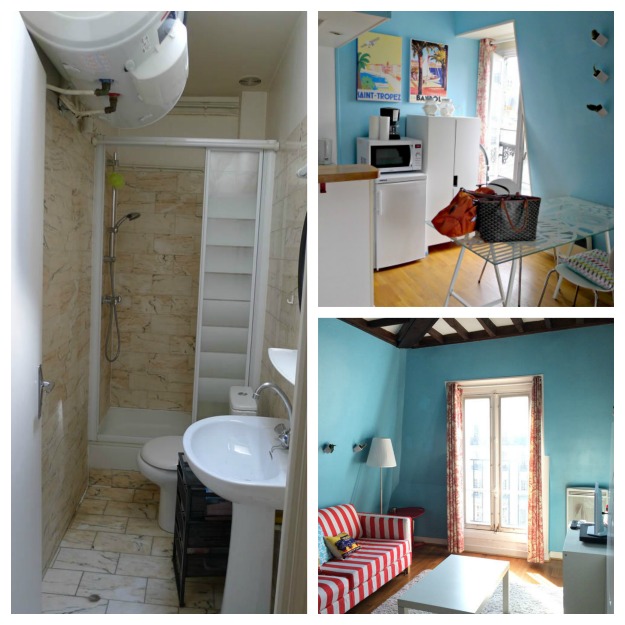 Paris Perfect
What's a great after without a before?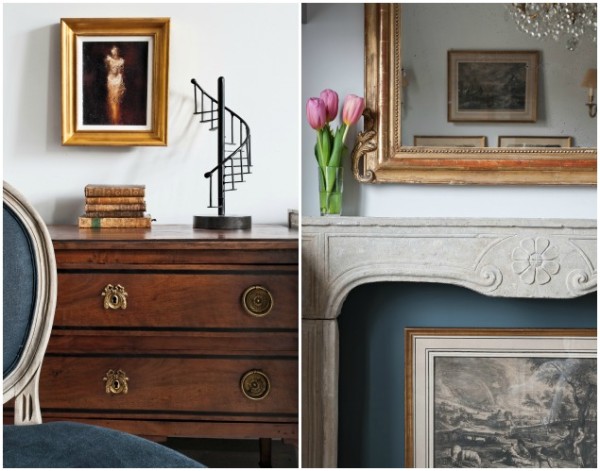 Photo/ Paris Perfect
Architectural detail can be added through accessories or even repurposed moldings used in unique "design stories." I love the unexpected placement of art inside this faux fireplace.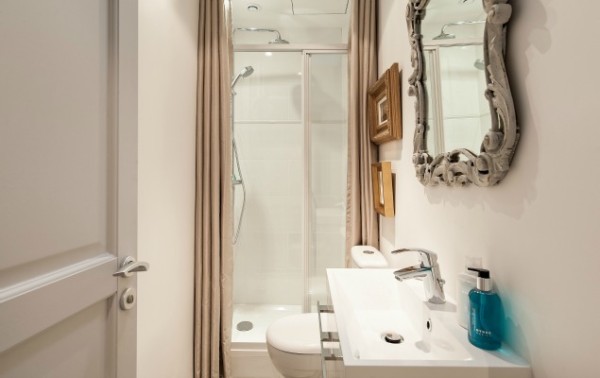 Photo/ Paris Perfect
Small spaces benefit from clean lines and soft color palettes. In this bathroom, a statement mirror and a simple display of art, give this space an elegant and curated feel.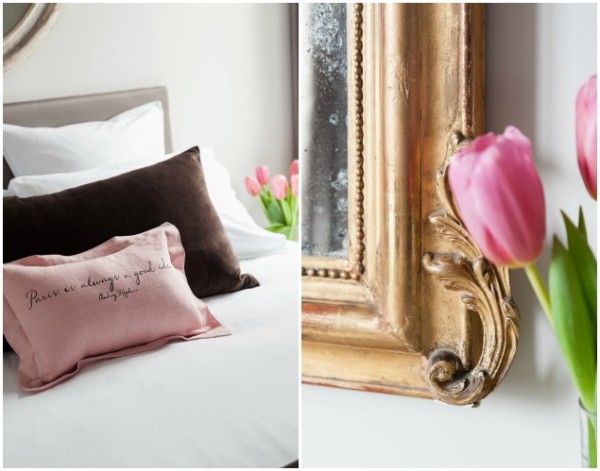 Photo/ Paris Perfect
Adding personal touches bring in warmth and character.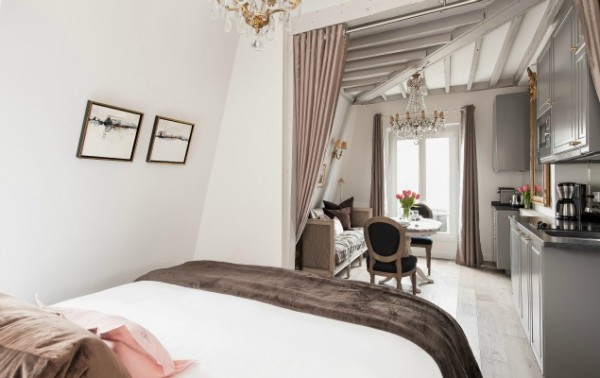 Photo/ Paris Perfect
In the "before" photo the beams were left in their natural state. "After" they were painted a soft white, highlighting the architectural detail while giving the space a feeling of "airiness."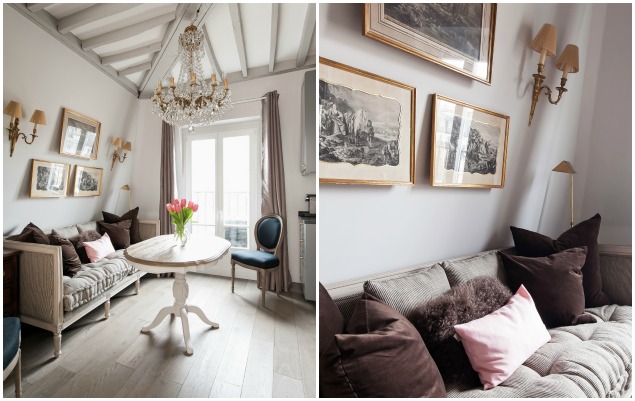 Photo/ Paris Perfect
Small groupings of carefully curated art and period sconces add character and subtle historical reference.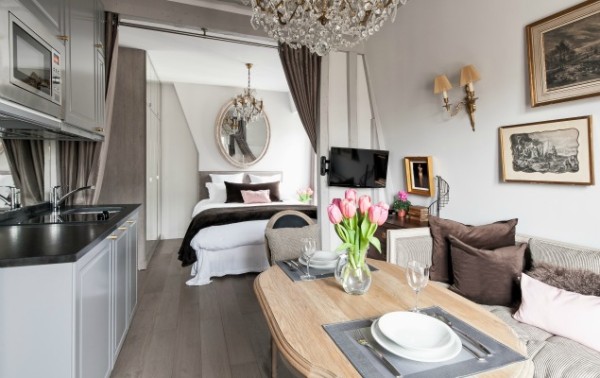 Photo/ Period Perfect
Smaller spaces benefit from the separation of living areas. In this case, the bedroom and living areas are defined by a softly draping curtain.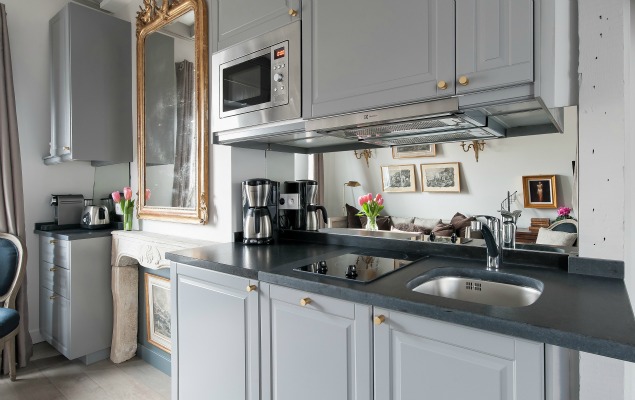 Photo/ Paris Perfect
Painted in a soft neutral color palette, the kitchen cabinetry with it's mirrored backsplash serve to make the apartment appear more spacious.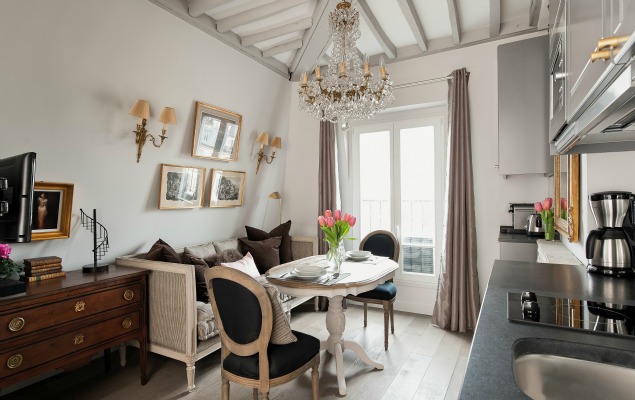 Photo/ Paris Perfect
With smaller spaces furniture pieces need to perform double duty. The living room becomes a dining area with the placement of a few key pieces serving multiple functions at the perfect stay in Paris.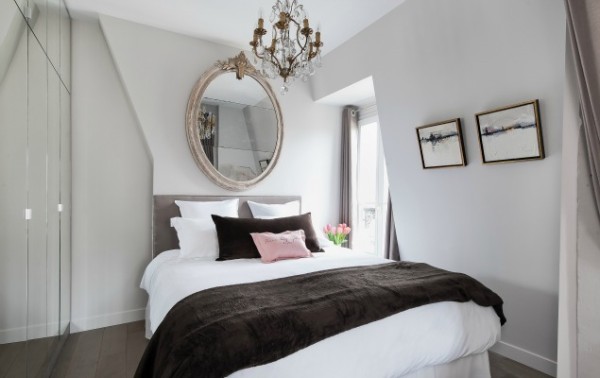 Photo/ Paris Perfect
Bedding in a classic color palette creates a peaceful retreat…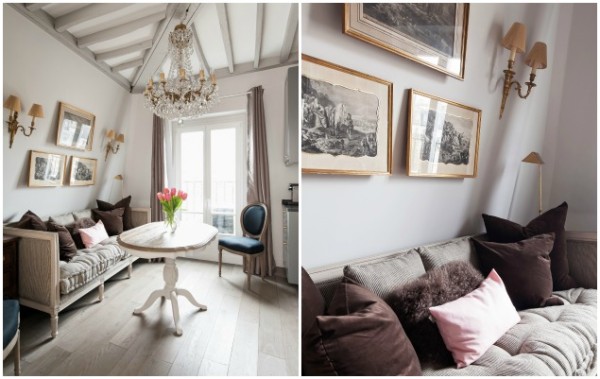 Photo/ Paris Perfect
Light wood flooring and a neutral color palette create the feeling of quiet sophistication in this stylish retreat.
Thank you to Paris Perfect for providing images of this stunning renovations. I hope you are inspired to create your own perfect Paris apartment!
Until next time,
LIVE A WELL CURATED LIFE.