I think most of us have had a love-hate relationship with the color yellow over the years. It's not avant-garde like black or mysterious like inky blue. Yellow has a "look at me" quality radiating a sunny personality, perpetually cheerful or vibrantly bold making interiors feel on trend and fresher whether it's a city chic flat or a country farmhouse. And it's poised for a comeback in 2017…
"How wonderful yellow is. It stands for the sun." -Vincent VanGogh
Yellow is reminiscent of summertime. It's a tall glass of lemonade mixed with the perfect amount of sweet and tart that leaves a lasting impression on your taste buds. And while yellow has always been associated with chinoiserie patterns or paired with black and white in more traditional settings, it's a color with endless possibilities, stunning when paired with the unexpected, yellow with acid green, teal or one of my personal favorites- yellow and warm gray.
I've never had a deep love for yellow, but I gave it a second chance last year when I walked through this dining room designed by William McClure. It was painted in the most sophisticated and vibrant shade of yellow and was featured in the "Southern Style Now" Designer Showhouse. My love affair with yellow began that day, and I think when you see all that this upbeat color can do for your home (and state of mind), you'll give it a second chance too.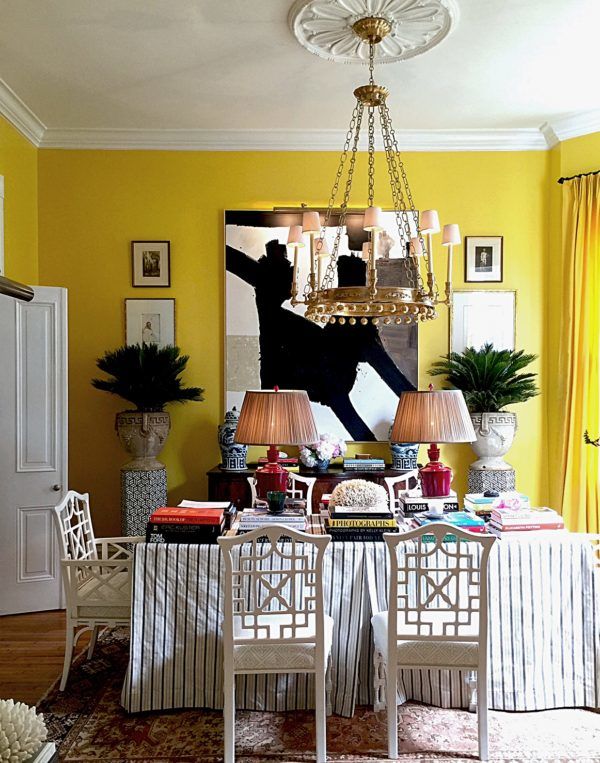 Designer/ William McClure-Photo/ Vicki Gladle Bolick
The  yellow drapery panels add another layer of sunny sophistication to this dining room…
So whether you introduce yellow in small doses or drench an entire room in this radiant hue, here are a few reasons you should reconsider yellow in 2017 and beyond.
1. Yellow Complements Other Colors-One of my favorite color combinations is yellow and gray, yellow intensifies gray and even makes white feel crisper. Other favorites, teal and yellow, spring green with yellow, yellow and brown, and for a more classic pairing black, white and yellow (think William McClure's room above).
2. Yellow Reflects Light-Because yellow is such a strong color it makes rooms seem brighter and more intense. Yellow has the power to energize a space which is why most designers won't use it in bedrooms,  but it has a welcoming effect in living rooms, breakfast areas or foyers.
3. Yellow Has Depth-It adds interest to a room even in small doses, but for more drama use yellow in different sheens on the wall, or in drapery. Yellow walls provide the perfect springboard for bringing patterns into a room adding visual interest. For those who want a more subtle change, yellow with brown undertones read as a neutral.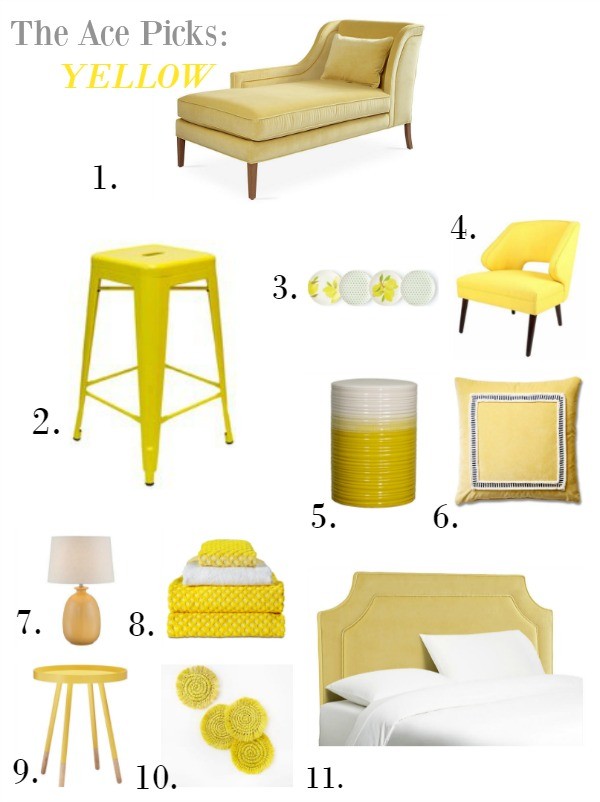 1.  canary yellow velvet headboard | 2. lompac yellow barstool | 3. kate spade melamine coaster set| 4. bonita yellow  accent chair| 5. yellow ceramic garden stool| 6. canary velvet striped weave pillow| 7. sunny day table lamp | 8. autumn yellow  towels | 9. fortney end table | 10. woven bright coasters| 11. canary velvet headboard
Until next time,
LIVE A LIFE WELL-CURATED