In the world of fashion, there are essential pieces that are the foundation of any wardrobe, from the LBD (little black dress) to the perfect cashmere sweater, basics that everyone should have. So why shouldn't there be classic foundation pieces or accessories for the well-dressed home? A list of basic pieces that work within a wide range of interior styles?
Is there such a list? Well, we decided to challenge ourselves combining our collective design talent to come up with the perfect curated list of must-haves for the home. We spent hours finding the just the right pieces which are classic and affordable beginning a new series on the blog, "Essentials for the Well-Dressed Home."
We'll be kicking off the Series by sharing "12 Timeless Essentials for the Home," items that will work well in any interior. From jute rugs (perfect for layering) to the multi-functional bar cart. We are sharing some of our favorites today along with tips on how you can use them in your home! So read on to see our favorite picks! After all, every home deserves to be well-dressed don't you think?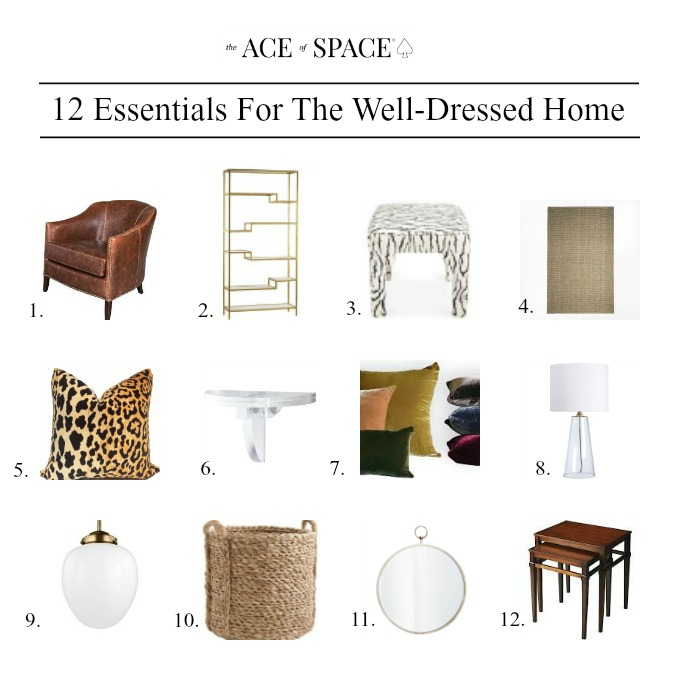 1// Leather Chair-this will work well with many interior styles the modern lines updating a perennial classic. The warm distressed leather gives this chair a lived-in look and the nailheads add just the right amount of designer detail. Perfect in pairs or one for a reading nook. Either way, leather chairs are essential for a well-dressed interior. See more here.
2//Bookshelf-These stunning bookshelves are best-sellers for a reason, the gold finish gives them a timeless & sophisticated look. The geometric design creates a beautiful shelving space that would brighten up a living space, bedroom or office. And then simply fill them with your favorite books or accessories. This bookshelf is a must-have for a reason, it's stylish AND the price makes us want to get more than one! Find out more here.
3//Hicks Zebra Stool. Zebra inspired upholstery lends a modern edge to this classically shaped stool. The timeless pattern works well with many different fabric schemes, so whether you place a few at the foot of a bed, underneath a console or in front of a sofa, this versatile piece is stylish, chic and functional. A must-have for any well-dressed home. Get it here.
4// Jute Rug. As a Designer, the Editor of The Ace of Space, Vicki Gladle Bolick considers this a go-to for layering rugs or as a stand-alone. It's substantial and expensive looking and the price makes it a favorite. We love the thick weave, and durability. It's perfect for layering and creating visual warmth. Add a patterned rug over the top, and you have a "designer look" for less. This reversible rug is an every day classic and you can find it here.
5//Leopard Pillow. Jenna Lyons once said that "Leopard is a neutral." And we couldn't agree more. Leopard prints inject style and substance into any interior, the classic pattern packing a lot of visual impact, so it's important to always use restraint. And we think a pillow is a perfect way to inject a little pizzazz while remaining tasteful. You can find our favorite here.
6//Lucite Shelf. A lucite shelf adds a floating effect to any collection. Perfect for display treasures without distracting from your pieces. The lucite updates a classic shape, so whether you use a few to flank a fireplace, in a wallscape or above a bed, these "must-haves" will elevate your wall displays! See more here.
7//Velvet Pillows. Velvet is the fabric of the year, adding richness and depth to a room. It pairs well with other fabrics such as linens or silks. Velvet is now offered in rich bold colors, grounded in an opulent earthiness. It has a liveability that creates warm and collected spaces. From cotton velvet to matte linen, velvet has made a stunning comeback its versatility allowing this rich fabric to make an easy transition from traditional to modern. And we have the perfect pillows to inject a little of our favorite fabric into your home. See them here.
8//Kenroy Glass Lamp. This lamp is the ultimate go-to for any interior style. With clean lines, this classic table lamp adds a quiet sophistication without being fussy. We love this glass lamp for its versatility, and of course the price. You can find out more here.
9//Pendant Light. Oh, how we all love the Hicks Pendant, its classic but expensive (you can find it here). But, we what if we found a version that was equally as stylish but without the hefty price? Well, mission accomplished. We found one that is sleek with classic lines! Crafted with an aged brass finish and white shade, it's a timeless rift on a favorite that will work well with many different interior styles. See it here.
10//Jute Basket. A "tisket a tasket" we found the perfect basket. You can never, ever go wrong with this basket. It's a stylish and functional way to store all of your favorite design magazines, toys, wood for the fireplace and so many other household items. An essential piece for the well-dressed home! Find it here.
11//Looking Glass Mirror. The extra ring gives this circular Looking Glass Mirror an extra, unexpected touch while its classic shape makes it perfect for any interior style from transitional to modern. Outlined in a beautiful metal, this (in two finishes). This mirror is ideal for half baths, entrances, and anywhere else that would benefit from a unique and timeless touch. See it here.
12// Nesting Tables. The lustrous cherry finish on these classic nesting tables plays up the rich grain. Subtly tapered legs add to the sense of elegance and quiet sophistication. The wood tones will warm up any space, and the clean lines add timeless appeal. This pair of nesting tables is not only stunning but functional, allowing you to move them where you need them, separated or left nesting. Either way, they are essential pieces of the well-dressed home. More here.
We hope you enjoyed our new Series, let us know what you think! After all we believe that every home deserves to be well-dressed!